How cute is this Twig Christmas Tree Ornament?
Can you believe it can be made by kids and we're not talking Big Kids. With a pinch of prep, these charming twiggy Christmas Trees can be made by little kids (as demonstrated by my three-year-old).
There are a few things that I LOVE about this Christmas craft (aside from the obvious cuteness) :
It's easy
Requires few materials
Focusses a little ones attention
Great for fine motor skills!
AND it's inspired by Julia Donaldson's Christmas must read – Stick Man
I have lost count of the number of times we've read Stick Man and when it came to choosing a book for this years Kid-Made Book Inspired Christmas Ornament series, it seemed like an obvious choice.
If you're not familiar with the story of Stick Man, then you should definitely check it out! ItStick's a fun bouncy story that follows the misadventures of Stick Man, whom simply wants to be reunited with his 'stick family love' before Christmas.
So the next time you're out with the kids, collect some twigs and then settle down (with a cuppa) to a reading of Stick Man, followed by some Christmas craftiness.
MATERIALS: Twig Christmas Tree Ornament
This post contains affiliates
Smooth Straight Twigs
Felt
Scissors
Button / embellishments
PVA Glue
Scissors
String
DIRECTIONS: Twig Christmas Tree Ornament
To get started, you will need twigs and lots of them!
So pop outside with the kids and collect a variety of straight twigs – the smoother the better!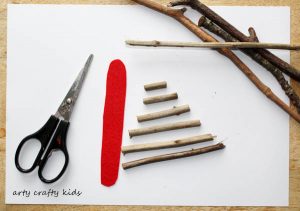 Snap the twigs to size and arrange into a Christmas Tree shape.
Cut out a long piece of felt.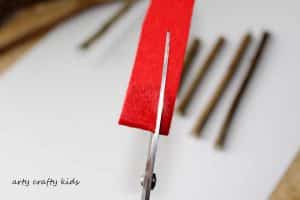 Next, add a number of symmetrical holes to the felt by folding the end of the felt and cutting a little snip.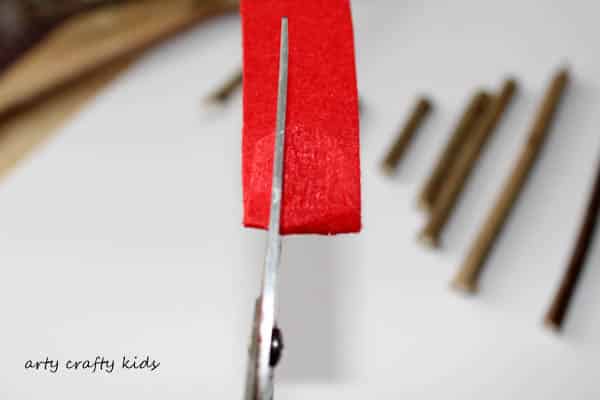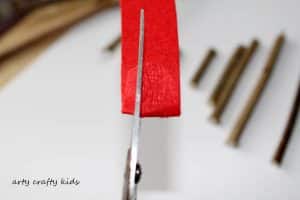 Now make a second hole.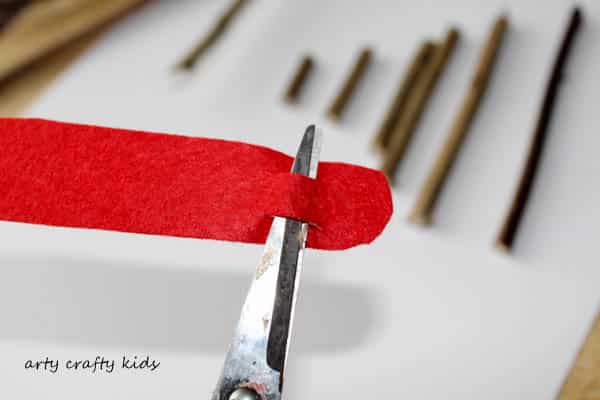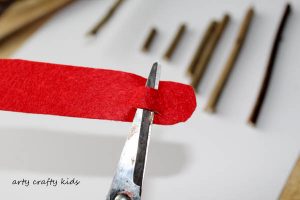 The scissors demonstrate where the twig will be threaded.
Depending on the age of your child, you can make the craft less or more challenging by creating smaller or larger threading holes.
Repeat the previous step all the way along the felt, leaving about an inch at the top.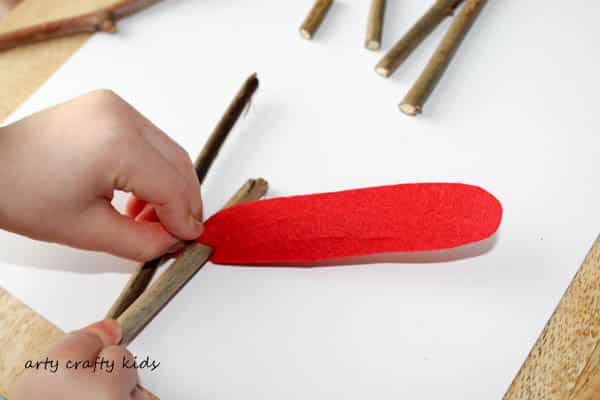 Now for the fun bit!
Start threading – encourage your child to arrange the twigs in size order.
If you have an older child, maybe they could measure them?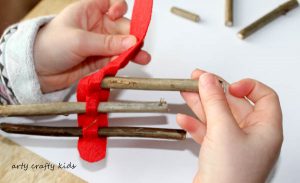 Fill the threading holes with the twigs.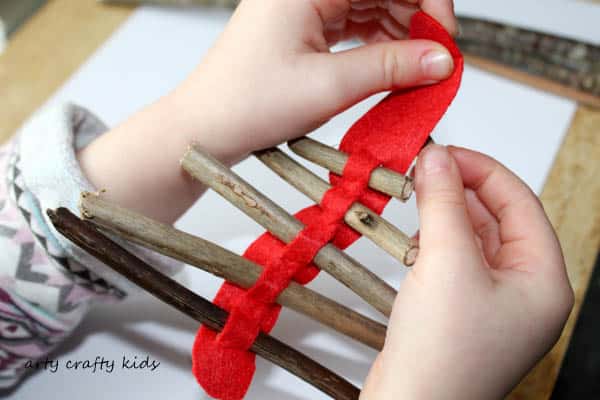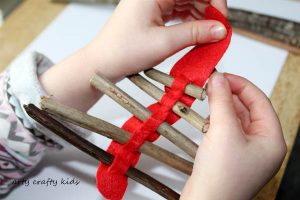 And keep going until the twigs have been used.
Adjust the twigs to create a "Christmas Tree" shape.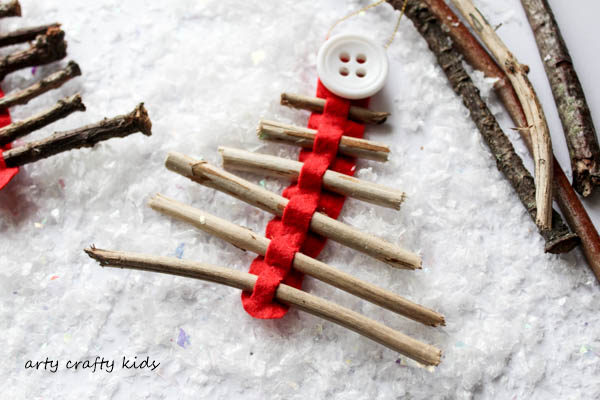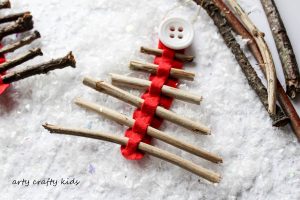 Fold the remaining felt over to create a hanging hole – secure with glue.
Finish off with a button or embellishment of your kiddos choice.
For more Christmas Ornament inspiration take a look at our Paper Plate Baubles, Jar-Lid Glitter Ornament of this rather sweet Clay Christmas Tree Footprints Ornament.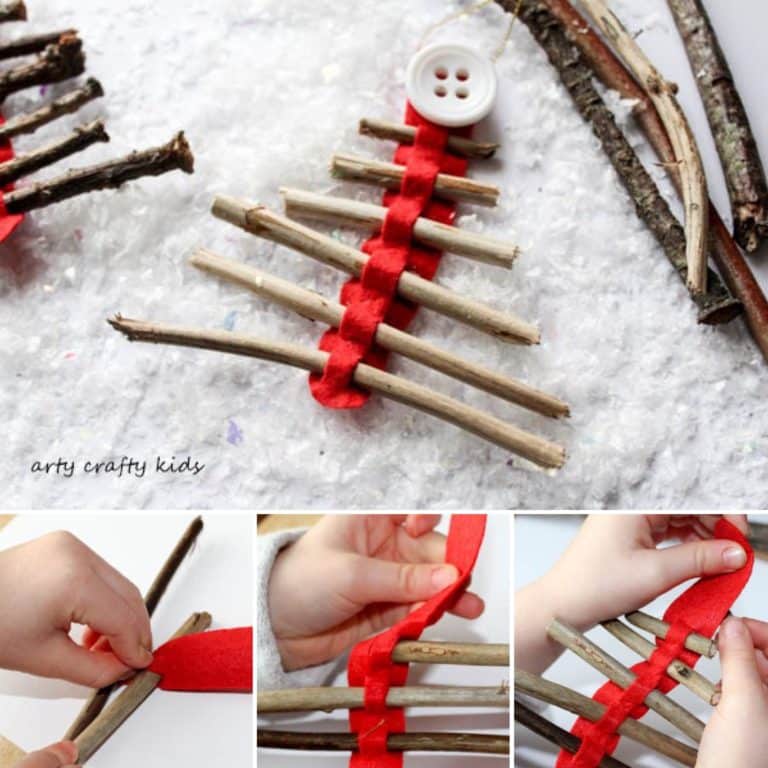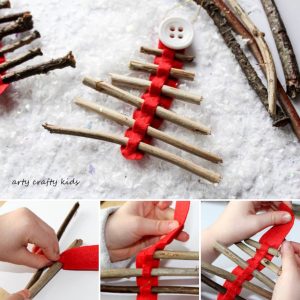 Don't forget to pin for later!
Our gorgeous twig Christmas Tree Ornament forms part of a Kid-made Ornaments inspired by Books series – hosted by Mama Miss!
See the complete series here: