Leaves are beginning to fall, which means only one thing…Autumn is on its way! Autumn is the season of colour and it's by far my favourite season. Who doesn't love scrunching through leaves, the crisp air and the blanket of beautiful colour that sweeps the sky line. Today's Bubble Wrap Autumn Tree Craft has been created with young children and preschoolers in mind. The bubble wrap adds a tactile textured element to craft and the handy printable allows children to dive straight in – perfect for short attention spans!
Children can observe the natural change that comes with Autumn and attempt to recreate what they see within their art.
Throughout the process, encourage your Arty Crafty Kids to mix their own colours and describe what happens when the colours mix.
Ask questions:
How much Red and Yellow do you need to make Orange?
How do you make different tones of Orange (Yellow, Red, Green)?
How do you make Brown?
This simple process of trial and error is a fabulous learning exercise, with an emphasis on problem-solving skills and mathematical thinking (mixing and mentally measuring colours to achieve the desired tone).
And of course, it's wonderful for creativity!
Bubble Wrap Autumn Tree Craft: Materials 
This post contains affiliate links to recommended products. 
Card Stock
Bubble Wrap
Kid Friendly Washable Paint
Paint Brush
Printer
To access the template, sign up to our Arty Crafty Kids Club newsletter, and we'll also keep you posted about other crafts, free templates and offers for the Arty Crafty Box!
This template, and many others, is also available in our Arty Crafty Kids Club Members Area, where you can get a Free 10-Day Trial – Sign Up Here
Bubble Wrap Autumn Tree Craft: Tutorial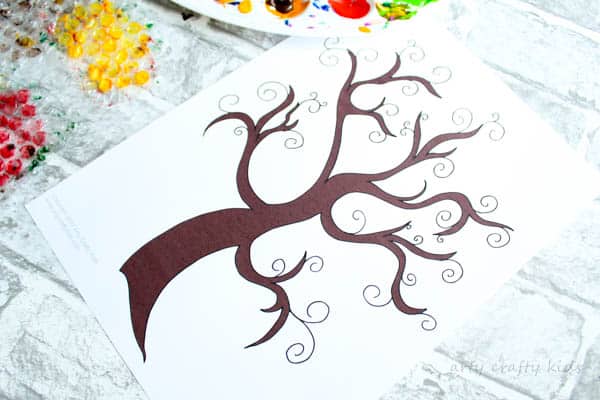 Step 1. Print the free Tree Template (complete the sign-up form to be referred) onto a piece of white card stock. I prefer to use card stock for kids art projects for one simple reason – it's durable and doesn't turn into a soggy mess when the kids (inevitably) use an excess of paint!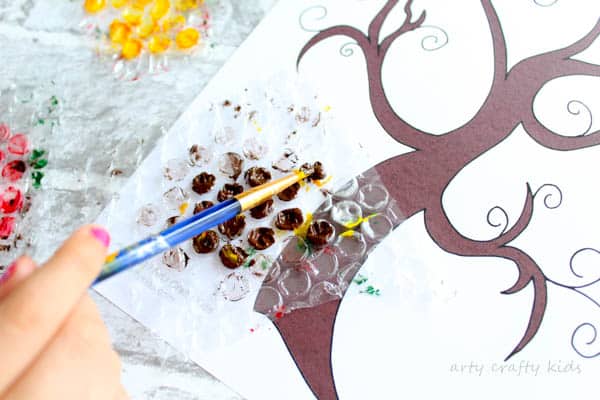 Step 2. Mix the Autumn colours using the primary colours. This is a great way for children to explore colour shades beyond the secondary colours.
Apply the paint directly to the bubbles – this will create clear and crisp circular prints!
For your reference, refer to our basic colour-mixing chart: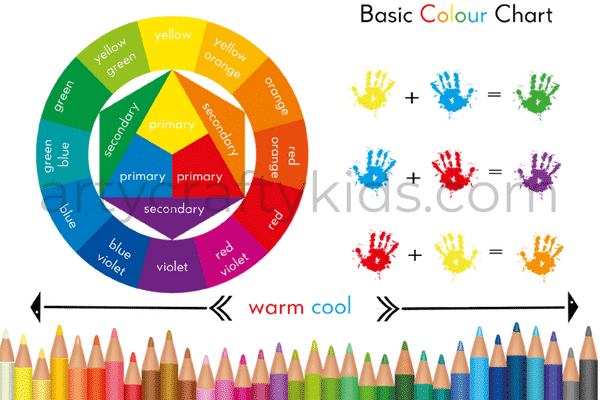 Once your Arty Crafty Kids have successfully created Orange, how many shades of orange, red and yellow can they make?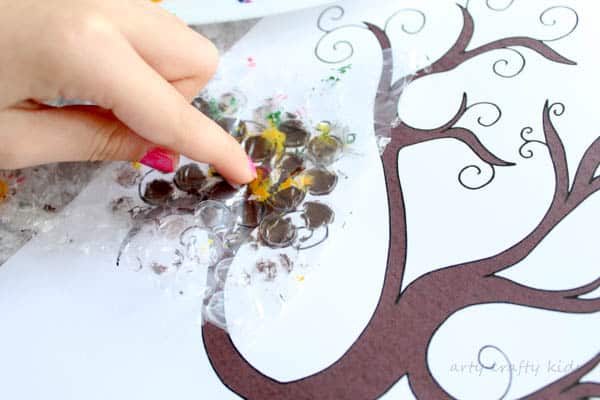 Step 3. Turn the bubble wrap over and press down firmly.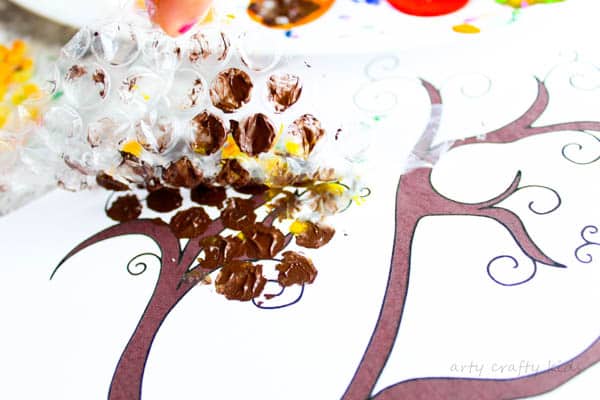 Step 4. Gently peel the bubble wrap away from the paper to reveal the prints. Each piece of bubble wrap can be reused 2 or 3 times before the need for additional paint.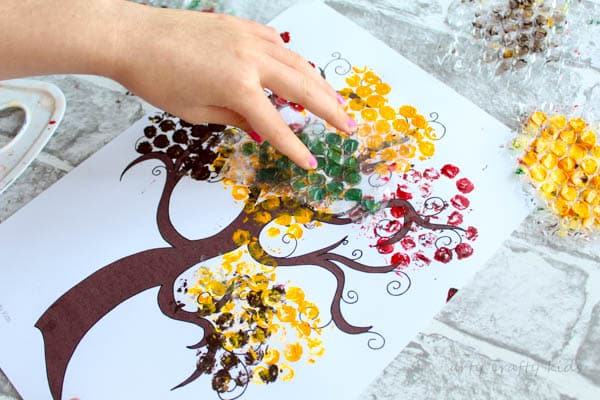 Step 5. Continue the process using a variety of colours and layers.
For ease, we gave each colour its own piece of bubble wrap.
Your Bubble Wrap Autumn Tree Craft is now complete! 
I hope you enjoy our Autumn Tree Craft. If you do not have any bubble wrap to hand, fingerprints are a great alternative!
For more Autumn Craft inspiration, take a look at our popular Autumn Handprint Tree, Watercolour Autumn Tree and super fun Splatter Tree!
The Arty Crafty Box
Did you know that Arty Crafty Kids now has a monthly Art and Craft subscription box, where every box is a creative adventure for kids?
Take a peek inside our boxes and when you order, get 50% off the first box by using 50FIRSTBOX at checkout!
[wcps id="22818″]
The Arty Crafty Box is packed with creative, playful and engaging art and craft projects for kids, complete with all the necessary materials and easy to follow instructions.
In addition to this, every box includes an Artspiration booklet that's filled with how-to-draw tutorials and drawing prompts to enhance your Arty Crafty Kids creativity and FREE access to our online members' area that contains exclusive art and craft templates, colouring pages and more!

Pin for Later!