Give the Seashell Sensory Shaker a 'shake shake shake' and watch the shells and bubbles dance. Shake it some more and it becomes a musical instrument.
A wonderful toy and discovery bottle that excites and entrances kids. My girls LOVED it!
As well as all the fun stuff, the intrigue and the noise element, sensory bottles are a great tool for young children to use as an outlet to the big emotions. Whenever my eldest feels a little cross, giving her sensory bottle a shake and watching the bubbles, achieves a sense of calm and gives her time to consider about her feelings.
However your child uses their sensory bottle, with just a few materials, it couldn't be easier to make.
Seashell Sensory Shaker Materials:
A clear bottle – I recycled a shampoo bottle
Shells
Baby Oil
Water
Food Colouring
PVA Glue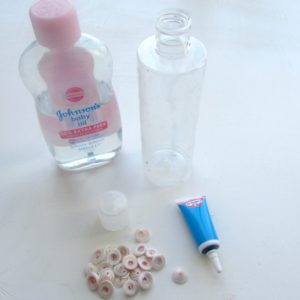 Seashell Sensory Shaker How-to:
Step 1. Fill 1/3 of the clear plastic bottle with baby oil.
Step 2. Add a few drops of food colouring.
Step 3. Add the shells.
Step 4. Add another 1/3 of cool water.
Step 5. Place a small amount of glue into the lid and seal.
Step 6. Leave the glue to dry before using.
Once the glue is dry, hand over to your kiddies and give the Seashell Sensory Shaker a good 'Shake Shake Shake' – why not see for yourself how much toddler Cakes enjoyed it on instagram!
The concept for our sensory bottle comes from Happy Hooligans Ocean in a Bottle. With living by the sea, the beach is a big part of our lives and I loved the idea of incorporating the colours; recreating the motion of rolling shells that naturally tumble across the seabed with the waves and an auditory element to complete our Seashell Sensory Shaker.
I hope you've enjoyed making your own shakers and watching the kids play.
For more creative ideas be sure to follow Arty Crafty Kids on Facebook!