10 Frosty Fun Alphabet Worksheets: If you're hoping to sneak a little bit of schoolwork into the holidays this year, why not download our frosty alphabet worksheets. They're so much fun, children will be asking for more!
Designed to bring the alphabet to life, these worksheets explore letters in different ways. They will help to boost confidence and build a love of learning. Using puzzles and striking pictures, they can help with letter recognition and formation, phonics and even some spelling, making them ideal for both pre-schoolers and school early years children.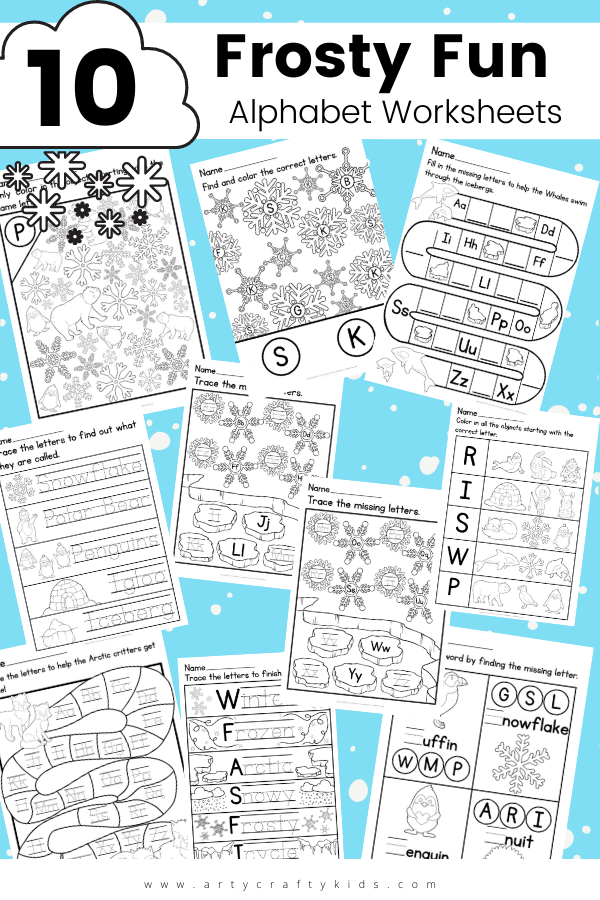 Kids can help a whale navigate icebergs, find the right shapes to match the right letters and learn to spell their favorite Arctic animal. And they can enjoy plenty of coloring too!
Why not combine with our 10 Frosty Fun Number worksheets to create a whole afternoon's worth of fun and learning!
How to Download the Frosty Fun Alphabet Worksheets:
The collection of frosty fun alphabet worksheets is available to members of the Arty Crafty Kids Club. Members can access the template here (remember to login!): https://www.artycraftykids.com/product/10-frosty-fun-alphabet-worksheets/
Members will need to log in to access the templates!
Not a Member?
More Winter crafts for Kids:
For more Wintery fun with the kids this chilly season, take a look at these popular ideas!
Melting Snowman Paper Craft
This snowman will stretch, wobble and melt into a big white blob, bringing joy and fun to the creativite process.

https://www.artycraftykids.com/craft/melting-snowman-paper-craft/
Happy Feet Penguin Craft
A fun and engaging Winter craft for Kids. With a penguin that moves and dances on the snowy floor, this is a craft that inspires children to play!

https://www.artycraftykids.com/product/happy-feet-penguin-craft/
Polar Bear Silhouette
This printable polar bear winter art project offers the perfect fine motor workout for both little and big hands, with lots of cutting and sticking involved to create a gorgeous Winter backdrop for their polar bear silhouette.

https://www.artycraftykids.com/product/polar-bear-silhouette/
Check out our instagram for a range of other exciting crafts too: https://www.instagram.com/artycraftykids/