Fantastic Fairy Wings Drawing Prompts: This adorable bundle of drawing prompts encourages children to complete their fairy by designing a beautiful set of wings.

Children love the magical stories of Tinker-Bell and her friends, perhaps this fairy could become a new friend of Never Land with her very own set of fairy talents. With a little imagination, this simple drawing exercise can be expanded into a full blown creative project, whereby children add personality and powers to their character design.
Drawing prompts are fantastic way to introduce children into design and creative drawing. They provide just enough stimulus to inspire children's imagination. Some children benefit from this subtle and structured approach who may otherwise find a blank piece of paper a little overwhelming.
Fantastic Fairy Wings Drawing Prompts
This pack of Fantastic Fairy Wings Drawing Prompts gives you more than just a standard coloring page, for it includes plenty of opportunities to practice fun doodles and designs with only a little bit of prompting.
There are absolutely no restrictions to what patterns or colors children may include in their creative design. Whether they decide to go for a simple pattern and bold colors or a more detailed pattern with soft colors, the options are totally endless! This fairy is super cute and ready to have her own unique and imaginative design!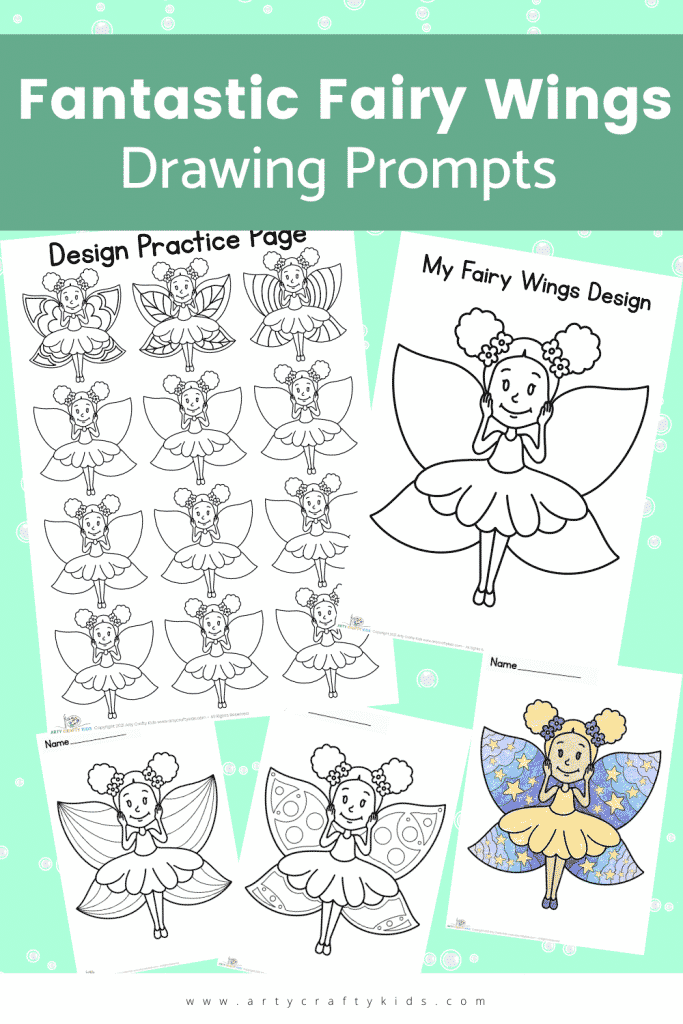 How to draw with Arty Crafty Kids
At Arty Crafty Kids we like to give you lots of options to help children develop their drawing skills! Simple drawing prompts are the perfect way for giving creativity a little kick start.
The grid drawing approach is perfect for children who prefer a little structure in their learning and the symmetry option encourages children to look at the detail and proportions of their subjects.
Flow drawing relaxes the the traditional 'How to Draw' approach, promoting a free flow style to line and shape formation. We encourage children to engage with the process and work with the lines they naturally create with repetitive movements.
My Fantastic Fairy Wind Design Sheet
The main design sheet has plenty of negative space around the fairy for a fun background to be added once her wings are complete with color and patterns. The practice sheet offers room for children to trial out different designs before deciding their on favorite.
Drawing prompts are not only something fun for kids to do, but they are also a great learning tool. They assist in the development of critical thinking, encouraging children to come up with their own ideas and they're a fantastic boredom buster, giving kids something fun to focus on!
How to Download the Fantastic Fairy Wings Drawing Prompts:
The Fairy Wing Drawing Prompts are available to members of the Arty Crafty Kids club.
Members will need to log in to access the templates: https://www.artycraftykids.com/product/fantastic-fairy-wings-drawing-prompts/
Members will need to log in to access the templates!
Become a Member!
Members to the Arty Crafty Kids can access our full library of creative resources, making crafting with kids super easy and fun!
More Drawing Prompts for Kids From the Members Area:
FREE Fairy Coloring Pages for Kids!
To kick-start your children's fairy themed coloring and drawing session, these adorable FREE coloring pages can be downloaded with (or without) the Drawing Prompt bundle. Just click the link or fairy image to download.