CD weaving is a new process for us and we're in LOVE. It's easy, relaxing and produces beautiful results, that have so far inpsired funky CD Snails and now a Woven CD Hot Air Balloon.
Kids love crafting with recyclable household materials and for me, this is what children's craft should be all about. There's no need to buy expensive craft kits when you're likely to have everything you need (and possibly more) lying around the house or within the recycling box.
And you can be guaranteed that no one is going to be more excited and inspired by an old egg carton than your kiddos!
Woven CD Hot Air Balloon
This post contains affiliates to materials used within this craft – please see our full disclosure statement. Thank you for your support!
Supplies:
CD's
Yarn
Egg Carton
Brown Acrylic Paint
Sticky Tape
Twine
Scissors
Tutorial: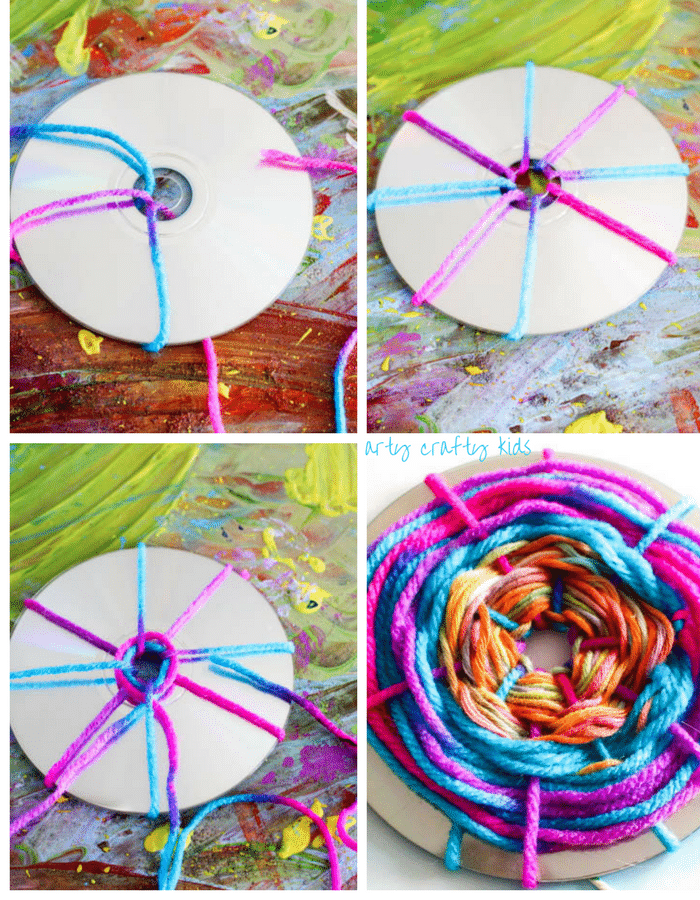 1. Set up the loom! This is incredibly easy to do and simply involves wrapping the yarn around the CD, through the centre and back round again, knotting the two ends together at the end. As you can see, our loom is well spaced out, making it easier for younger children to learn to the process of weaving.
2. Once the CD has been transformed into a loom, tie the 'threading yarn' directly onto a single strand of the loom and then continue weaving in an 'up-and-over' pattern from the centre of the CD.
3. Continue in a circular motion around the CD, pushing and tightening the woven yarn towards the centre of the CD.
4. As the kids work around the CD, try varying the colours and textures of the yarn. You could also add beads for extra WOW factor.
To see the process in action, take a look at the youtube video my seven-year-old created for our CD snails.
[mv_video key="nxszgsoerfv3qejgftzv"]
5. Next, take half of a cardboard egg cup from an old egg carton and paint it brown using acrylic paint.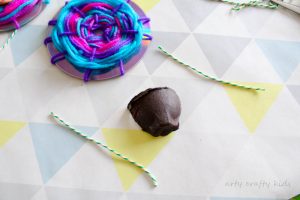 6. Cut two pieces of twine of equal lengths.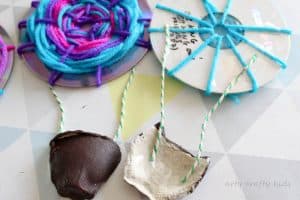 7. Using a small amount of sticky tape, secure the twine to the egg cup and CD, allowing the egg carton to dangle below the completed woven CD.
Your Woven CD Hot Air Balloon is now finished!
This is a great little craft for developing fine motor skills and once your children get the hang of the process, they'll be weaving away with ease. Can you imagine how they would like as part of a school display?
For more fun crafts, why not take a look at our selection of paper plate crafts?