Our gorgeous recycled plastic bag flower has been created as part of the 60 Day Junk Play Challenge hosted by Best Toys 4 Toddlers.
The Junk Play Challenge is all about recycling common materials usually destined by the rubbish/recycling bin and getting creative, having a play and transforming waste into something new and exciting!
It's amazing what you could do with an old cd, milk bottle or in our case, a plastic bag!
Recycling plastic bags to make flowers is surprisingly easy and I love how effective they are.
Recycled Plastic Bag Flower: Materials
Plastic Bag – A thin plastic bag works better!
String
Cellophane or paper/ magazine strips for the petals
A fork
Stapler
Scissors
Pipe Cleaners
Sticky Tape
Recycled Plastic Bag Flower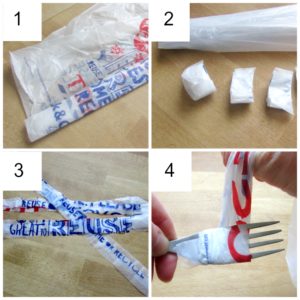 1) Roll the past bag up to about 1cm thickness.
2) Cut into strips.
3) Unroll the strips.
4) Gather 3 plastic strips and wrap them around the fork.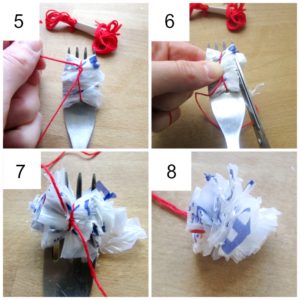 5) Tie a short piece of thread around the central part of the wrapped plastic without securing.
6) Cut both sides of plastic.
7) Pull the thread tight, knot and slide off the fork.
8) Fluff by separating the cut plastic until the thread is covered. Trim with a pair of scissors if necessary.
The little plastic pom-pom could easily be grouped together with others and attached to a pipe cleaner to make a large flower or be used as the pollinated area (stigma) as we have.
The Petals of the Recycled Plastic Bag Flower

1) Cut out 5 or 6 strips of cellophane/paper ensuring that each strip has a wide middle section.
2) Fold the strip over and staple the ends to form a petal. Fold a second strip over and staple together on top of the first petal.
3) Continue folding and stapling until all the strips are used.
4) Turn the petals over to reveal the sharp area of the staples and secure the plastic bag pom pom on top using one final staple.
5) Finish off by attaching a pipe cleaner with a small amount of sticky tape.
Pop your flowers into an upcycled jar or vase and enjoy!
This post will be one of four taking part in the Junk Play Challenge and we'll be crafting with broken crayons, candy wrappers and w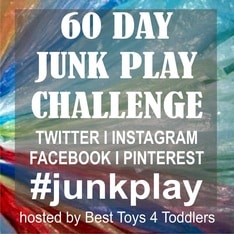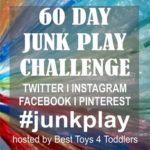 allpaper scraps, so watch this space and check out the Junk Play Challenge for some fabulous junk play ideas