Printable Easter Paper Toy: Are you looking for a fun and simple Easter craft for kids that's a little bit different? Then this is the idea for you! We've combined elements of craft and play to create an Easter activity that can be enjoyed again and again.
As an Easter paper craft, it's fun and simple – the shapes aren't too challenging to cut out and the elements are easy to assemble. And as a stacking toy, it's a great way to encourage imaginative play and learning around the Easter theme.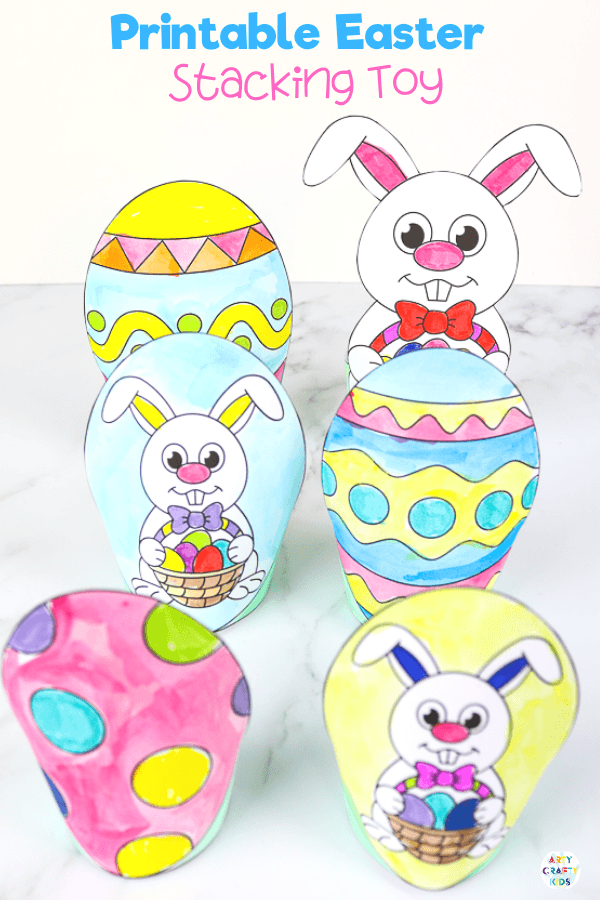 Our printable Easter stacking toy would make a great alternative gift to chocolate eggs and can be used as a fun activity at an Easter party.
It can even be incorporated into an egg hunt: you can either hide the pieces around your home or garden (if it's dry and wind-free!) and the children get a prize once they've found them all, or you could assemble them, hide eggs (boiled and painted or choccy) and award a prize to the child who finds them and fills their 6 stacking toys first!
Playing with the Printable Easter Paper Toy:
The good thing about this Easter paper craft is how versatile it is – there are so many different ways to play!
You can encourage learning by asking younger children to order them by size, or use them for basic maths – for example, how many toys do they have left if they subtract the bunnies?
They can be used as props in imaginative free play, or they can even be used as egg cups during a post-play snack!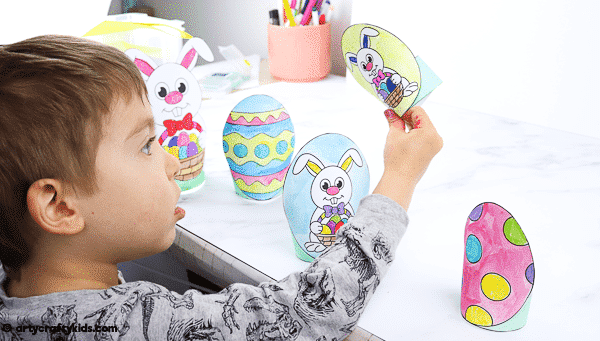 How to Assemble the Printable Easter Paper Toys:
What you need:
White Cardstock
Colouring Crayons, Pens or Watercolour Paint
Glue Stick
Scissors
Paper Clip
Download the Templates:
The Easter Stacking Paper Toy template is available to members of the Arty Crafty Kids club. The template can be accessed via the link below: https://www.artycraftykids.com/product/easter-stacking-toy/
Not A Member?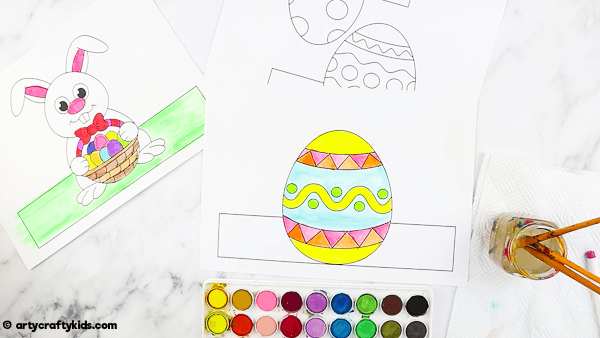 Colour in the Easter Bunny and Easter Templates:
First, print your templates onto the white cardstock – try to avoid paper for this craft as it's not as sturdy and won't maintain its shape once you start stacking. Then colour or paint your Easter bunny and egg templates, the brighter the better!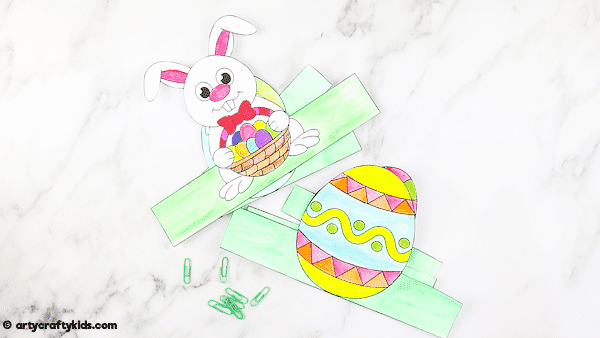 Cut out the Paper Toys
Carefully cut out each of the stacking paper toys – there are 6 in total so take your time.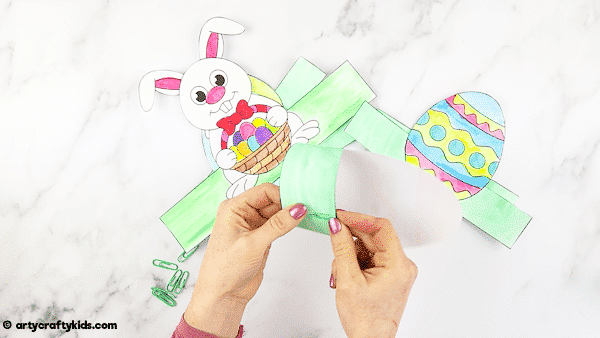 Fold the Arms Round to Join
Take your first paper toy and fold the arms around the back so they meet to create a little base.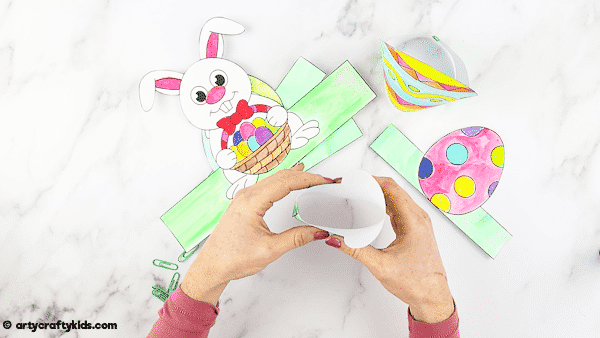 Secure with Glue and a Paper Clip
Add a spot of glue and then secure with a paper clip, so the toy maintains its shape. The paper clip can be removed once the glue has dried.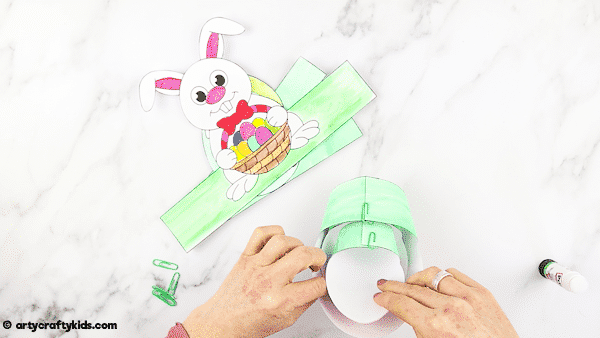 Assemble All the Toys into a Standing Position
Repeat this process for the 5 other designs. Now you have a full set of 6 Easter stacking paper toys to play with – have fun!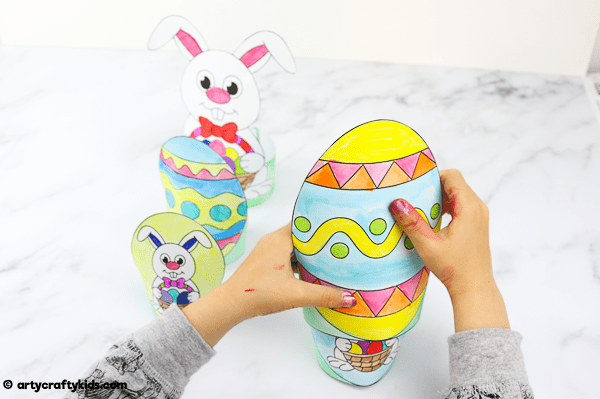 Playtime!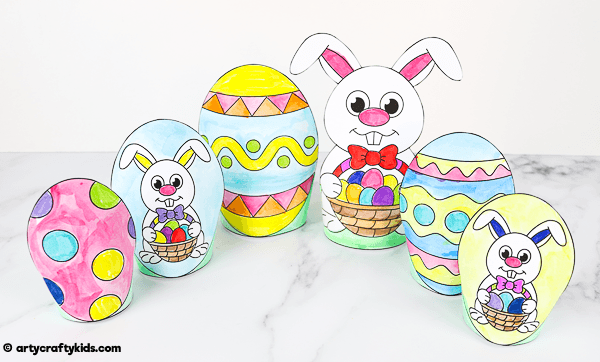 More Easter Crafts for Kids
Easter Bunny Card
With Easter approaching, this Easter Bunny Card is the perfect card to make with the kids. Kids will love coloring and arranging the shapes to put their Easter bunny cards together. The simple open/close Easter egg card held by the bunny adds an adorable novelty feature to the craft.

https://www.artycraftykids.com/craft/easter-bunny-card-for-kids/
Easter Egg Spring Animal Craft
Easter is a perfect opportunity to get creative with children. Flowers are bursting into bloom, the sun is shining again and everything looks colourful and bright! Here at Arty Crafty Kids, we've taken inspiration from cute springtime animals to create an easy Easter craft that your little ones will love.

https://www.artycraftykids.com/craft/easter-egg-animal-craft/