What is about Penguins that make them so adorable? We love a good penguin craft and our easy peasy Paper Roll Penguins, with their heart shaped faces definitely have the 'cute' factor!
Paper Roll Penguin: Materials
Contains Affiliate Links
Paper Roll
Black, white and yellow paint
Self Adhesive Sticky Wiggle Googly Eyes

Yellow or white card (could be cut outs from an old cereal box)
Sharpie Fine Permanent Marker Black

Washable PVA Glue
Paper Roll Penguin
To get started, simply paint a thick white strip onto the paper roll – this will become the penguins face. Once dry, draw a heart shaped outline onto the white paint.
Using the heart outline as a guide, paint the rest of the paper roll black. Angel concentrated so hard on this part of the craft – a great little exercise for developing hand control.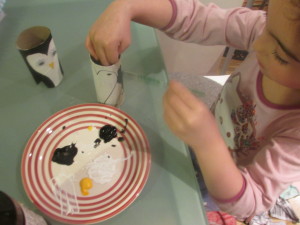 Next, add the Self Adhesive Sticky Wiggle Googly Eyes
and paint a yellow beak onto the penguins face. He should be looking very cute by now!
Cut out two small pieces of yellow card (or white card and paint it yellow), snipping out two triangular bits to create toes.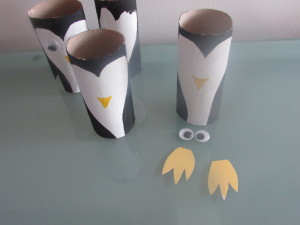 Next, cut a slit into each side of the penguin in an upwards direction (towards the eyes).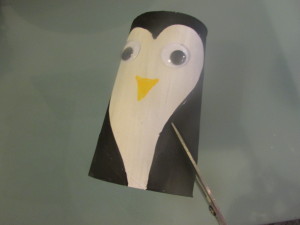 Place a finger either side of the penguin and gently push the roll inside itself until the 'wings' begin to pop out. Repeat with the second slit.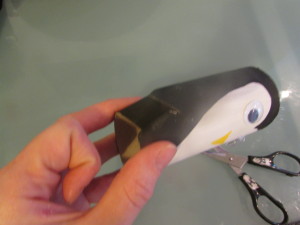 To complete the Paper Roll Penguin, simply attach the feet using a little Washable PVA Glue
. Here's a little tip: create a fold about 5mm at the back of the foot and attach it onto the paper roll.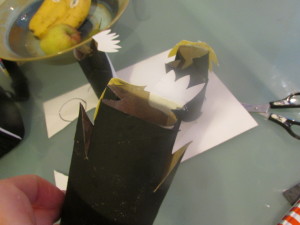 I hope you've enjoyed our Paper Roll Penguins. Angel was so pleased with hers, she woke up really early the next day to make one for her teacher! what a lucky teacher 🙂