Paper toilet rolls are just awesome. We have used the humble loo roll in so many of our crafts and always find something new to make. Today we've created a family of paper roll cats! Angel and Cakes are cat mad in every possible way and simple adore this cute little family of cats.
Paper Roll Cats: Materials
Paper Toilet or Kitchen Rolls
Reeves ready made Acrylic Paints
Self Adhesive Googly Eyes
Sequins
Plastic string (recycled Christmas décor)
Pipe Cleaners
Clear and Black Sticky Tape
PVA Glue
Paper Roll Cats
To get started, position your finger into a central position of the top of the roll and gently push down. Repeat on the the other side to form two tips – these will become the 'cats ears'. Once happy, hand a paintbrush over to your crafty kid and paint the rolls.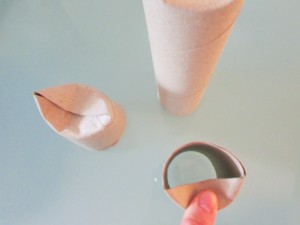 Next add some googly eyes and two little pink triangles to emphasise the cats ears.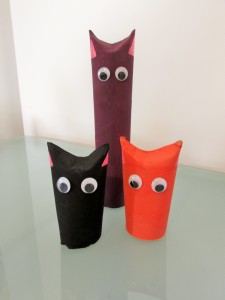 To give your cats Whiskers, cut some wiry string and secure using a small amount of sticky tape.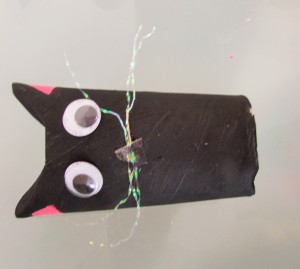 Place a sequin, button or even a circular piece of paper directly onto the tape and then draw a mouth – we made ours super smiley to add some 'cute' factor!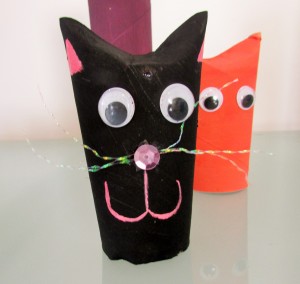 To finish off, twist a pipe cleaner around your finger to make it curly and secure to back of the roll by piecing a little hole with the pipe cleaner.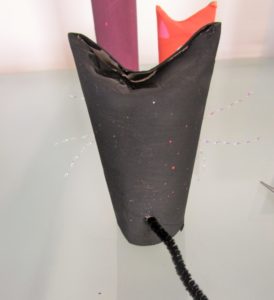 Your paper roll should now be transformed into a super adorable little cat! Try adding stickers or more paint to create tabby or tiger markings, a bib or little feet. Angel suggested we make a rainbow cat, which to me sounds like a great idea!