Right now, our household is dinosaur mad! we've been reading about dinosaurs, watching dinosaur programmes and making lots and lots of dinosaurs, and this paper plate triceratops is a firm favourite. I love how it turned out, especially the toothy grin!
When Angel takes an interest in a particular topic, I love running it with it and making it as fun as possible. Not only does it support learning, but she had a blast turning her favourite dinosaur into a paper plate and its a craft that I'm sure all kids will love.
Paper Plate Triceratops: Materials
2 Paper Plates
Paint
PVA Glue
Scissors
Paper Plate Triceratops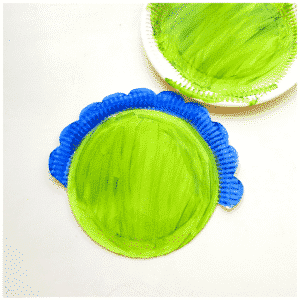 1. Take a white paper plate and remove half of the perforated edge of the paper plate (PP1). Shape the  remainder of the rim. This will become the dinosaurs face.
2. Paint PP1  and paint just half of PP2 using the same colour. We chose to paint ours green.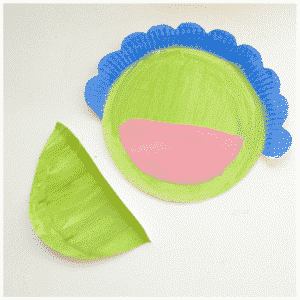 3. Cut out the painted semi-cirlce on PP2 and again remove the perforated rim.
4. Paint a pink semi-circle onto PP1.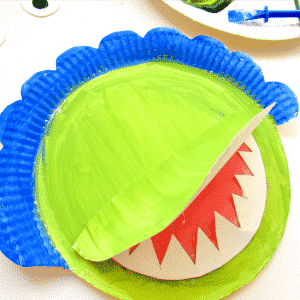 5. Using the white remainder of the PP2, cut out a toothy semi-circle and glue it onto the dry pink semicircle.
6. Creating a small fold, glue the roof of the mouth above the pink semi-circle to finish off the dinosaurs mouth. It should flap quite freely.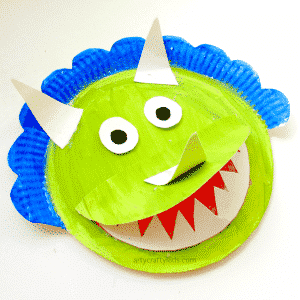 7. To finish off, cut out three triangles from the scraps of white paper plate and two circles for eyes.
8. Glue the eyes on and create a small fold on each of the wide parts of the triangle, and glue. Gently fold the unglued parts of the triangle towards you to create a 3d effect.
I hope you've loved our paper plate triceratops as much as us!  If you try this at home or within a group, preschool setting, it would great to hear how you get along with it and keep checking back for more dinosaur crafts and activities – we're totally in the dino zone!
Follow Arty Crafty Kids on Facebook and Pinterest