Today I have the sweetest, most adorable Paper Plate Hedgehog Craft you will ever see! it even comes with spikes that can be stroked and arranged to form pretty patterns.
Little hands will be kept busy with all the sticking, gluing, cutting and painting involved, working on their fine motor skills while having fun – making this a great woodland themed animal craft within a preschool and early years setting.
This little cutey was inspired by my friend Andreja's (the creative force behind the gorgeous kids' craft site Easy Peasy and Fun) Paper Plate Hedgehog, which comes with an Autumnal (and very clever) leafy twist.
Paper Plate Hedgehog Craft: Materials and Tutorial
This post contains affiliate links to recommended products.
Paper Plate
Construction Paper
Googley Eye
Brown, Pink, White and Black Paint
PVA Glue
Scissors
Paintbrush
To see the craft in action, check out our nifty video and subscribe to our new YouTube Channel for more Arty Crafty Action!
Paper Plate Hedgehog Craft: Tutorial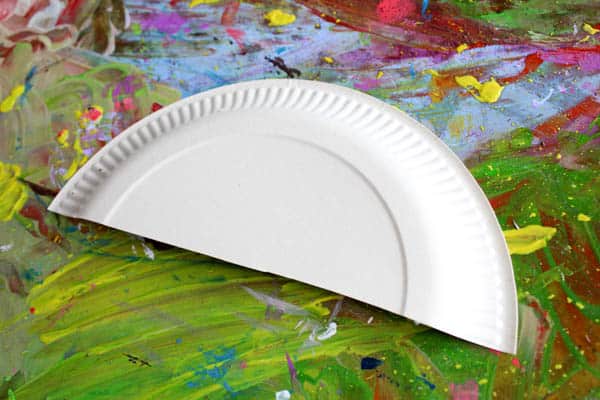 Step 1. Take a single paper plate and cut it in half.
Step 2. Using one-half and back of the paper plate, divide it into a body and head area, painting the respective areas brown and pink.
The Arty Crafty Kids may need to do some colour mixing to achieve the desired shared either using white to lighten or/and mixing primary colours to create a brown.
Of course, the colours can also come straight from a bottle, but colour mixing is always fun!
Step 3. Cut an A4 sheet of construction paper into strips and then cut along the paper in a zig-zag formation to create triangles.
As you can see, we decided to use two different colours to create a spiky pattern.
Step 4. Working with the curves and grooves of the paper plate, begin sticking the construction paper onto the paper plate.
If you have used different shades, this is a great opportunity for Arty Crafty Kids to create basic patterns with their triangles.
Step 5. Once the Arty Crafty Kids have reached the flat area of the paper plate, simply fold the bottoms of the triangles and glue this area directly onto the paper plate to create a 'spiky' lift.
Step 6. Once the body is full of gorgeous spikes, add a googly eye, a cute black nose and a little smile!
And the Paper Plate Hedgehog Craft is complete!
For more Woodland Animal 'craftspiration' take a look at our gorgeous collection of Woodland Animal Crafts.
Pin for later!