Angel declared herself a queen the other day and since every queen needs a crown, we created our rather super Paper Plate Heart Crown! with just a few materials, this craft couldn't be easier.
Great for imaginary play and a simply perfect kid craft for celebrating Valentine's Day!
Paper Plate Heart Crown: Materials
A Paper Plate
Red Paint
A Pen
A pair of Scissors
Paper Plate Heart Crown
With the rough side of the plate on the outside, fold the plate in half.
Draw the outline of half a large heart directly onto the plate, leaving 2-3cm at the bottom from the centre fold.
Cut along the outside of the heart from the centre point and continue following the circular outline of the plate. I would advise starting off small and then cut a little more if you need to, to ensure a snug fit on your kids head.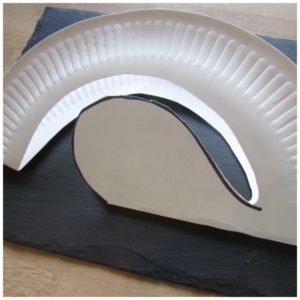 Unfold the paper plate and pop the heart out.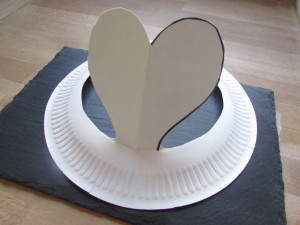 Now for the really fun bit – The paint!
Once the crown is dry, your crafty kids could add sequins, gems or anything else they desire before wearing it.
I hope your kiddies love their Paper Plate Heart Crown and had lots of fun making them!