Our adorable paper plate goldfish bowl craft forms part of the super fun (and unique) #collectivenouncraft series hosted by the fabulous ZingZingTree.
I'm sure you're familiar with the collective nouns for sheep (herd), ants (colony) and birds (flock), but how about the terms to describe a group of owls (parliment), cats (clowder) or Iguanas (mess)?
Did you know that a herd of sheep could also be described as a parcel/trip/hurtle/meinie of sheep?
The collective noun for porcupines is 'Prickle' and the term for a group of raccoons is 'Gaze'.
I could go on and on, but that would spoil the fun. You should google the rest or even better, search #collectivenouncrafts on all the popular social media channels to see the entire series of collective noun crafts!
Oh and if you're wondering, a group of goldfish is also referred to as a 'glint of goldfish'.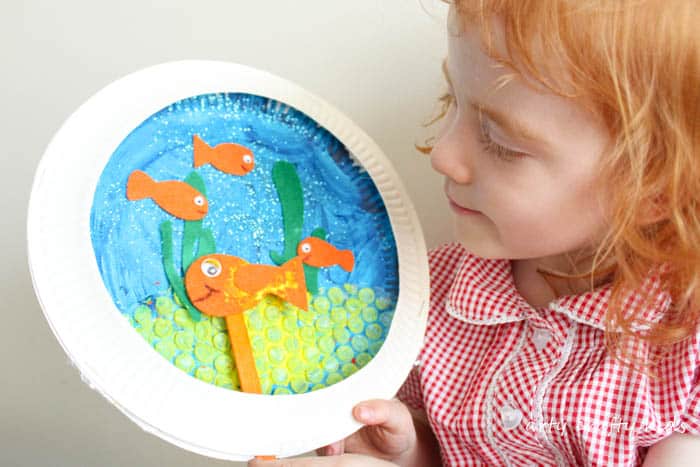 I love how our goldfish bowl turned out, isn't it cute?
This is a great craft for preschoolers. It's fun, interactive and EASY, making it the perfect craft to try at home or within a small group setting. If you're covering an underwater theme at school or preschool, perhaps the bowl could be painted yellow to resemble a porthole window on a submarine or boat. Add some exotic fish, an octopus or even a shark and you have a cool deep sea craft.
Paper Plate Goldfish Bowl Craft
*This post contains affiliates*
x2 Paper Plates
Paint
Blue Glitter
Bubble Wrap
Orange and Green Felt or Paper
Googly Eyes
Craft Stick
PVA Glue
Stapler
Scissors
To see the craft in action check out our nifty video below and sign up to our new YouTube channel to see all our crafts in action!
[mv_video aspectRatio="16:9″ key="b3gmypfzprrhr8q45gzi"]
Paper Plate Goldfish Bowl Craft Tutorial: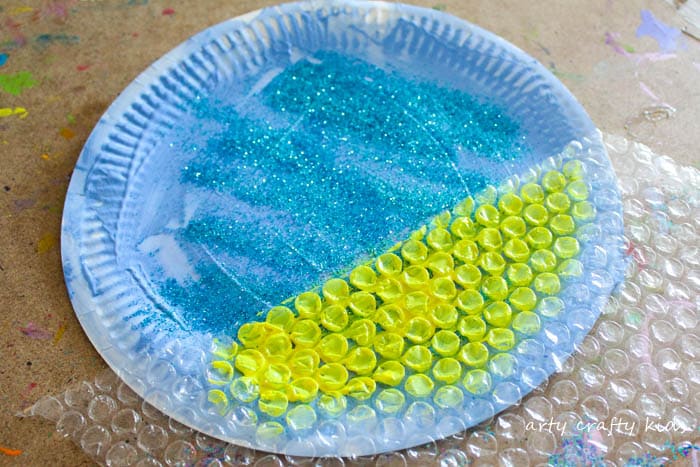 Paint one paper plate blue and add blue glitter to create some underwater shimmer and shine.
Stick some bubble wrap onto the paper plate for texture and paint the bubble wrap yellow to create a sandy layer.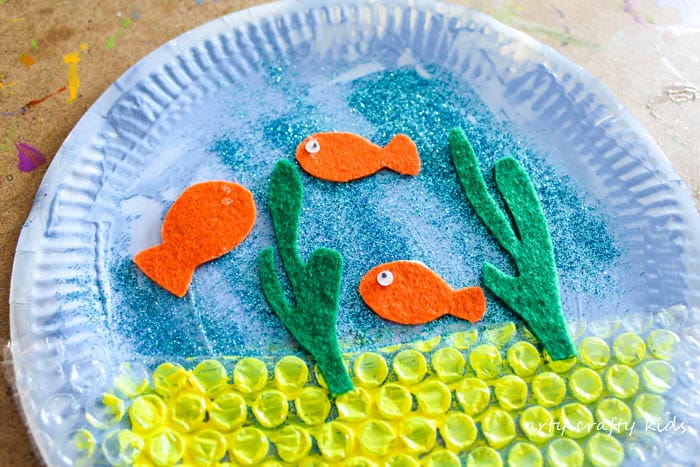 3. Cut fish and seaweed shapes out of the felt, and secure onto the paper plate with PVA glue.
4. Add googly eyes to the fish.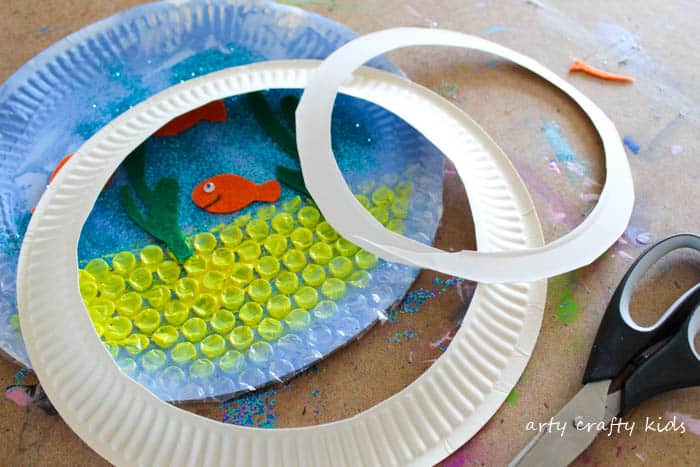 5. Cut out the centre of the second paper plate and secure onto the painted plate with staples.
6. Remove any excess bubble wrap from the edges.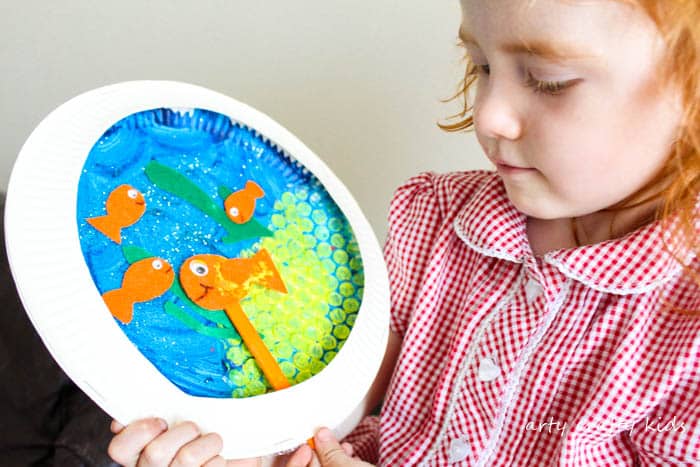 7. Next, add a goldfish to a craft stick and thread it through the bottom of the paper plate.
Next, it's time for the goldfish to duck and dive around the bowl, causing chaos amongst the glint of goldfish!
If you're looking for more fishy crafts to try with the kids this summer, check out our Paper Plate Jellyfish and cute Rainbow Fish!
And to see more #collectivenouncrafts, take a look at the contributions from Moms and Crafters and a super fun Paper Plate Swimming Jellyfish from Rachel at I Heart Crafty Things!
Pin for Later!