Easter Bunny Photo Card – Cute, fun and easy Easter card to make with the kids.
Designed to encourage little crafters to create independently. The addition of the photo adds an adorable element to the Easter card that is sure to be a winner amongst parents, family and friends.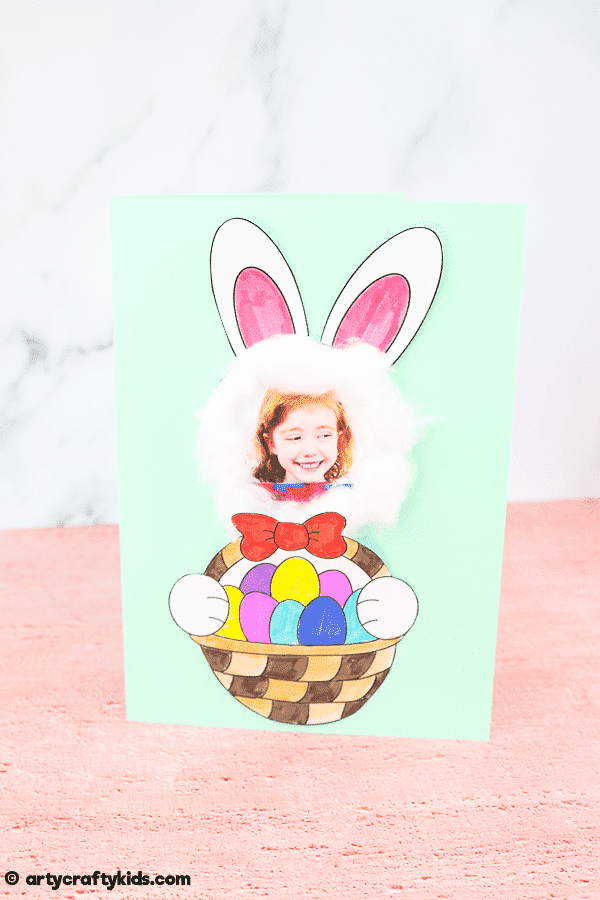 How to Make an Easter Bunny Photo Card:
The Easter Bunny Card is mostly a cut and stick craft, which is great if you're working with a group of children in preschool or school. This is also a perfect craft to do with younger children; they have an opportunity practice their cutting skills and play with shapes.
What you need:
White and Coloured Cardstock
Cotton Wool Balls
Photo
Colouring Pens, Pencils or Crayons
Scissors
Glue stick
How to Download the Easter Bunny Template:
The Easter Bunny template is available to members of the Arty Crafty Kids club and can be accessed via the following link: https://www.artycraftykids.com/product/easter-bunny-photo-card/
Members will need to log in to access the templates!
Not A Member?
Let's Make an Easter Bunny Card!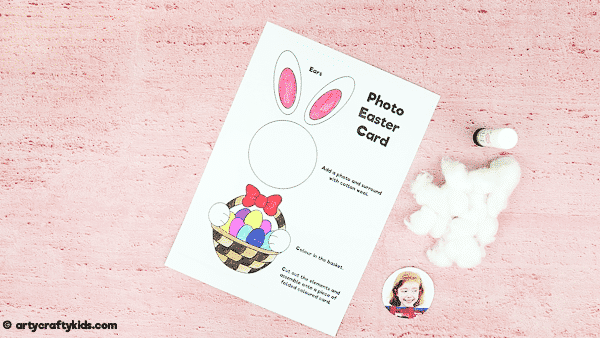 Colour in the Template
Print the template onto white cardstick – make sure you check and adjust the printer settings first! I recommend printing onto card that's less than 160gsm.
In this example, we've coloured the template with felt tipped pens for vibrancy.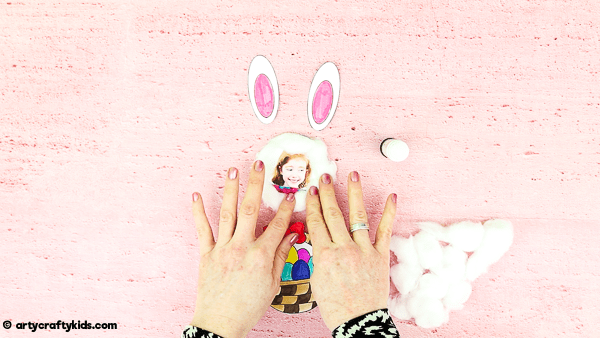 Glue the Photo to the Circle
Cut out the Easter bunny elements.

Cut out a cute photo of your child to size and glue to the centre of the circle. Your Arty Crafty Kid will now be the centre piece of this adorable Easter bunny design!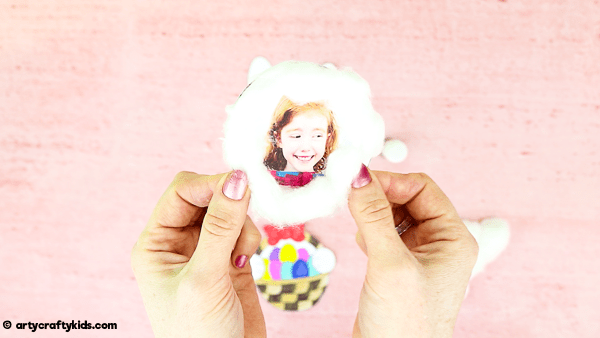 Surround the Photo with Cotton Wool
Start by applying glue around the photo.

Separate a cotton ball and spread it around the photo.
Add Bunny Ears
Secure a pair of bunny ears to the photo bunny head.
Option – Add cotton wool balls to the ears!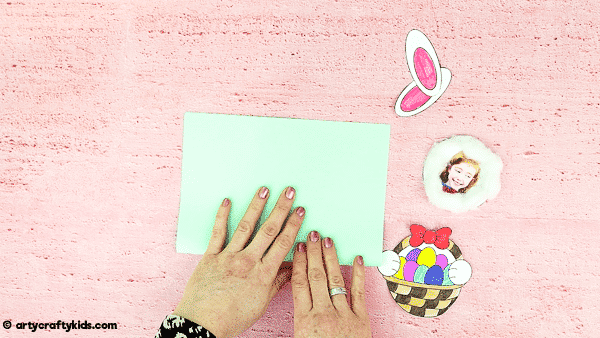 Make a Card
Grab a piece of A4 coloured card-stock and fold in half.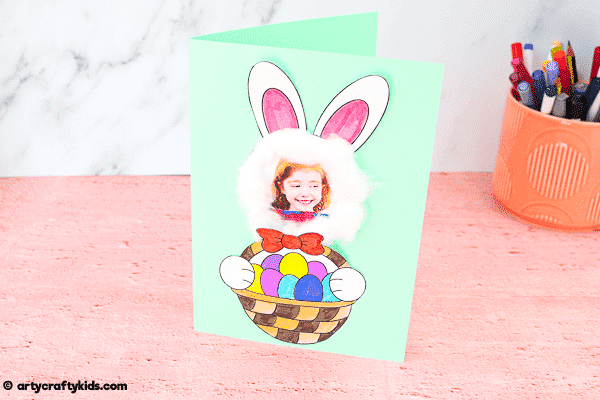 Assemble the Bunny
Assemble the bunny pieces to create a bunny holding an Easter basket.

Once the pieces are positioned in the correct place, secure with glue.
Open the card and write an Easter Greeting!
More Easter Crafts for Kids:
For more cute, fun and easy Easter crafts to try with your kids, check out these popular posts:
Easter Bunny Card for Kids:
With Easter approaching, this Easter Bunny Card is the perfect card to make with the kids. Kids will love coloring and arranging the shapes to put their Easter bunny cards together. The simple open/close Easter egg card held by the bunny adds an adorable novelty feature to the craft.

https://www.artycraftykids.com/craft/easter-bunny-card-for-kids/
Easter Egg Spring Animals for Kids:
Easter Egg Animal Craft for Kids – A simple cut and stick craft that transforms Easter eggs into cute Spring animals.

Easter is a perfect opportunity to get creative with children. Flowers are bursting into bloom, the sun is shining again and everything looks colourful and bright! Here at Arty Crafty Kids, we've taken inspiration from cute springtime animals to create an easy Easter craft that your little ones will love.

https://www.artycraftykids.com/craft/easter-egg-animal-craft/
Happy Crafting!