When our ChalkOla chalk makers arrived through the post, i'm not sure who was more excited – me or the kids!
The bright neon colours are so inviting and inspired an abundance of creative ideas.
Having learnt about about the Mexican Day of the Dead festival at school, Angel suggested making a Day of the Dead mask.
I didn't need convincing. Given the vibrancy associated with the festival, the craft seemed like a perfect match with the neon chalk pens, and lets face it, when it comes to craft – kids know best!
Day of the Dead Mask: Materials
This post contains affiliate links
A sheet of black card
Neon Chalk Ola Chalk Markers (UK Link/ US Link)
A stick
Black Paint
Day of the Dead Mask
Step 1: Paint a black stick and leave to dry.

Step 2: Draw a basic skull outline.
Step 3: Using your Neon Chalk Ola Chalk Markers (UK Link/ US Link), decorate the skull with different patterns and colours.
Step 4: Decorate the stick using the Neon Chalk Ola Chalk Markers (UK Link/ US Link).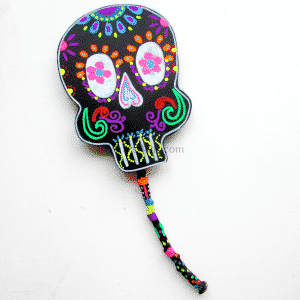 Step 5: Cut out the Day of the Dead Skull Mask and attach to the decorated stick.
I love how our Day of the Dead Skull Mask turned out. Angel had a blast making it. She loves using the chalk marker pens against the black and we have since made magical stick wands and decorated leaves!

About ChalkOla Markers:
I'm all about bright, engaging colours and the ChalkOla chalk markers are incredibly vibrant. We used them on paper, sticks, glass, slate and the colours were consistent on each and every surface we used. My kids couldn't wait to get their hands on them and from a parents perspective, they're durable and easy for kids to use. As an added important bonus, they're also ECO-friendly, non-toxic and EASY to wash off! It's been a pleasure to have the opportunity to have a play with the these chalk marker pens and I would be happy to recommend them as an art supply to anyone, especially if you're teacher looking for a slightly alternative medium for your students to explore within their art projects.
Join the Arty Crafty Kids Club and receive FREE weekly updates!
This is a sponsored post and all views expressed are entirely my own. For more information, please see the Arty Crafty Kids disclosure statement.