This super Cute Printable Panda Card is great fun for kids to cut, stick and assemble; creating a sweet card for Valentine's Day, Mother's Day or for a just because 'you're special' type of day. The printable is designed to enable children to practice their cutting skills, with handy dotted lines to follow and thick outlines to accommodate developing fine motor skills.
Would you believe the design was actually inspired by a pair of Panda socks?
With the addition of heart eyes, ears and nose, this card will certainly melt hearts!
Here's what you need…
Cute Printable Panda Card: Materials
A sheet of White A4 Cardstock
Black Cardstock
Scissors
PVA Glue
Download the Template (Found towards the end of the tutorial)
Cute Printable Panda Card: Tutorial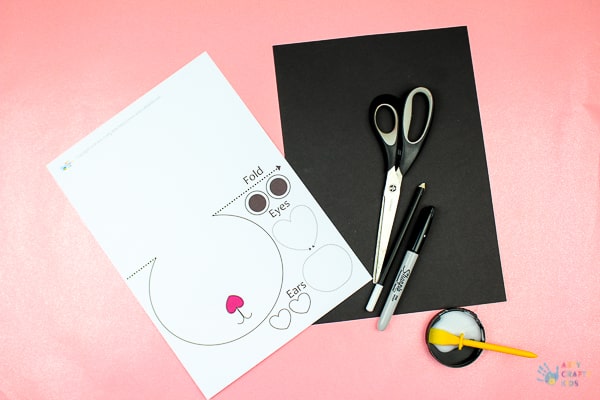 Step 1: Download and print the template (found towards the end of the post) and gather your materials.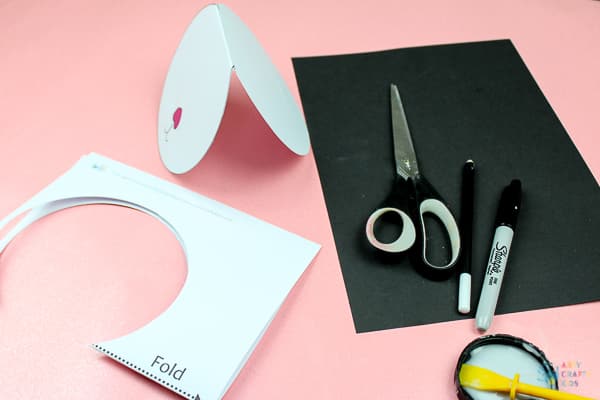 Step 2: Fold the cardstock in half (along the dotted line) and carefully cut out the Panda's face (as shown above).
Step 3: Cut out the facial elements and put aside the small eyes and hearts
Using black card and a white pencil, trace around the shapes with dotted lines.
Cut the black shapes out.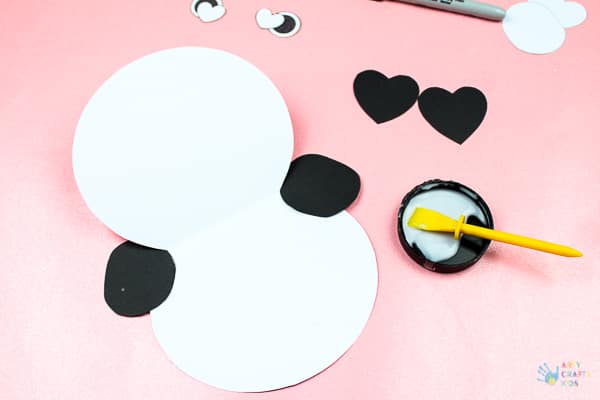 Step 4: Open the card and attach the black ears (as shown above) using PVA glue.
Spread the PVA glue to the black shapes, rather than the white card as this will prevent excess glue sticking the card together.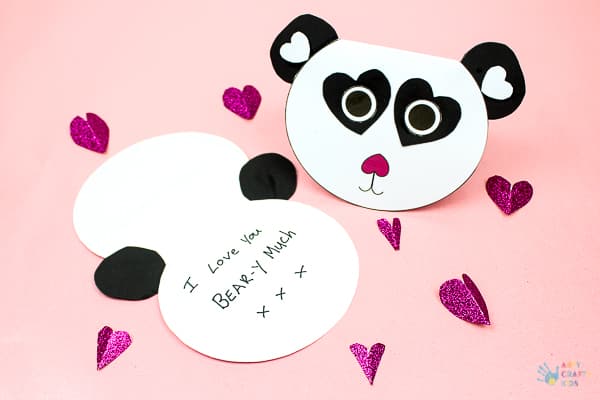 Step 5: Add the remaining facial features.
Open the card and write a special message!
It's always fun to play on words, here are a few ideas to get your Arty Crafty Kids started:
I Love you Bear-y Much
You are Bear-y Awesome
You're the Bear-y Best
I wish you a very Bear'y Birthday
Can your Arty Crafty Kids think of any more?
DOWNLOAD the Template:
To access the template, sign up to our Arty Crafty Kids Newsletter, and we'll also keep you posted with new Art & Craft ideas!
Already receive our Email Newsletters, click here – Panda Card Template
Alternatively, you may also like our Handprint Love Bug!
Pin for Later!