As a mummy to girls with a three and a half year age gap, I'm well aware that time passes quickly and as such, I love to create everlasting keepsakes. Cakes is 14 months old and this Clay Heart Fingerprint Keepsake is for her. I love how tiny and imperfect her prints are, if you look closely, you can see a fingernail dent too!
To make your own Clay Heart Fingerprint Keepsake at home is very simple and will take less than hour (including baking time of 30 min) to make.
Clay Heart Fingerprint Keepsake: Materials
Contains affiliate links for your convenience
Fimo Soft White Oven Bake Modelling Clay

Red Glitter
Heart Cookie Cutter

Baking Paper
Ribbon or String
Red acrylic paint
Clay Heart Fingerprint Keepsake
Start by kneading the red glitter into the Fimo Soft White Oven Bake Modelling Clay and roll into a ball.
Roll the Fimo Soft White Oven Bake Modelling Clay out to about 5mm in thickness (or to a desired thickness) and then apply pressure to the Heart Cookie Cutter
to cut through the clay.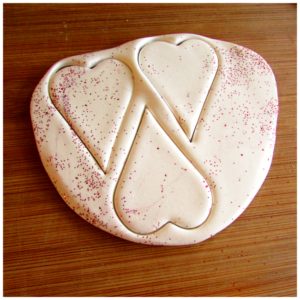 Unfortunately, I couldn't take photos of Cakes actually doing the prints (not enough hands!), but it's pretty easy and I used one thumb to create both sides of the fingerprint heart.
If you would like to hang your heart, add a threading hole using a straw.
Pop the clay onto baking paper and then into the oven, following the instructions of the Fimo Soft White Oven Bake Modelling Clay
packaging.
It took around 30 min for the clay to harden. Watch out for discolouration of the clay, if this occurs then it's time to come out!
To make the print prominent, I added red acrylic paint. Once dry I finished off with some matching ribbon to hang on the wall.
I hope you love your Clay Heart Fingerprint Keepsakes as much as I do. As can you see, I added my daughters name onto one of the hearts, with a date and age on the back.