Combining the creativity of craft, the interest of perspective and the fun of movement, our 3D paper crafts are super popular, capturing the imaginations of younger and older kids alike.
So we've created this handy round-up featuring all our favourite bobble head crafts. From Spring to Halloween to Christmas; from land animals to sea animals to creepy crawlies, we have a 3D paper craft to keep your children busy all year round.
Whether you're looking for an activity to support a school learning topic, or to encourage your child in a new interest, you're bound to find a fun and engaging activity for everyone in our special 3D bobble head paper craft round-up!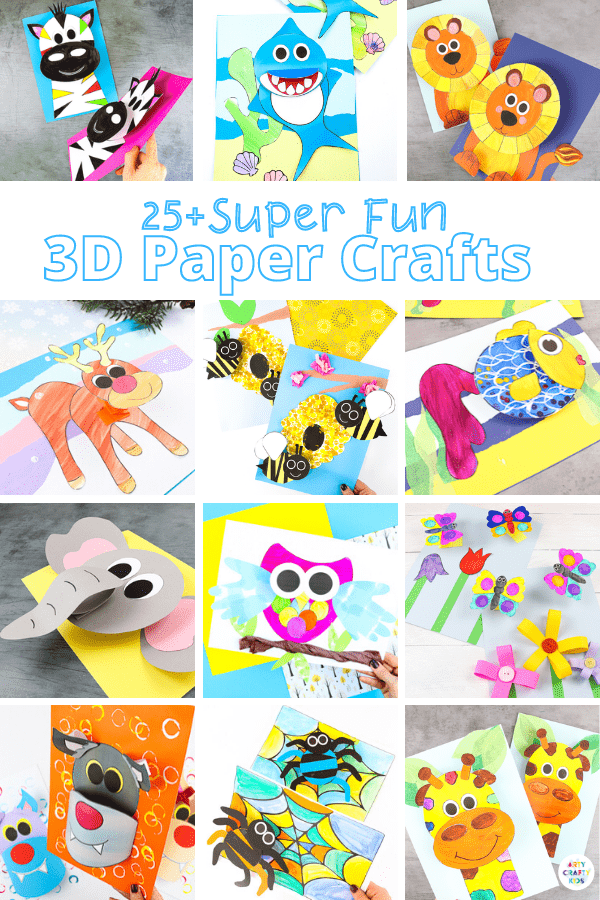 Paper Crafts for Kids of All Ages:
There are so many benefits to giving our fun range of 3D crafts a go!
Preschoolers and school early years children can use our activities to hone those fine motor skills, through cutting, folding, sticking and coloring. They can play with color and shape, and the 3D elements are a great introduction to spatial awareness and understanding.
Older children can really explore their creativity through our paper crafts. They're designed to engage and inspire, encouraging imagination, self-expression and experimentation with different mediums and textures.
And of course they're lovely projects to do as a family, whether that's parent and child, or younger sibling with an older one. Whether it's a rainy day activity or part of home-learning, our paper crafts will be enjoyed by the whole family!
Join the Arty Crafty Kids Club to Download the Templates!
Our complete collection of 3D animal templates are available to members of the arty crafty kids club. Find out how to join here!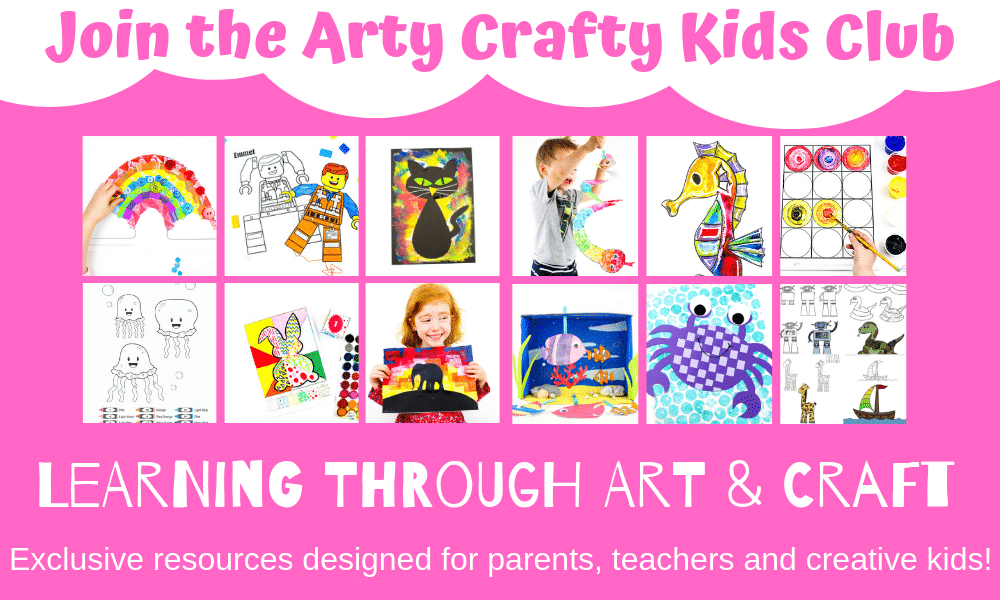 25+ Paper crafts For Kids – The Collection: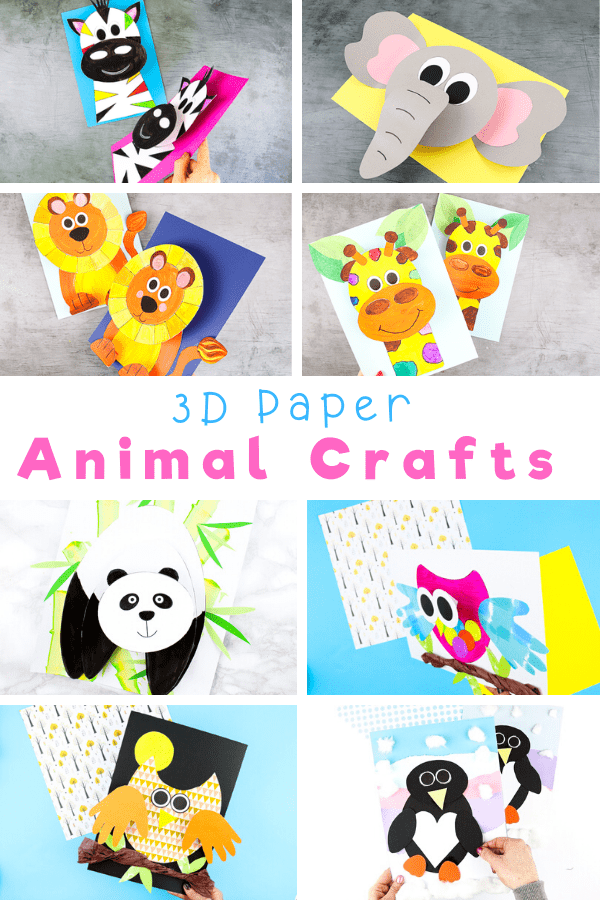 3D Animal Crafts for Kids
Animals are a winner all year round, so we have a big range of bobble head animals to choose from. Whether your child likes to roar like a lion or waddle like a penguin, they'll love bringing their favourite animal to life.
With his jazzy stripes and big friendly smile, your little ones are going to love creating, and playing, with Zach the Zebra.
If your children are fans of Disney's Dumbo, they'll love making, and flapping, the big ears of our 3D paper elephant craft.
Have your children read the best-selling book Giraffe's Can't Dance? Prove that they can with our wobbly, wiggly 3D giraffe craft.
Our 3D paper lion craft also doubles up as a color study for kids – grab the paints and give it a try.
Learn about the giant panda and her love for bamboo with our 3D bobble head panda craft.
Inspired by the adorable animated film Happy Feet, our interactive paper penguin craft will help kids to make their very own cute dancing penguin.
Kids will love wobbling the wise old owls big eyes and flapping his wings with our bobble head owl craft.
Help children bring a part of themselves to their art with our bobble handprint owl craft, where the owls wings are shaped like their own hands.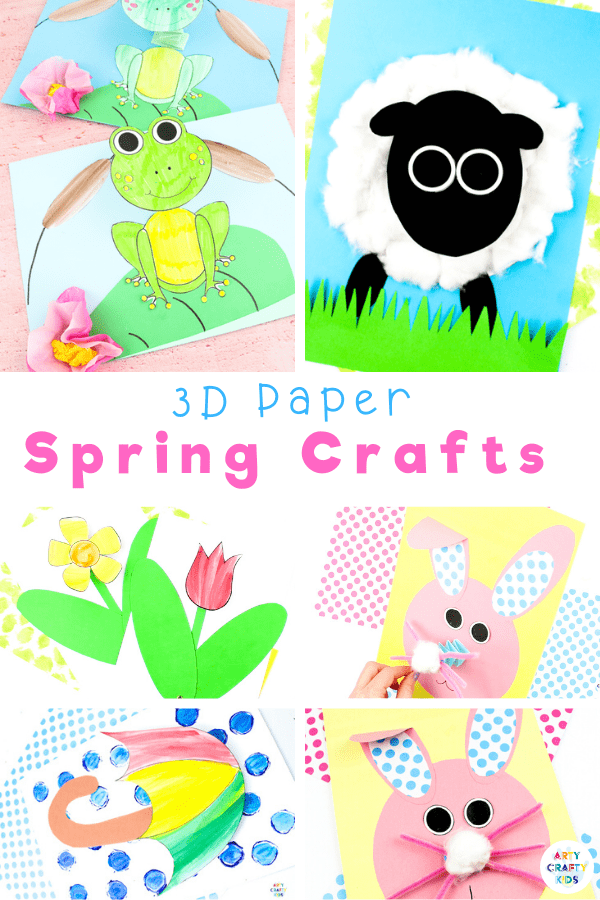 3D Springtime Crafts for Kids
Spring is a wonderful time of year to inspire craft, as the world bursts to life with color, blooms and adorable baby animals. If your children are fond of the joys of spring, they'll love this selection of interactive seasonal activities.
Keep your own little lambs happy this springtime with our sweet wooly and bouncy 3D spring lamb craft.
Your children will love jumping into spring with our bright and fun bobble head paper frog craft.
Say goodbye Winter, hello Spring and mark the changing seasons with this bouncy and playful 3D spring flower craft.
Celebrate the start of spring and those fresh April showers with this colorful and fun 3D umbrella craft.
With her sweet fluffy nose and one bent ear, kids will love making our bobble nose paper Easter bunny craft.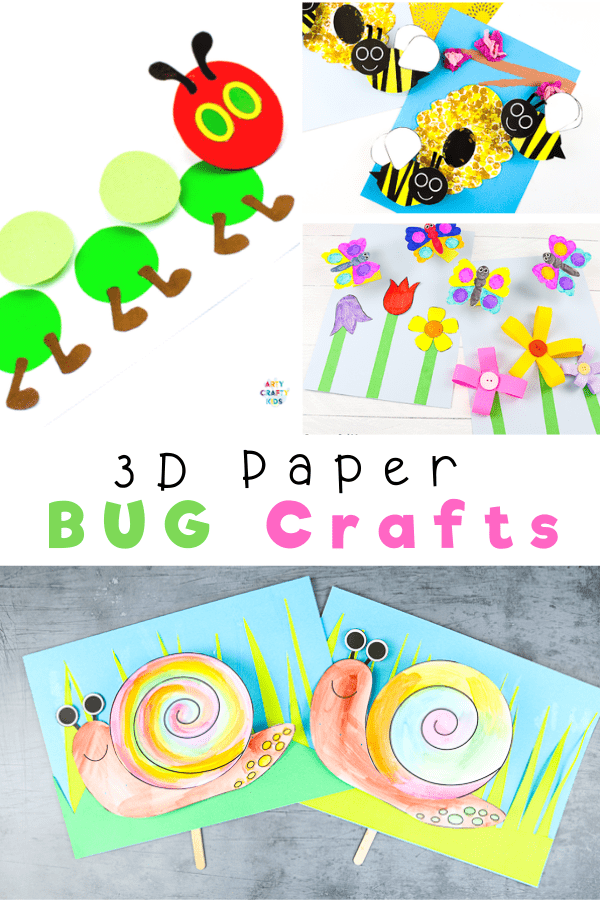 3D Mini Beast Crafts for Kids
Mini beasts are a common school topic, and a firm favourite with children, so our selection of slithering snails, buzzing bees and bouncing butterflies are sure to please everyone.
This 3D butterfly craft is so adorable and easy to make with the kids – with the added bounce from the bobble, the butterflies will flutter above the pretty spring flowers.
With the added bobble bounce, bees literally pop from the page as if they're buzzing around a beehive, making our 3D bee paper craft the perfect spring activity for kids.
Bring the book to life – and explore colors, counting and the life cycle of a butterfly – with this fun and interactive Very Hungry Caterpillar printable 3D paper craft.
With an interactive snail that moves as if it's slithering in and out of its bobbly shell, kids will love playing peek-a-boo with this adorable 3D paper snail craft.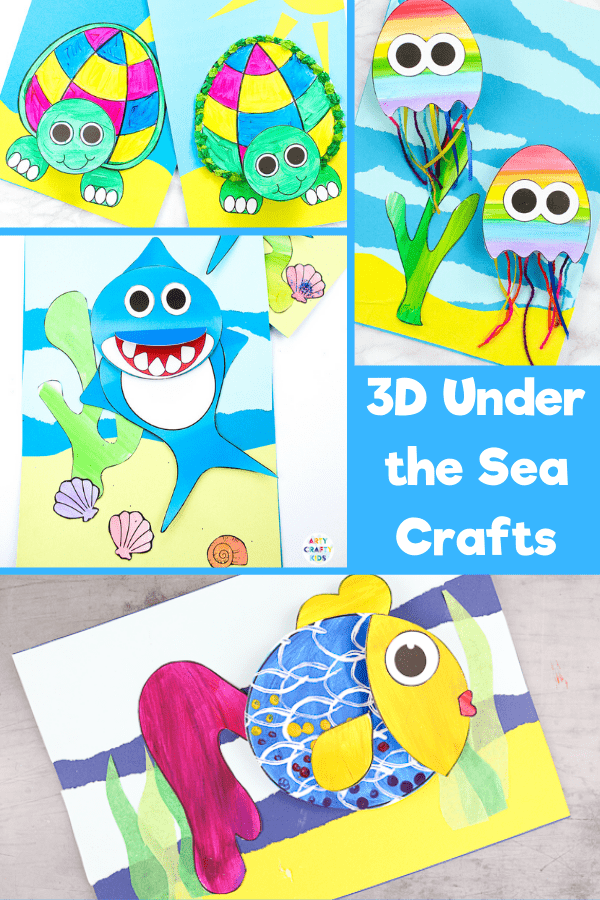 3D Under the Sea Paper Crafts for Kids
Perfect for Summer, when all things under the sea and ocean animals become hot topics within the classroom, our range of colorful interactive ocean crafts are designed both with learning and all the fun of summer in mind.
Exploring color, texture and shape, our 3D paper fish craft is a great way to bring the ocean to life and capture young imaginations.
Combining the under the sea theme with all the color and fun of summer, this 3D bobble head paper turtle craft is sure to excite and engage.
If your children love the (in)famous baby shark song, they're bound to love making our baby shark craft, with interactive swimming tail and 3D mouth.
Children can wiggle and jiggle their way to fun with this super colourful paper jellyfish craft – complete with ribbon tentacles!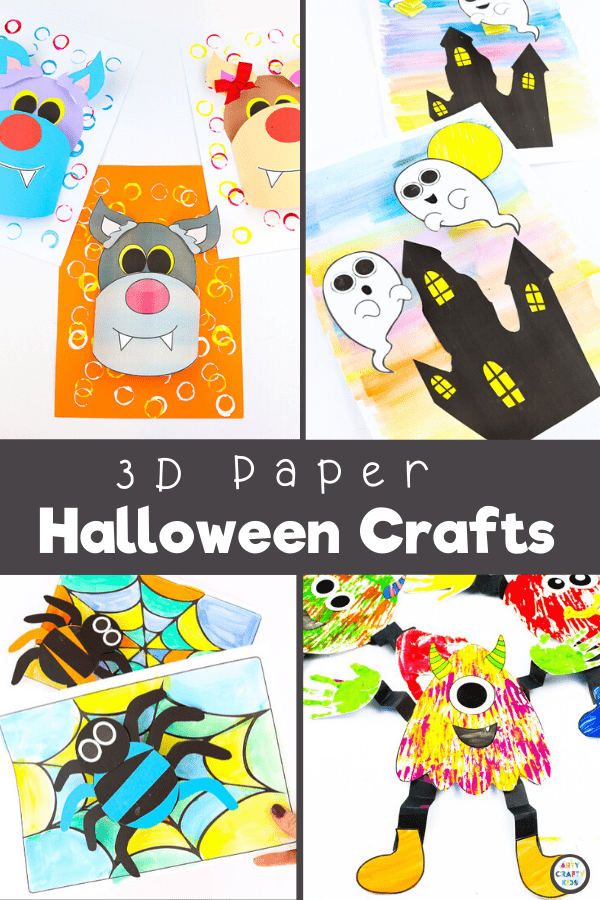 3D Halloween Crafts for Kids
Halloween always captures the imagination with its potential for marauding monsters and fairytale creatures. So make the most of the spooooooky season with our easy Halloween paper crafts for kids.
With ghostly characters that playfully wobble above their haunted house, this fun, not spooky Halloween craft is one that kids will love!
Fill the spider's web with vibrant colours and add a bobble to the friendly spider to make it bounce and wobble on its beautiful web with our 3D paper spider craft.
Will children create a scary werewolf or a fairytale wolf from Little Red Riding Hood? The choice is theirs in this fun and not too scary 3D paper wolf craft.
A playful and fun-filled Halloween craft for kids, these monsters can move and groove with a wave and jig – and they're personalized with your children's handprints too.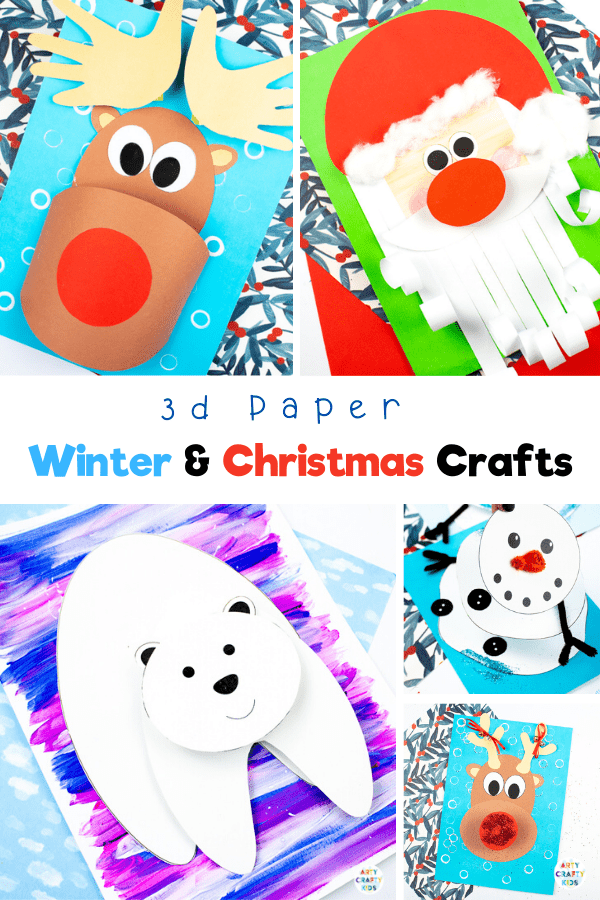 3D Christmas Paper Crafts for Kids
We all know that Christmas is the most wonderful time of the year! Add to the magic with our fun and festive crafts featuring all your favourite Christmas characters.
Take a trip to the Arctic with this fun and super cool interactive 3D paper polar bear craft.
Rudolph's bright red nose is the focus of this glittery, bouncy 3D paper craft – with added jingle bells!
Ho Ho Ho! With his big red bouncing nose and jolly curly beard, this 3D paper Santa craft is sure to bring plenty of festive spirit to kids of all ages.
Craft meets play with this brilliant 3D melting snowman paper craft. Children will love making him stretch, wobble and melt into a big white blob… and grow back up into a snowman again.
Let Rudolph lead the way – bouncing head first! – with this fun and festive 3D bobble head reindeer craft.
I hope you have enjoyed exploring our fun and interactive collection of 3D Paper Crafts for Kids!

As our paper craft library grows, this round-up will regularly updated. Keep up to date by bookmarking this page, sign-up to our regular emails or make sure you follow our Facebook , Instagram or Pinterest accounts for regular updates!
Happy Crafting!