Today's free Moana Inspired Turtle Coloring Page is inspired by the amazing Polynesian tattoo art found throughout the film. In pacific cultures, tattoo's are deeply meaningful and are unique to each person. They tell a story and serve as a reminder to ones values.
My kids adore the film and have seen it far too many times. The tattoo art intrigued my eldest daughter (7) and has been creating 'story telling' art ever since. With this in mind, how could I not get her involved with this months 'Turtle' challenge!
Our coloring page is a representation of a sea turtles journey to the sea, with a large prominent lotus flower to symbolise its peace loving and gentle nature. If you have seen the film, you will notice that the art is uneven, lacks symmetry and full of hand drawn charm – PERFECT, so I hope you enjoy our quirky looking turtle and it's been an absolute pleasure to work with my darling girl on this project.
And don't forget to check out the 5 stunning Free Turtle Coloring Pages at the bottom of this post!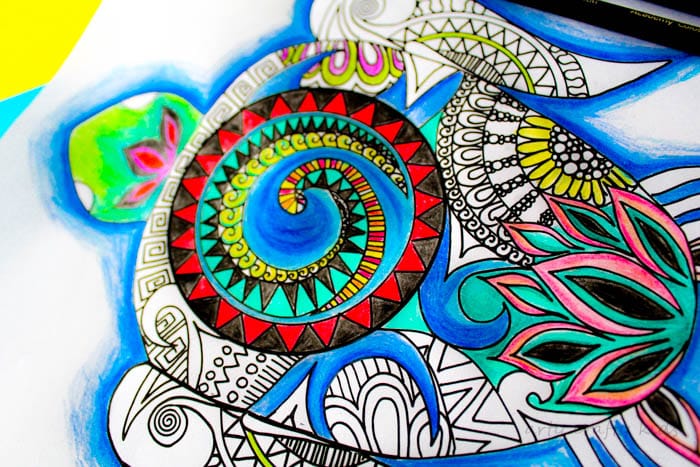 Top Picks!
This post contains affiliate links
Paper:
Heavy Weight Paper
Watercolor Paper ( for water soluble pencils)
Pencils:
Blendable Coloring Pencils
Watercolor Pencils
Inktense Ink Pencils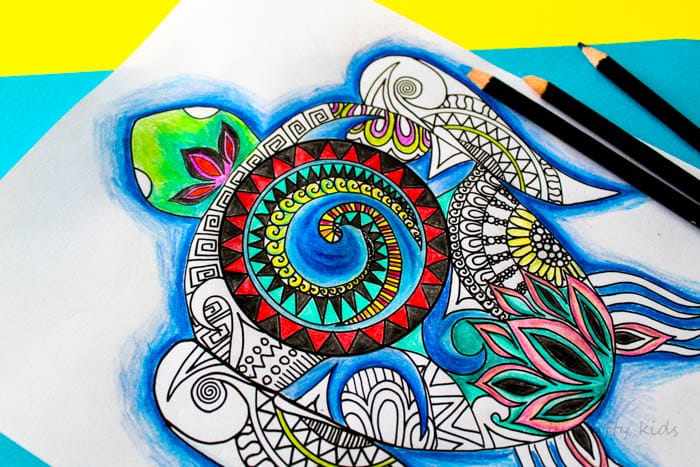 Moana Inspired Turtle Coloring Page
To download your free coloring page, click on the link below and follow the instructions.
More Free Turtle Coloring Pages
Turtle Coloring Page by Hattifant
Turtle Template Coloring Page by Moms & Crafters
Moana Inspired Turtle Coloring Page by Arty Crafty Kids
Turtles Together Turtle Coloring Page by Arts & Crackers
Turtle Coloring Page by Easy Peasy and Fun
Turtle Coloring Page for Grown Ups by Trail of Colors
Pin for our Moana Inspired Coloring Page for Later!