Friendly Fruits Coloring Pages: Get your fill of goodness from our Friendly Fruits Coloring Book for kids, with 15 pages of unique, fruity designs! Whether you're looking for a few cute fruity coloring pages to entertain the children, or after a useful learning tool to teach the kids the importance of a healthy diet, these friendly fruits are sure to have children smiling!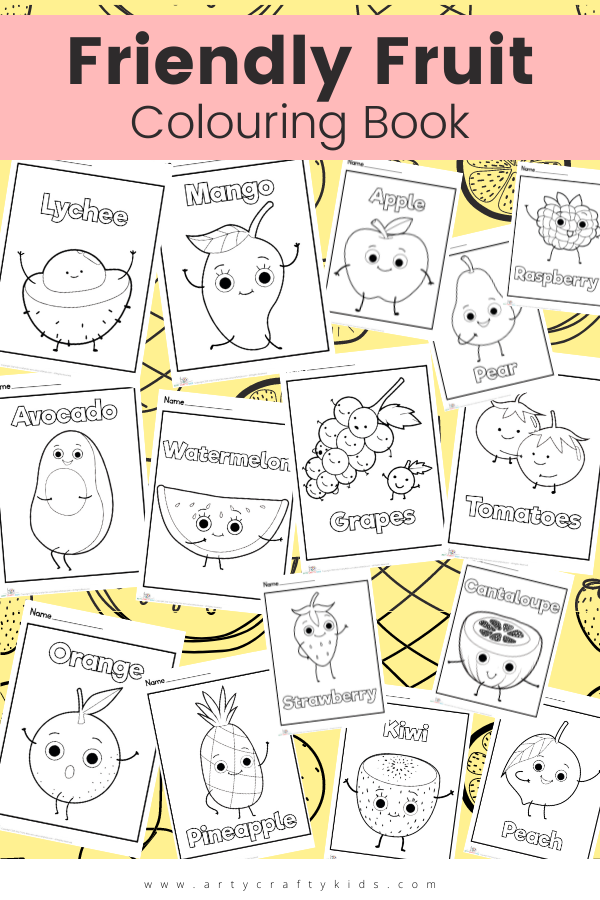 Fruit Coloring Pages for Kids
This yummy coloring book features 15 different friendly fruits, with bold writing, naming each fruit, to help children begin identifying their favorite snacks! We also use clear smooth outlines and simple shapes to make these coloring pages easy-peas lemon-squeezy to color and appealing for children of all ages.
Although it's advised children have at least 2 fruits a day as part of a healthy diet, let them fill up on all 15 of these pages! To get you started, we're offering 5 pear-fect Friendly Fruit Coloring Pages for free!
Friendly Pear Coloring Page
Be pre-peared to have tonnes of fun coloring in these friendly faces! Did you know that pears have been recorded in history all the way back to 1000 B.C?
Friendly Orange Coloring Page
Orange you glad you found these neat coloring pages!? Did you know that Brazil produces around half of the whole world's supply of orange juice! Wow!
Friendly Strawberry Coloring Page
If you're stuck in a jam with nothing to do, download this adorable strawberry character coloring page! Did you know that the Ancient Romans believed strawberries had magical, medicinal powers? Now that's berry cool!
Friendly Peach Coloring Page
Kids will be feeling just peachy after completing this cute coloring page. Did you know, that in China, the peach is considered a symbol of luck and immortality?
Friendly Grapes Coloring Page
Children will have a grape time filling this page with color! Did you know that grapes come in lots of different colors, including green, red, purple, yellow, black and pink!? Isn't that neat?
More Friendly Fruits Coloring Pages
If you need more variety in your fruit cocktail of coloring pages why not download our 15 page Friendly Fruit Coloring Book? The full coloring book is available to members of the Arty Crafty Kids club now!
How to Download the Friendly Fruit Coloring Book:
Members can access the coloring book (remember to login!): https://www.artycraftykids.com/product/friendly-fruit-coloring-book/
Members will need to log in to access the templates!
Not a Member?
---
Coloring the Friendly Fruit Coloring Book
This coloring book would look mango-nificent colored in using lovely bright acrylic paints! Or why not try using a new technique. Experiment with bubble wrap and paint to texturise the fruit.
A really cool idea would be to print with fruit or vegetables to get a truly realistic texture! Peel your yummy fruit of choice, then paint directly on to the peel. Use the painted peel as a stamp on the coloring pages and see what different textures you get from different fruits! Plus, this way, you'll get a yummy snack to eat while crafting!
More Coloring Pages for Kids from the Members Area: