40 Cute Unicorn Coloring Pages for Kids put together in a bumper printable unicorn coloring book. What's not to love about the beautiful and magnificent unicorn. This unique and hand-drawn collection of Unicorn Coloring Pages captures the unicorn in all its celestial glory, with cute baby unicorns, a collection of free unicorn coloring sheets, simply drawn unicorns, a few detailed unicorns and a huge variety of super fun and creative unicorn sheets.
For years, unicorns have been all the craze and with their magical and often colorful presence, it's no wonder that unicorns as a theme has continued to capture the imaginations of kids both big and small. They have appeared in a huge selection of children's books, TV shows (My Little Pony), films (Toy Story 3, The Chronicles of Narnia and Harry Potter), stationary, crafts and more.
Feeling inspired, we have put together the ultimate boredom buster for unicorn mad children from kindergarten and beyond. The unicorn coloring pages are fantastic resource to fill a mindful moment within the classroom and at home, so let's grab the rainbow crayons, chalks, pens and everything else your children like to use in their coloring and take a look at these cute printable unicorn pages.

Free Cute Unicorn Coloring Pages
To kickstart your children's adventure into our cutesy world of unicorns, we have 5 gorgeous and free unicorn coloring pages available for download. Simply click the image or link provided to download the coloring sheet. They form part of the bumper unicorn coloring book, so why not join the membership area and enjoy the full collection along with all our other coloring books and art & craft resources.
Free Over the Rainbow Unicorn Coloring Page
Unicorns and rainbows come hand in hand right? I have rarely seen an image of unicorn without a rainbow, whether it's in the background or rainbow colored! This cute 'my little pony' styled unicorn can be found jumping over a rainbow into a starry night sky.
Free "It's My Birthday" Baby Unicorn Coloring Sheet
This baby is ready for a celebration! How old do you think our baby unicorn is? Add a number to the balloons and some extra decorations in the background to complete to party. Coloring pages with extra white space are perfect for inspiring children's imaginations – this baby unicorn is ready for the party to begin!
Free Bedtime Baby Unicorn Coloring Sheet
The familiar face of a sleepy little one, I wonder what dreams the baby unicorn has had? Color in the coloring page to put the baby unicorn back to sleep.
Free " I Love Unicorns" Coloring Sheet
Unicorn love. This cute unicorn page is in need of a splash of rainbow – complete the coloring page with as many colors as your Arty Crafty Kids can find, there's even space for a few extra hand-drawn hearts.
Free Flower Princess Unicorn Coloring Sheet
Our next coloring page features a blissful miniature princess unicorn resting on a daisy. She looks so happy and her wavy flowing mane is a calling out for lots of beautiful colors.
What's Inside the 40 Page Unicorn Coloring Book
The unicorn coloring book is jam-packed with a variety of printable unicorn coloring pages; baby unicorns, cute unicorns, simple unicorn outlines, donut loving unicorns, merm-icorns and my little pony styled unicorns. We even have a couple of horse coloring pages embedded within the collection to encourage children to add (or not) their own little horn, maybe a few unicorns would like a pair of wings too!
How to Download the full 40 Page Unicorn Coloring Book:
The unicorn coloring sheets are available to members of the Arty Crafty Kids Club. Members can access the template here (remember to login!): https://www.artycraftykids.com/product/40-page-unicorn-coloring-book/
Members will need to log in to access the templates!
Become a Member!
Members of Arty Crafty Kids can access our full library of creative resources, making crafting with kids super easy and fun!

Simple Unicorn Coloring Pages
Our unicorn coloring pages are drawn with simple bold lines to make coloring easy and appealing for the very smallest of hands. Speaking of small hands, coloring is a great way to strengthen the hands, finger grip and wrists. Simple pages tend to keep children focussed for longer and therefore, they are more likely to complete their unicorn coloring sheets!
As children immerse themselves into their coloring, they're subtlety learning about perspective and shape. And within time, that engagement will lend itself to creativity. They will be begin to imagine their very own scenes and unicorn shapes.
Flower Power Unicorn Coloring Page
We all love a bit flower power and this unicorn looks perfectly happy just strolling through the magical garden.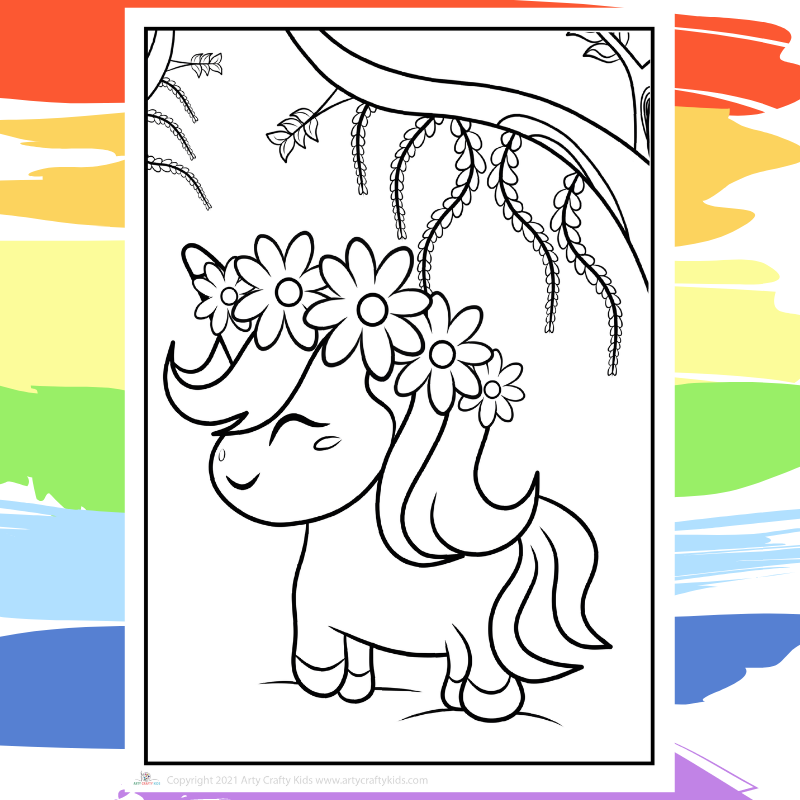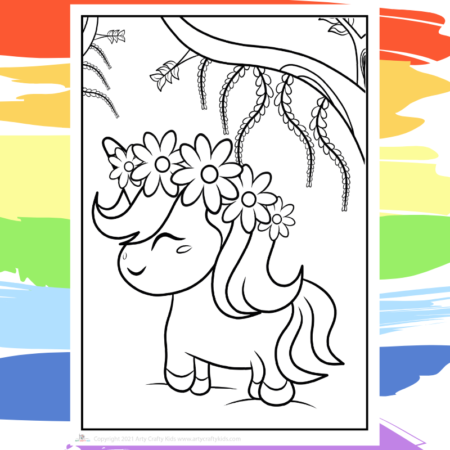 "I Love Doughnuts" Unicorn
Did you know there's a doughnut song for preschoolers? It starts off like this:

"Well, I walked round the corner | and I walked round the block |and I walked right into a bakery shop.
I picked up a doughnut | And I wiped off the grease | and I handed the lady a five cent piece."
This is the perfect song to teach your child as they color this joyful doughnut coloring page!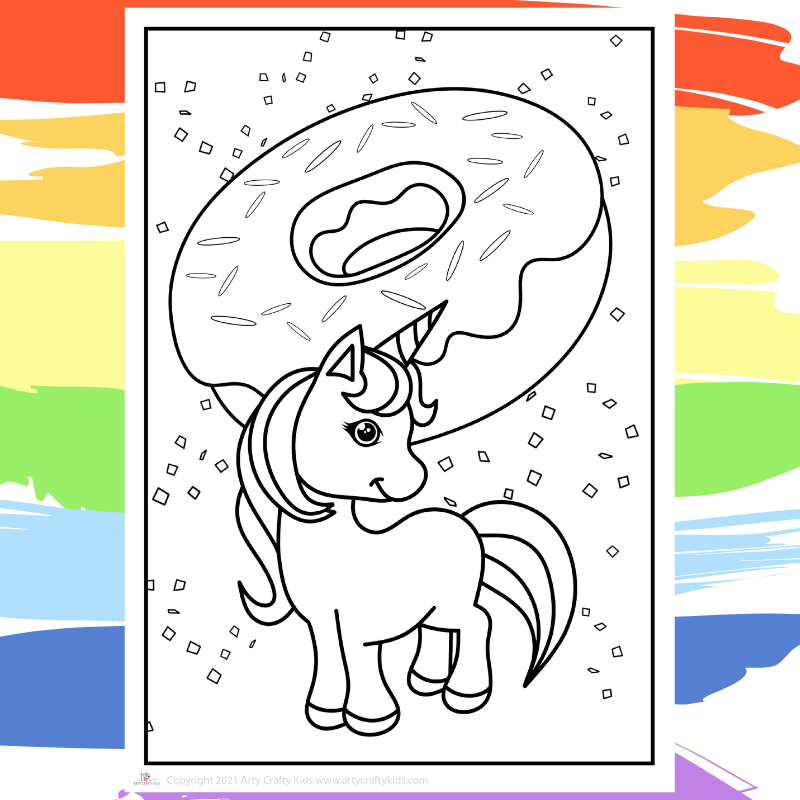 Unicorn Family Coloring Page
This family of unicorns have their very own pride rock, where they can observe the beautiful night sky and glean from the magic of the moon.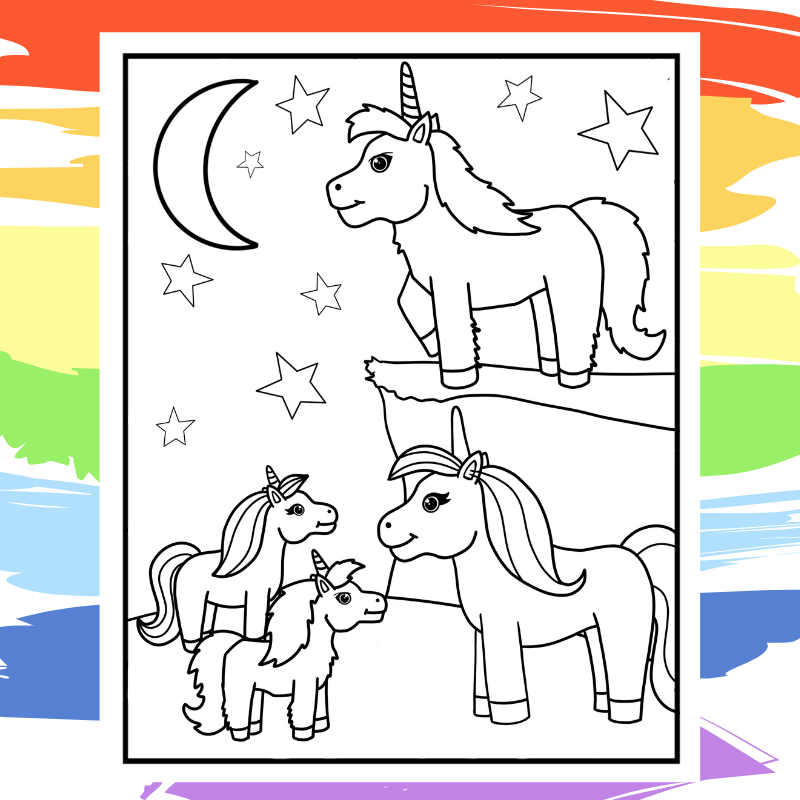 Musical Unicorn
Our next coloring page features a trotting unicorn moving to the beat of her very own song – I wonder how it goes? Perhaps your children could spend some time thinking about the perfect song for a unicorn.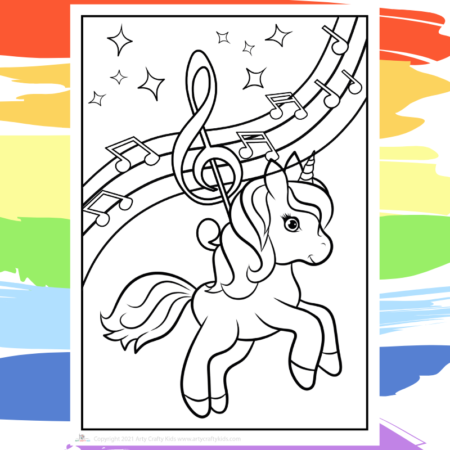 Infant Unicorn in the Magical Forest
Our next coloring sheet features an infant unicorn nestled within an enchanted forest. I just adore the gemstone flowers and magical items dangling from the trees.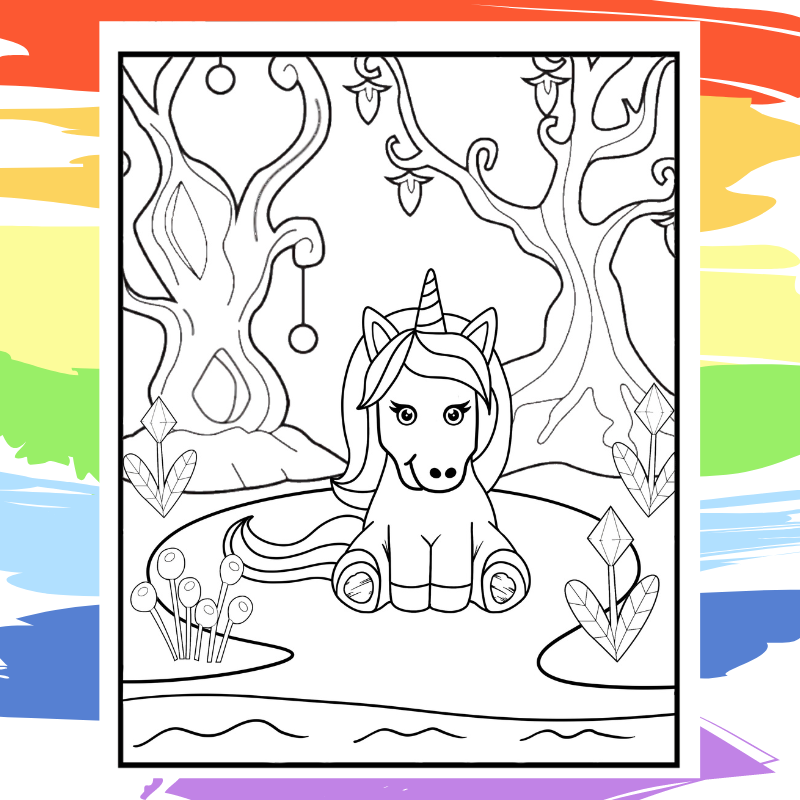 Mermicorn Coloring Page
Unicorns can be found on land, in the sky and now under the sea – Our lovely mermicorn can be found with the seahorses down in the deep blue ocean.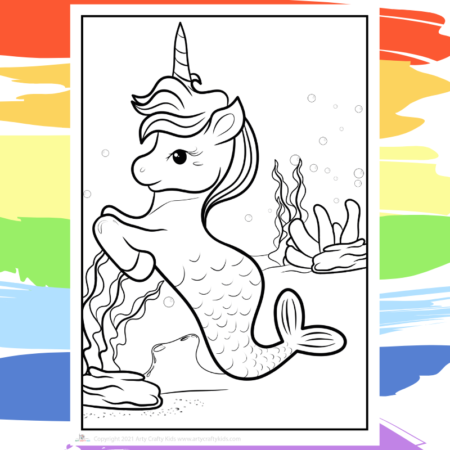 Unicorns Under the Rainbow
Parent and child unicorns can be seen enjoying a tender moment under a rainbow in this coloring page.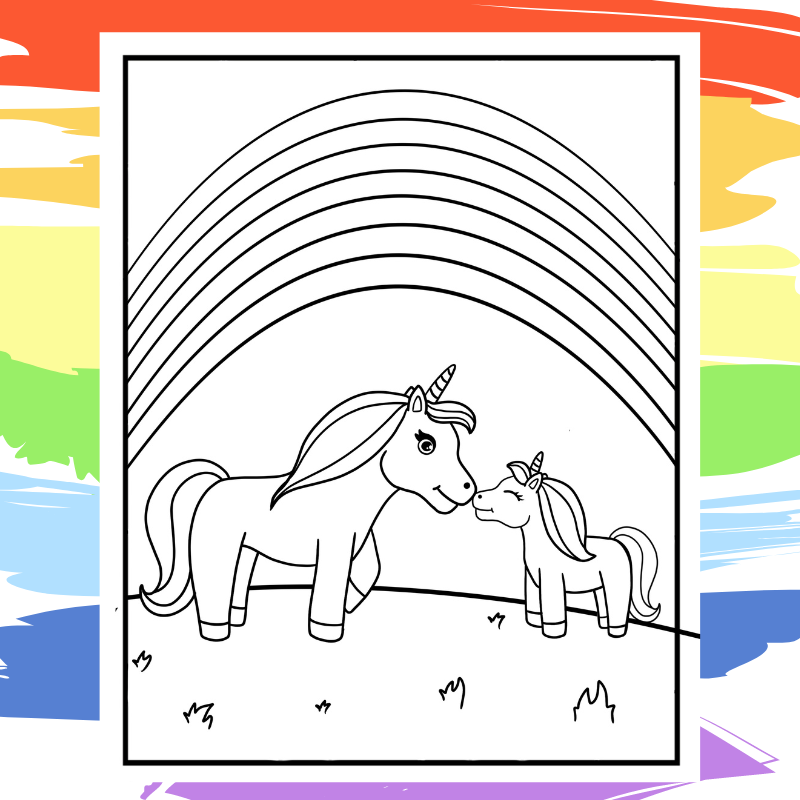 Teacup Unicorn
We do love our cups of tea here at Arty Crafty Kids and if you can have a teacup poodle, yorkie and chihuahua, then you can definitely have a teacup unicorn. I do love how the horn forms part of the steam off the tea.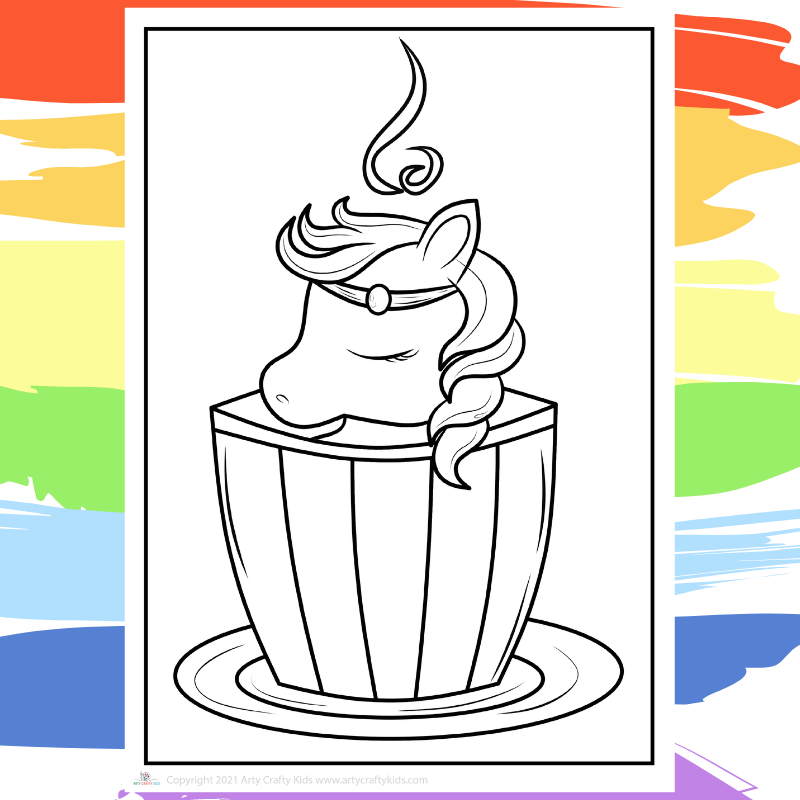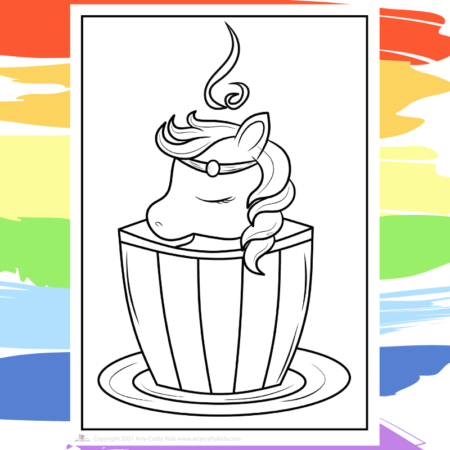 Watching the Stars Coloring Page
We just adore the parent and child unicorn coloring pages. Here with we have a mom, pop or even a grandma/pa sharing a moment under the stars and moonlight with their infant unicorn.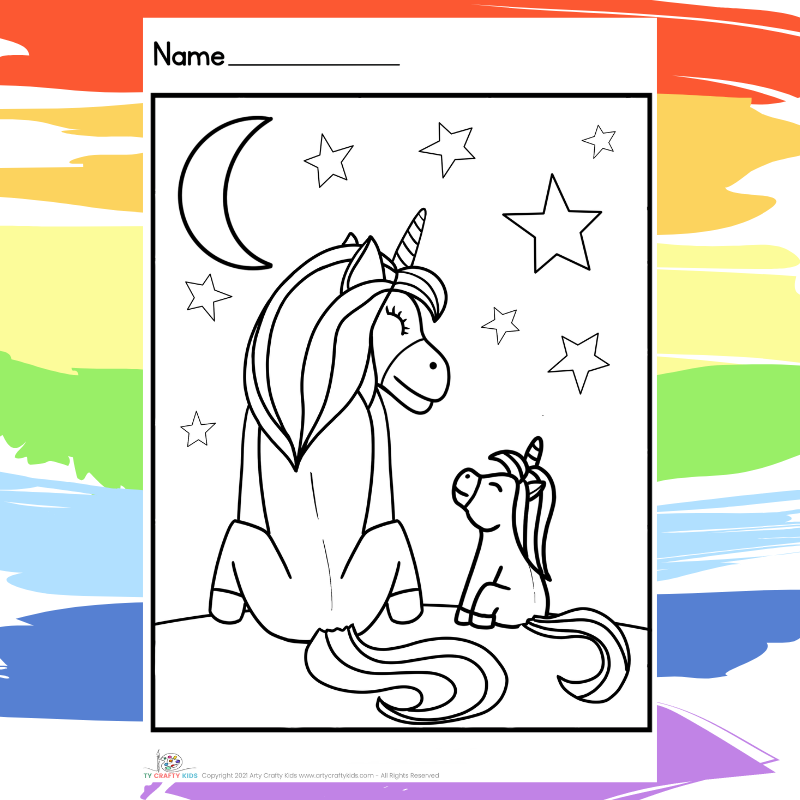 Autumn Unicorn
Our next coloring page reflects the change in season from Summer to Autumn with our unicorn happily and mindfullly absorbing the transition.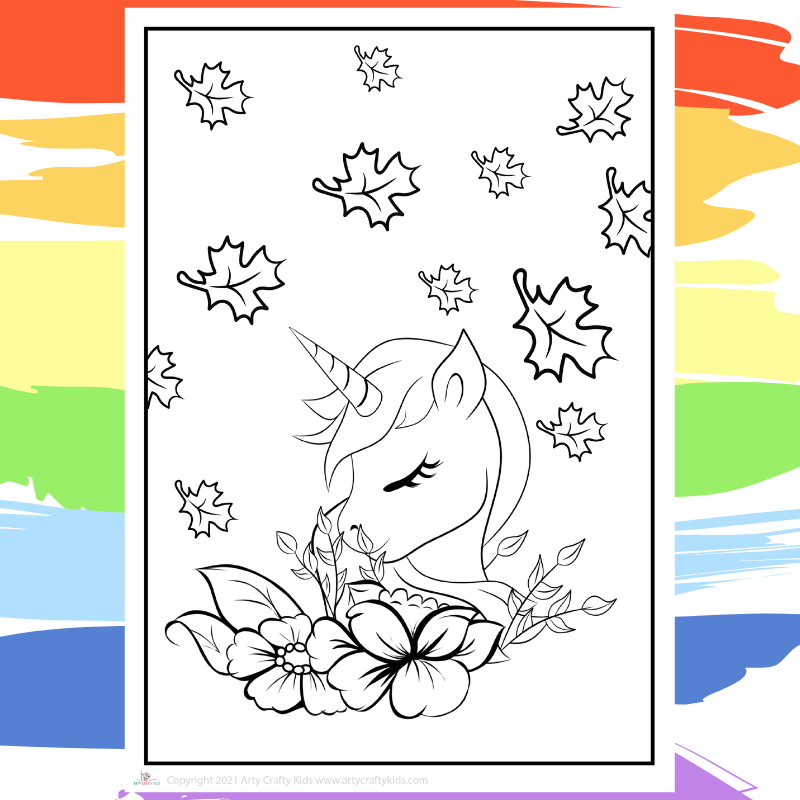 Rearing Unicorn
This majestic unicorn takes position on his hind legs and is ready to gallop into the moonlight. This is such a magnificent pose, what colors will your Arty Crafty Kids use to complete this legendary unicorn?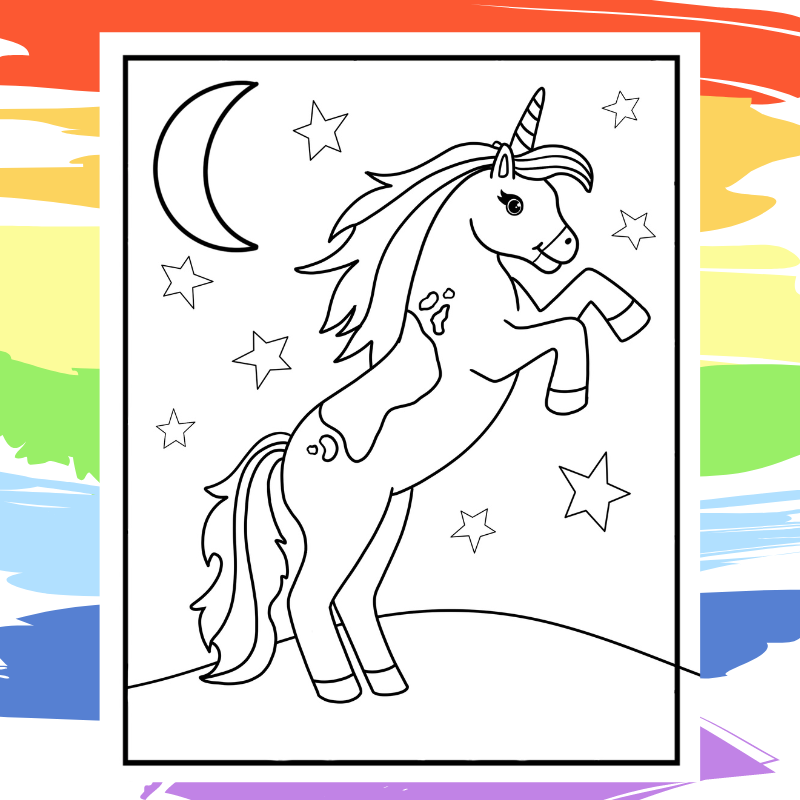 Family Portrait
Any parent will appreciate the effort involved in taking a good family photograph. In this coloring page, we have a mamma unicorn with her young, who are all striking a happy pose.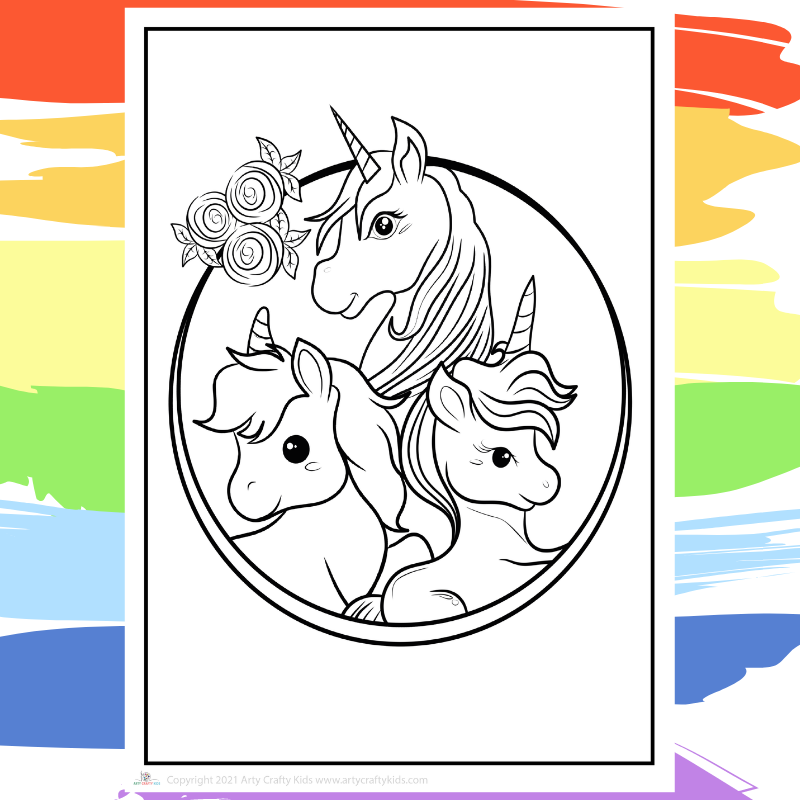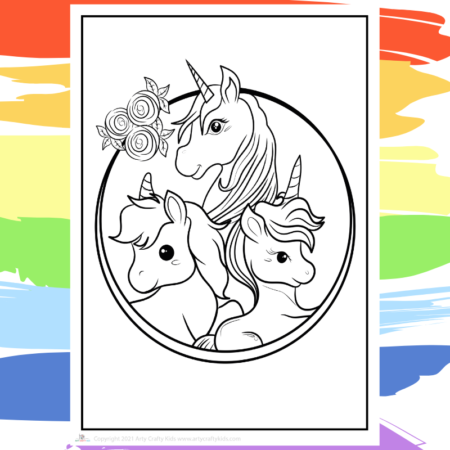 Galloping Unicorn
Oh to be a dancing prancing unicorn, blissfully galloping through the meadows. With all hooves off the path this unicorn could almost be flying. Can you imagine galloping without a care in the world?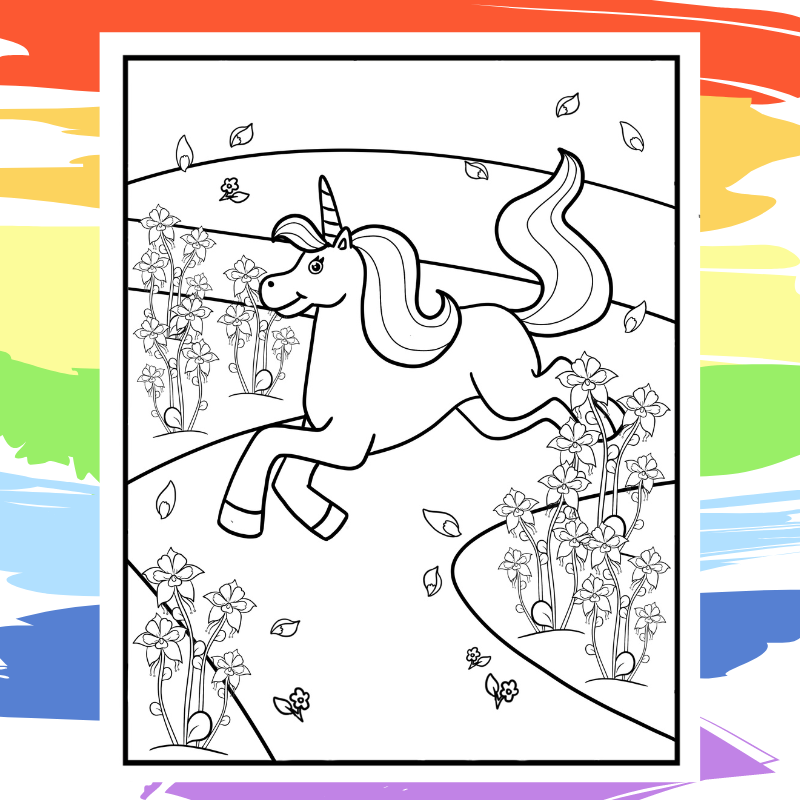 Simple Pegasus Coloring Page
"Pegasus" – the name we're most familiar with when referring to a unicorn with wings. However, did you know a flying unicorn is also known as an Alicorn, Pegacorn and and Unipegasus! with so many names to choose from, I think we'll stick with Pegasus.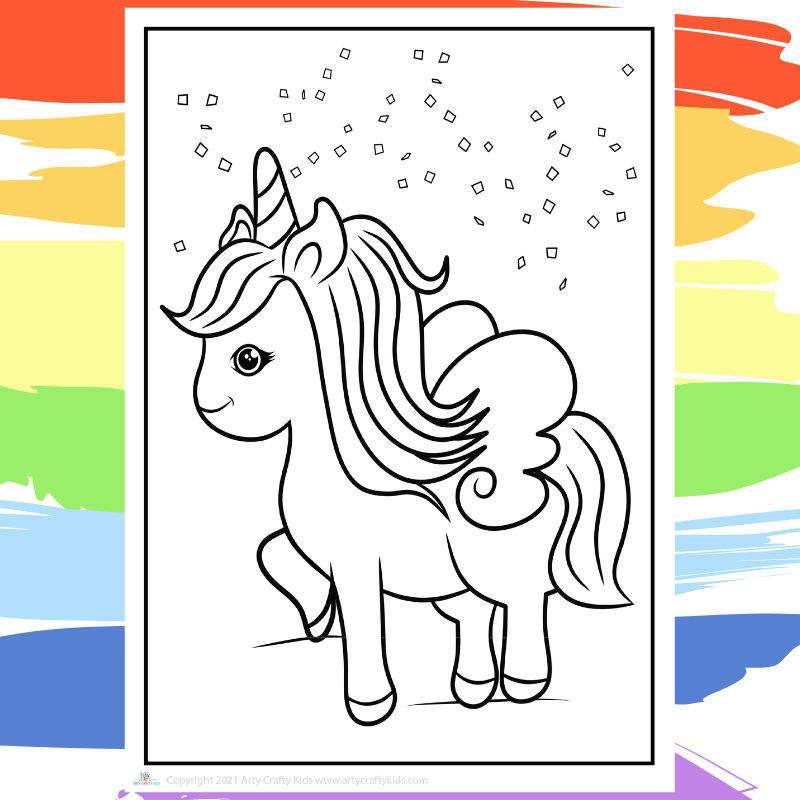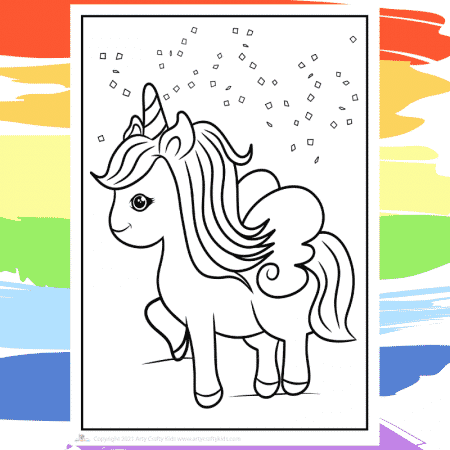 Unicorn with a Flowery Mane
How fabulous is this unicorn's flowery mane? With lots of white space, why not add a few more flowers? or maybe complete the background with flower upon flower to make the unicorn pop from the coloring page!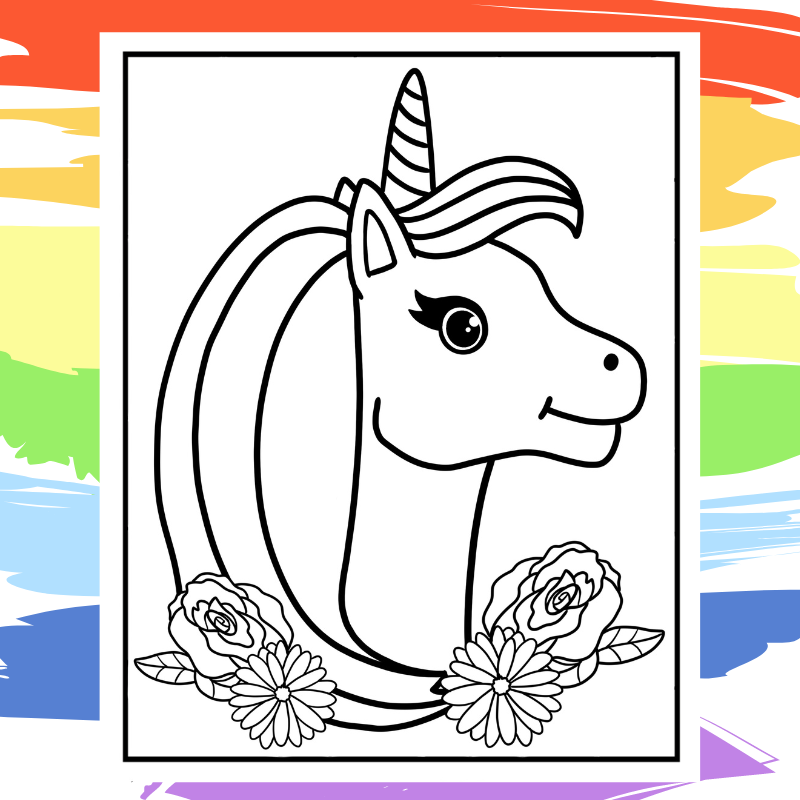 Fairy and the Rose Coloring Page
Our next magical unicorn page features a visiting fairy. The unicorn and fairy greet each other with a flower with the unicorn presenting an enchanted rose.
Singing Unicorn
Our next unicorn is the image of focus. Concentrating hard on delivering beautifully pitched notes. Our guess is that our unicorn's singing style is operatic… Whatever the style, the surrounding hearts suggests a very happy song is being sung.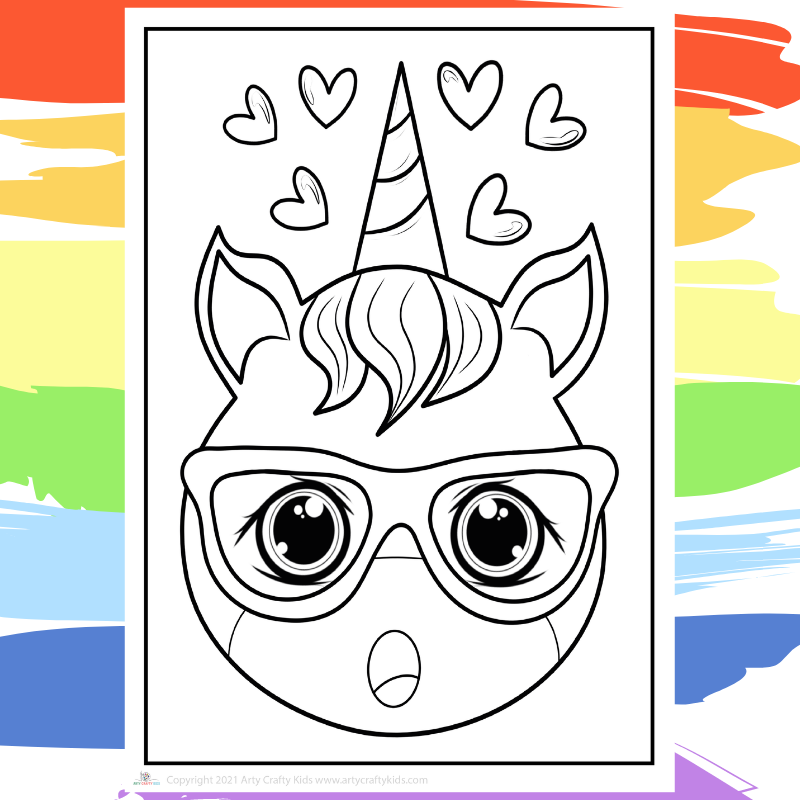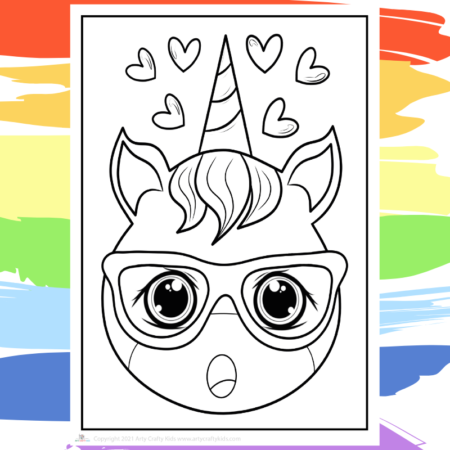 At the Beach Simple Unicorn
This coloring sheet features a unicorn enjoying the simple pleasures of blue skies, palm trees and a sandy beach. Beach days are fun days and this coloring page is ready for some sunshine color.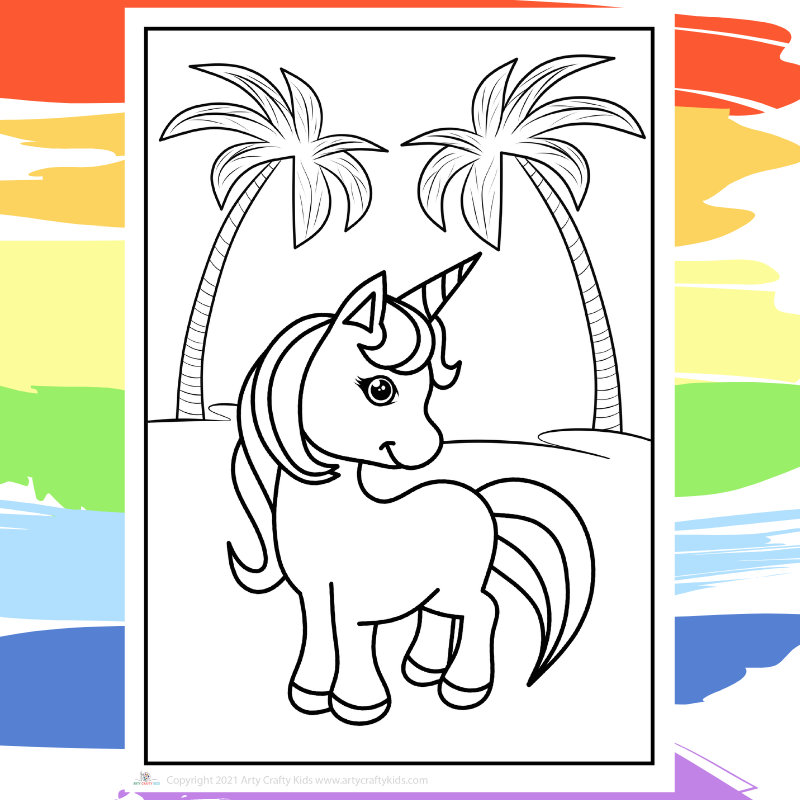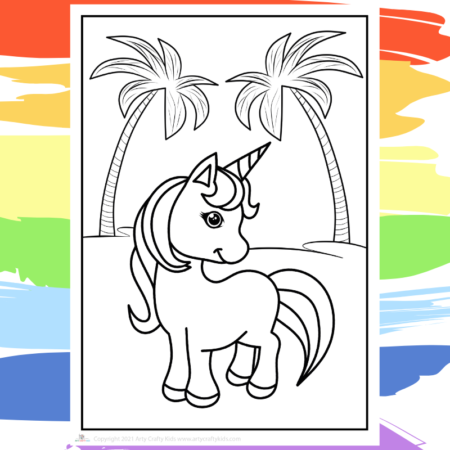 Simple Sunshine Unicorn
Sitting in garden, out in the sunshine, watching the butterflies flutter from flower to flower is one of the simple pleasures in life. This simple coloring page is a delight and perfect for when your child needs a quiet moment.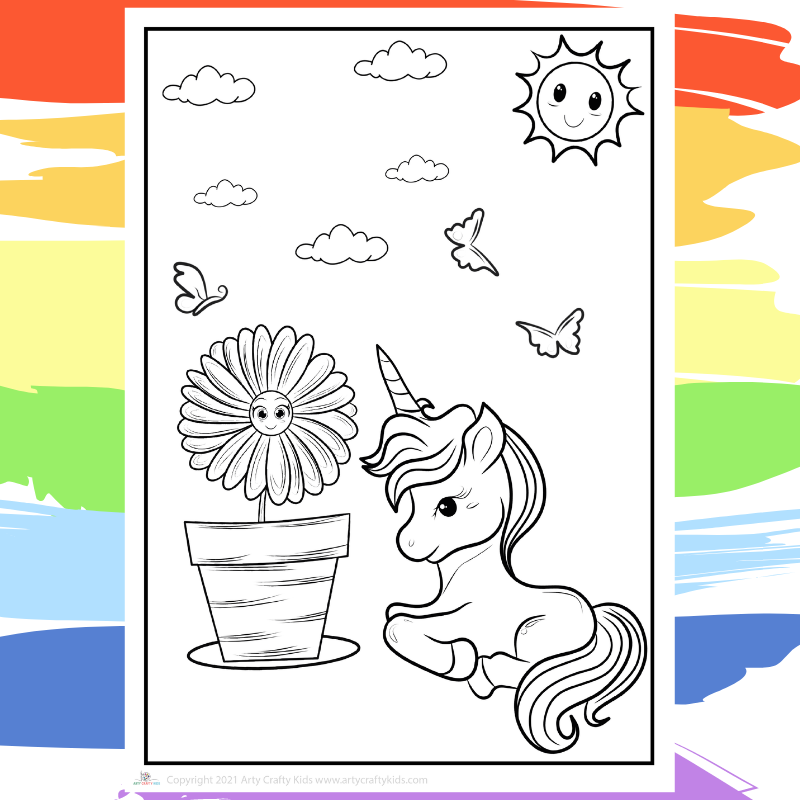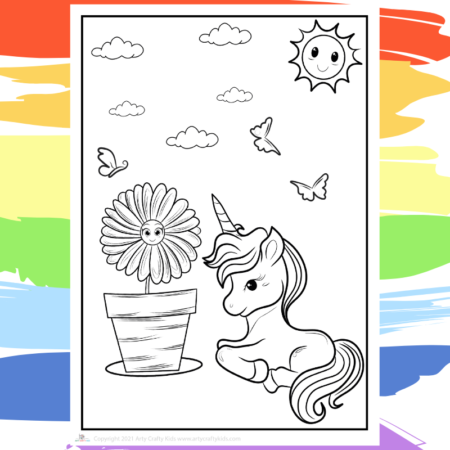 Moon Unicorn
We are over the moon with this adorable coloring sheet. Unicorns are magical, mystical beings and it's unsurprising they would be drawn visiting the moon.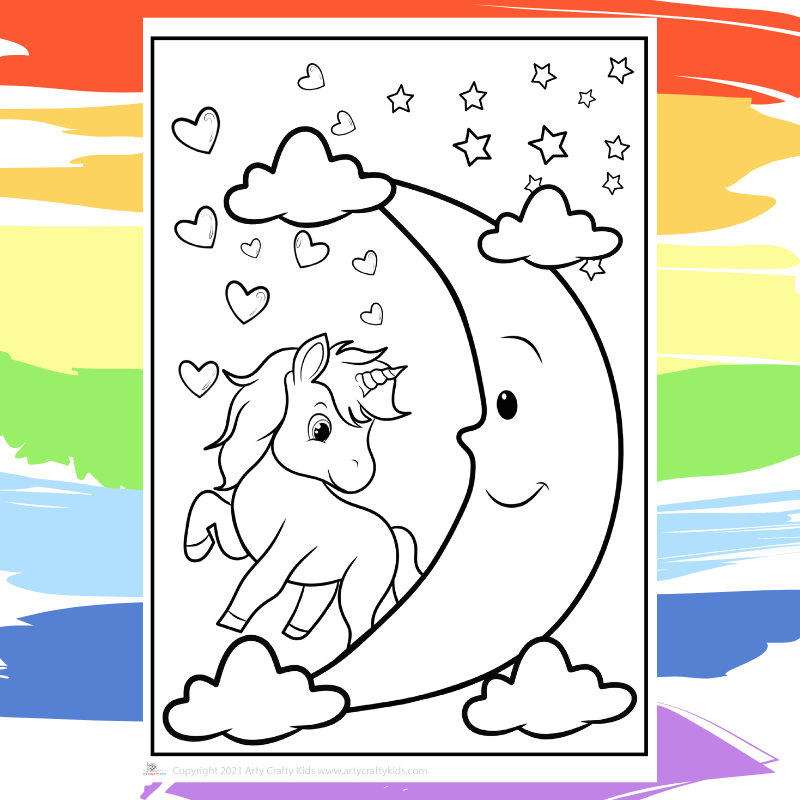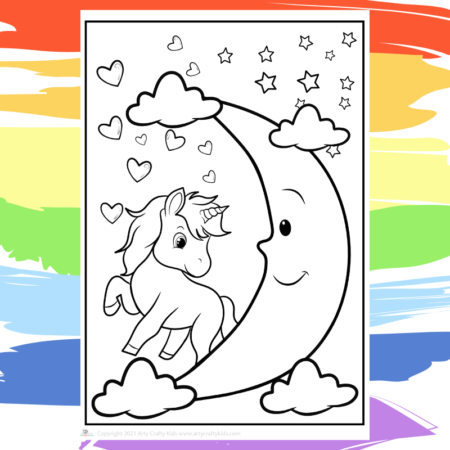 Cute Baby Unicorn Coloring Pages
Baby Unicorns are too cute. With their big open eyes and chubby cheeks they have an entirely different presence to the other unicorn designs.
At the Party Baby Unicorn
This baby unicorn, with its cute bow tie, has returned from a party and couldn't resist throwing some Autumn leaves high into the air for the wind to blow.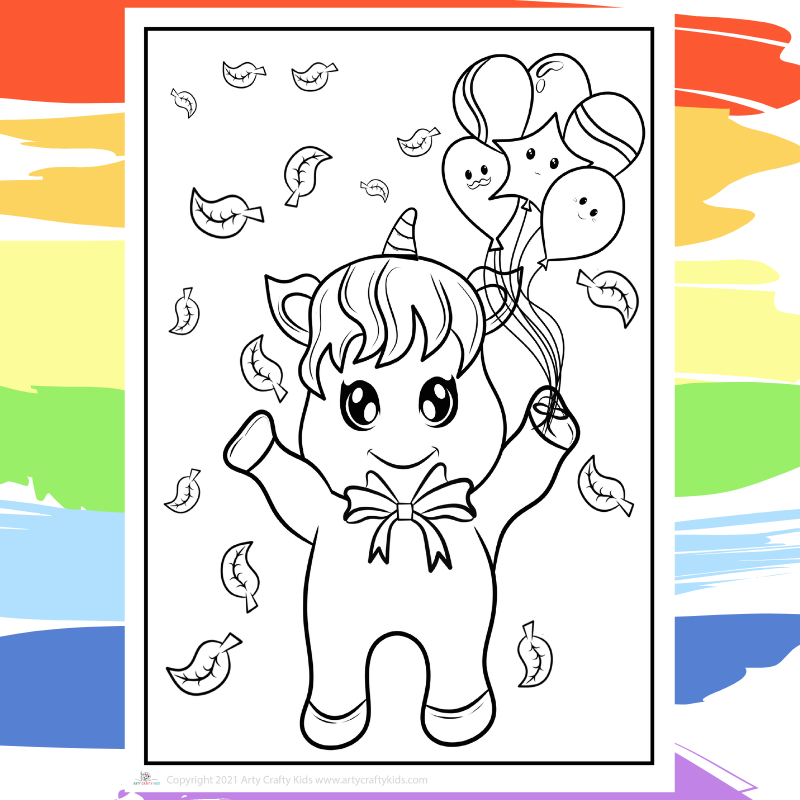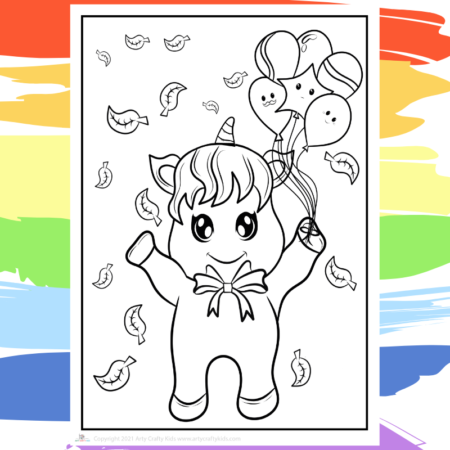 Unicorn in Disguise
Peek-a-boo – the favorite game of a young unicorn! With it's added moustache, this babycorn is the master of disguise!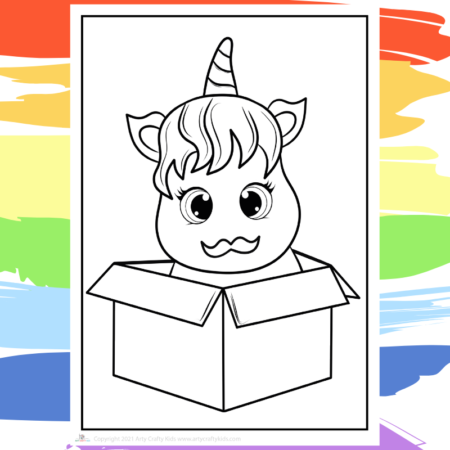 I'm a Banana, Banana
Youtube has a lot to answer for, including the "I'm a banana, I'm a banana" song – I would suggest you save your ears and focus on this adorable coloring page which features a unicorn who also believes its a banana.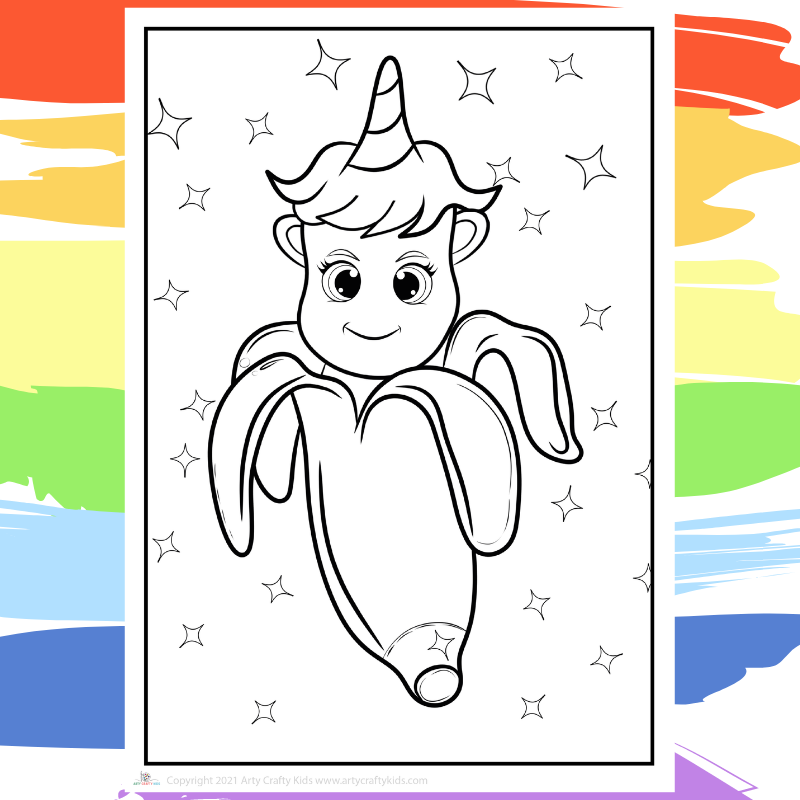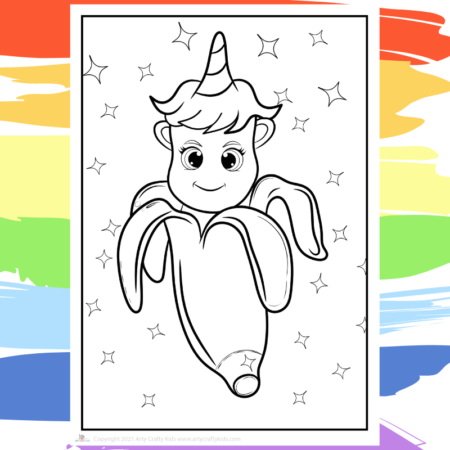 Cutie Kawaii Styled Babycorn Coloring Page
Kawaii is a Japanese term used to describe cuteness in humans and non-human images, teddies, handwriting, food and other items. In graphics, the animals will often have over sized eyes and blushing cheeks – all our Kawaii babycorn needs is the blushing cheeks and its all set!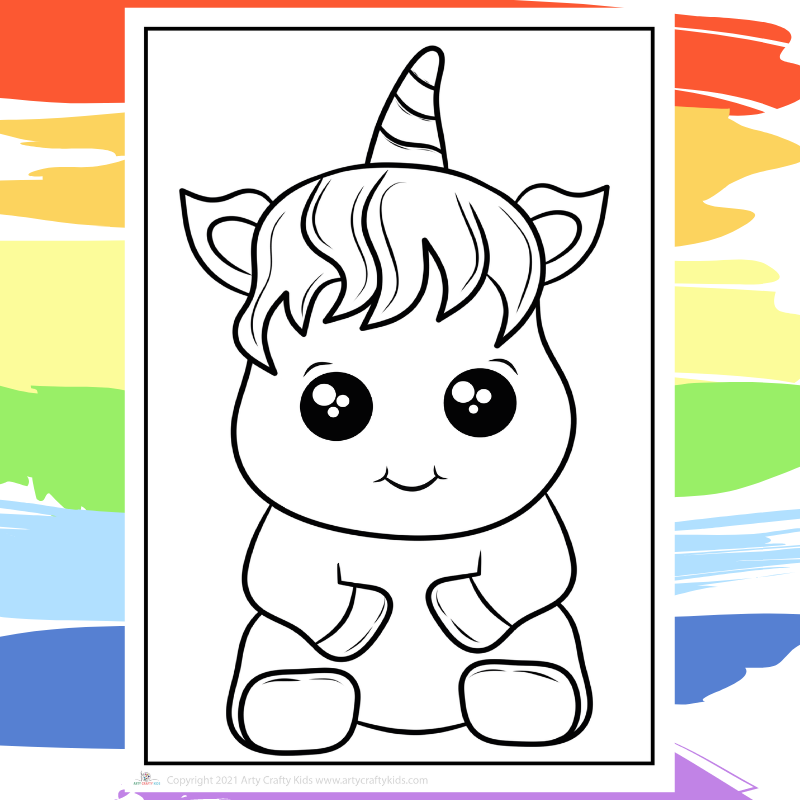 I hope you've enjoyed our sneak peak into the contents of our Unicorn Coloring Book, to download, sign up to the Arty Crafty Kids membership!