It's time to grab the coloring pencils and make a start on this collection of Bird Coloring Pages!
With so many beautiful birds in the world, it was difficult choosing just 30 birds to turn into coloring sheets and to feature in our printable coloring book. We have drawn birds of all shapes and sizes from a toucan to vulture, macaw parrot and the long legged flamingos and herons; making this collection a great resource for children learning about the different species of birds.
Birds are a fantastic subject for coloring and are open to experimentation with a variety of mediums. For example, to recreate the incredible colors often found in the plumes of peacocks and parrots, try oil pastels – they're perfect for blending and creating color contrasts.
Once your children have colored their bird and put them on a big beautiful display, perhaps they could learn how to draw their very own little bird!
5 Free Bird Coloring Pages
To kickstart your children's adventure into our feathery world of birds, we have 5 gorgeous and free bird coloring pages available for download. Simply click the image or link provided to download the coloring sheet. They form part of the bumper bird coloring book, so why not join the membership area and enjoy the full collection along with all our other coloring books and art & craft resources.
FREE Woodpecker Coloring Page
Your children might be too young to know who Woody Woodpecker is, but whenever I think of a woodpecker my thoughts turn to the famous Woody Woodpecker laugh!

FREE Vulture Coloring Page
The vulture is a bird of prey that's related to eagles and hawks. It's a scavenger by nature and despite their often negative representation, they're harmless to humans. As a matter of fact, their scavenger antics make them handy for waste removal.
FREE Chicken Coloring Page
With it's distinctive and simple lines, this cute chicken coloring page is perfect for younger children. Chicken's do come in a variety of colors and here, we have a rather lovely mother hen with her chick. Will she be brown, white or even rainbow colored?
FREE Cockatiel Coloring Page
Cockatiel's are small parrots and are often kept as pets. If your children have a cockatiel of their own, perhaps they could recreate their feathery friend and color this Cockatiel Coloring Page in its image.
FREE Flamingo Coloring Page
Pretty in pink flamingo's… Did you know that flamingo's get their color from the food they eat? The algae, larvae, and brine shrimp found in wetlands are rich in beta carotene, a red-orange pigment.
Bird Coloring Book – Featuring 30 Bird Coloring Sheets
Our bird coloring pages are drawn with children in mind; using simple shapes and lines to make them appealing for the very smallest of hands. We also create space in our design work to inspire children's creativity. They can be used as a simple coloring page or a full blown art project that explores color creation, color palettes and different coloring techniques.

Coloring pages are great for creating purposeful mindful moments, particularly within the classroom environment where all the hustle and bustle can overload the senses. We like to think that our engaging, yet simple bird designs allow children to fully immerse themselves within the task of coloring.
How to Download the Bird Coloring Book
The bird coloring pages are available to members of the Arty Crafty Kids Club. Members can access the template here (remember to login!): https://www.artycraftykids.com/product/30-page-bird-coloring-book-2/
Members will need to log in to access the templates!
Become a Member!
Members of Arty Crafty Kids can access our full library of creative resources, making crafting with kids super easy and fun!
Simple Bird Coloring Pages
Our bird coloring pages are drawn with simple bold lines to make coloring easy and appealing for the very smallest of hands. Speaking of small hands, coloring is a great way to strengthen the hands, finger grip and wrists. Simple pages tend to keep children focussed for longer and therefore, they are more likely to complete their unicorn coloring sheets!
As children immerse themselves into their coloring, they're subtlety learning about perspective and shape. And within time, that engagement will lend itself to creativity. They will be begin to imagine their very own scenes and feathery shapes.
Birds in Flight Coloring Page
Featuring long beaks and flapping wings, I suspect this pair of birds in flight are humming birds. What to you think? Humming birds come in many amazing colors and combinations including metallic bronze, dark green, copper red, reddish brown, metallic green and more!
Bird on A Wall Coloring Page
We often see sparrows on our walls and fences. These lovely little birds dash around, singing their bird songs and are wonderful to watch and listen to. This cute coloring page of a very familiar bird will be a joy to color.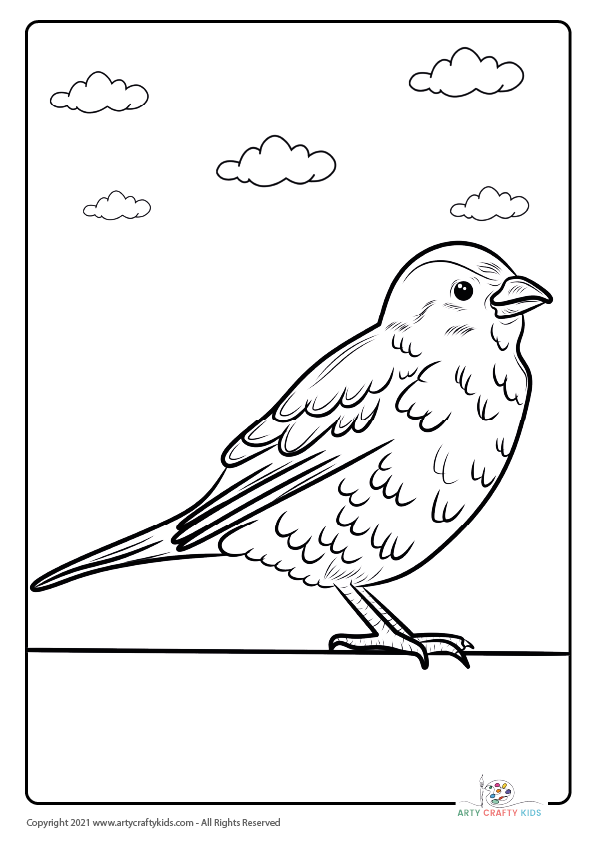 Dove Carrying a Rose Coloring Page
Doves are usually white in color and are often symbols of love, peace or as messengers, as such our coloring page features a serene dove carrying a rose.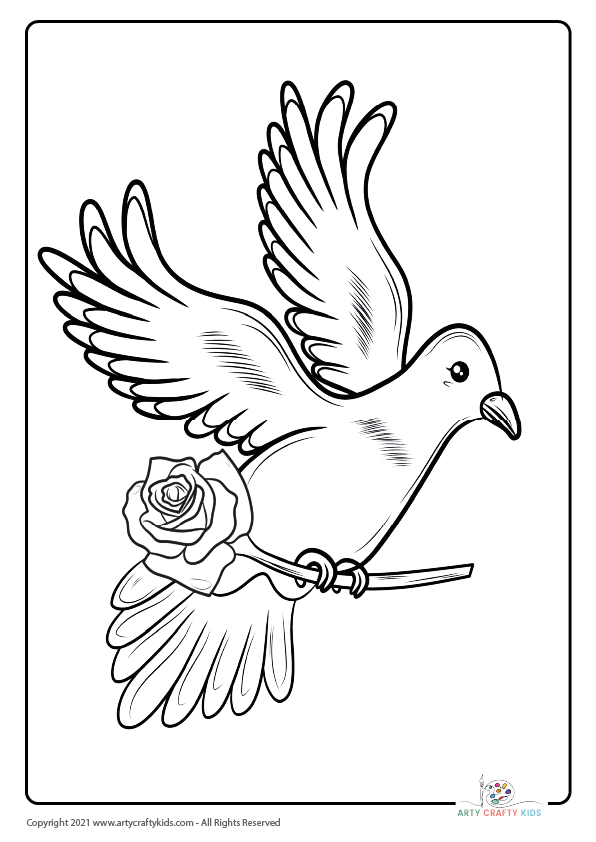 Eagle Coloring Page
The bold eagle is a mighty bird of prey and no collection of bird coloring sheets would be complete without an eagle. The Bald Eagle is the national bird of the United States of America and is perhaps one of the most recognizable of the birds of prey.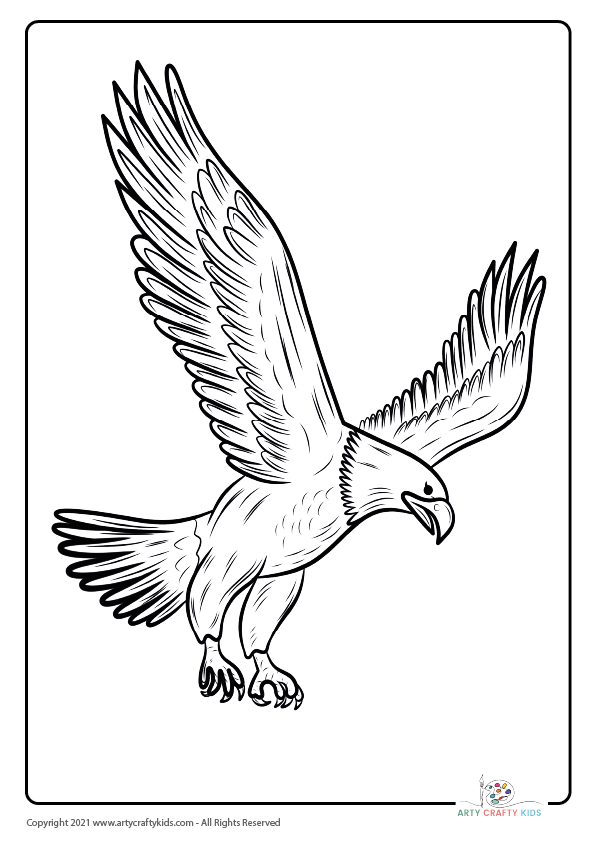 Heron Coloring Page
Herons are long-legged freshwater birds. They have a graceful, statuesque look about them and have an incredible wing span. Bring this heron coloring page to life with a splash of color!
Humming Bird Coloring Page
Explore the world of metallic color for we have another humming bird coloring page! With the added lily, this coloring page will benefit from experimental blending either with pencils, pastels or watercolors.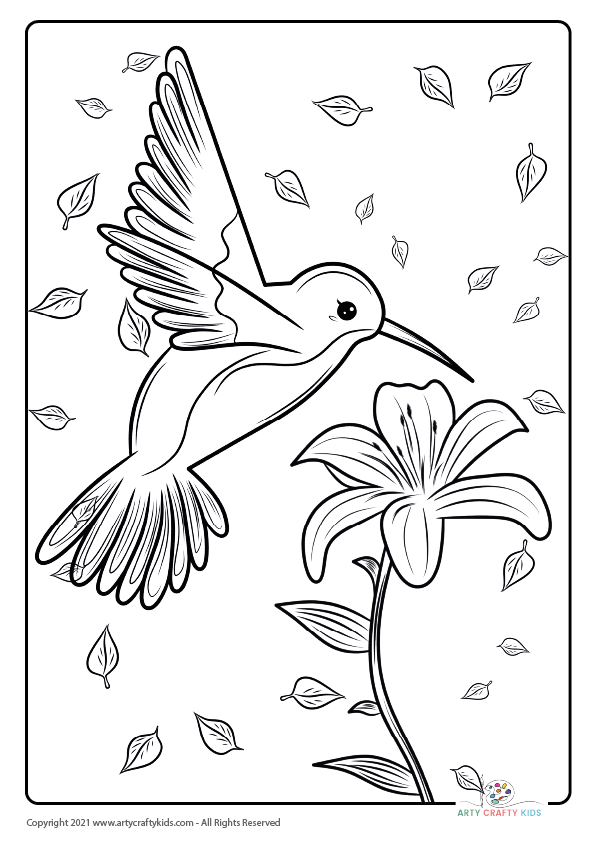 Jay Bird Coloring Sheet
The jay bird typically has a pink plumage, a black tail and white rump. The wings are black and white with a panel of bright distinctive electric-blue feathers. The jays love nothing more than to rummage through the woodland floor in search of acorns.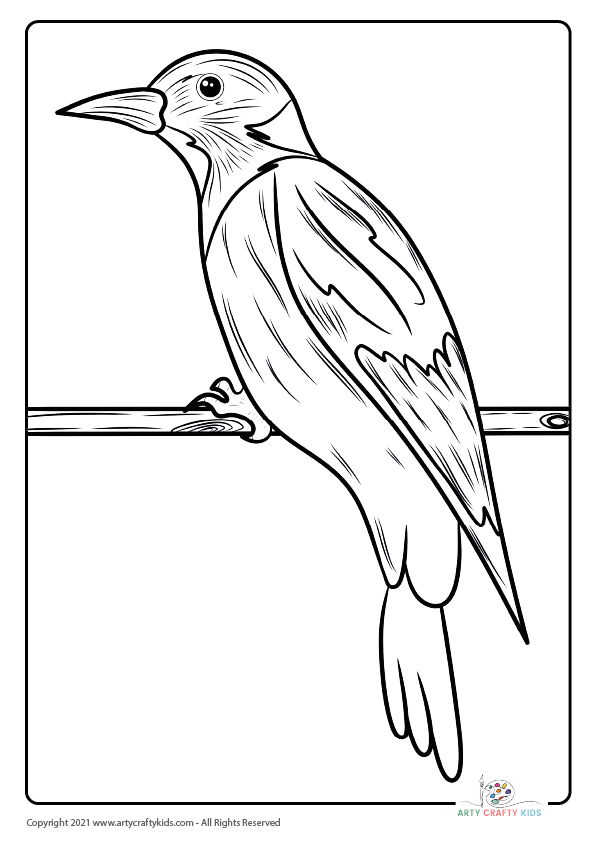 Kookaburra Coloring Page
The Kookaburra can be found in Australia and New Guinea and is related to the tree kingfisher. They'e well known for their human like laugh. In terms of colors, the male kookaburra has wings dotted with lots of electric-blue feathers while the female are many shades of beige, brown and black.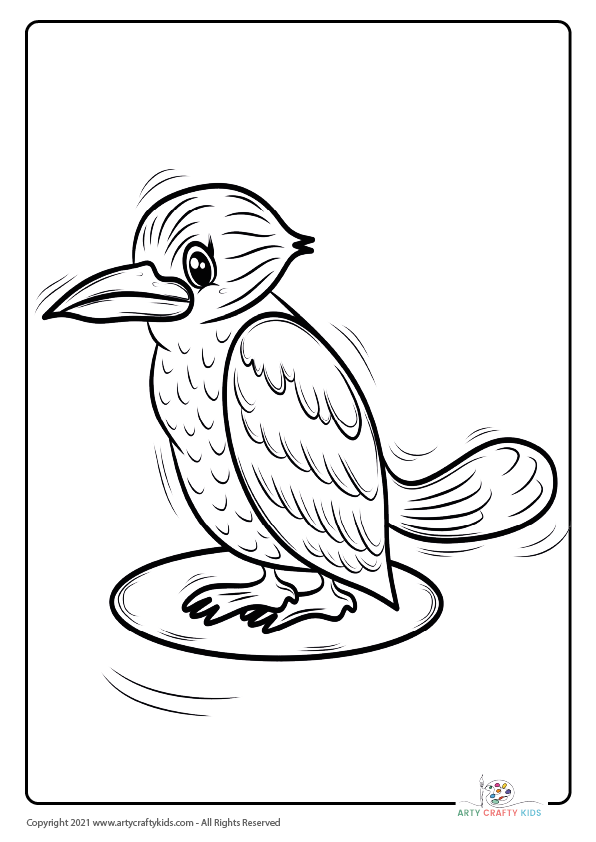 Little Owl Coloring Page
We could easily have an entire coloring book dedicated to owls. For this collection, we have dedicated a coloring sheet to the little brown owl. They are short stout blue-eyed fluff balls and can be found hiding in hedgerows and woodland areas.
Macaw Parrot Coloring Page
Some macaw's are brilliant green in color while others are bright blue, yellow or scarlet. The macaw parrot is perhaps one of the most distinctive and recognizable species of parrot, well known for easily mimicking human speech.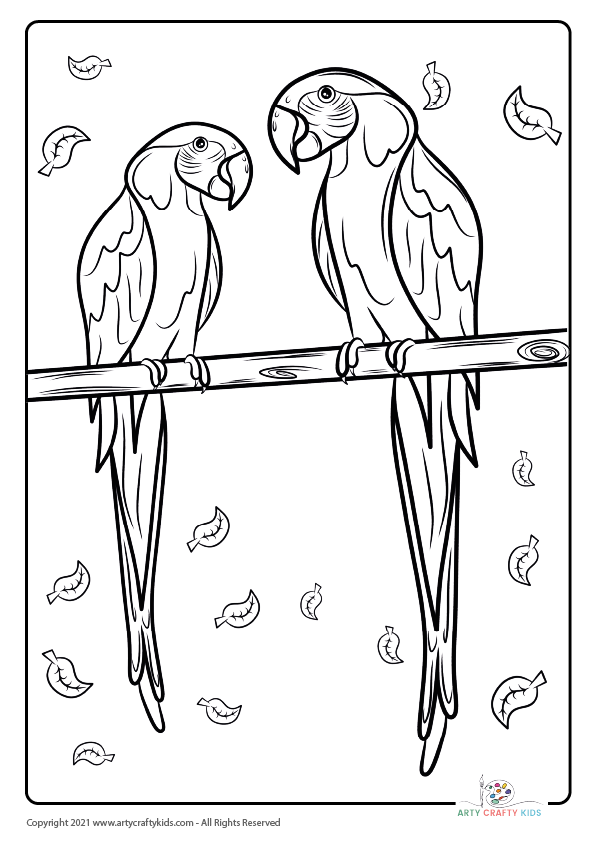 Peacock Coloring Page
The peacock is a magnificent and majestic bird, boasting a spectacular plumage of metallic greens, blues and purples. This is a wonderful sheet to color, giving children the opportunity to play with color.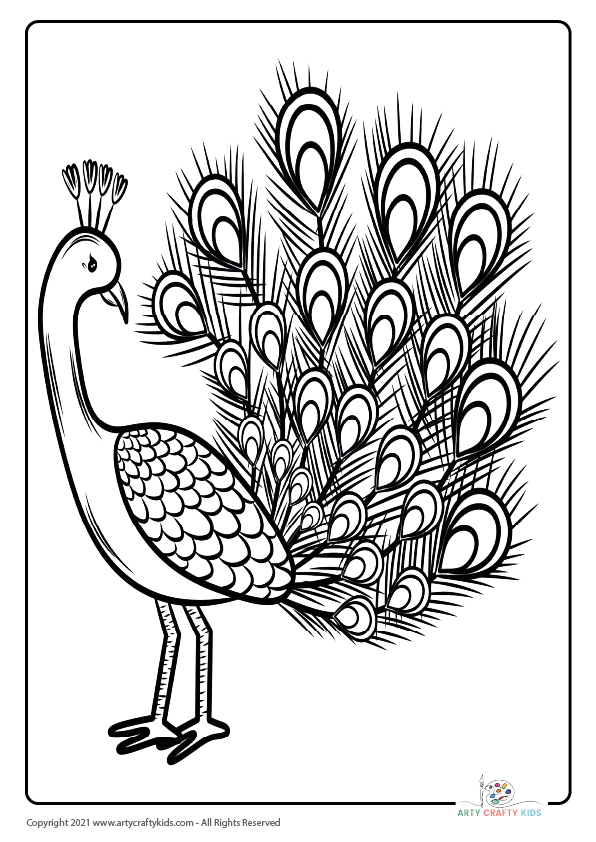 Puffin Coloring Page
What's not to love about the puffin? We think they're super cute. With their over-sized colorful beaks, black and white body, this coloring page gives children an opportunity to explore color contrast. Could they add a background to make the puffin pop from the page?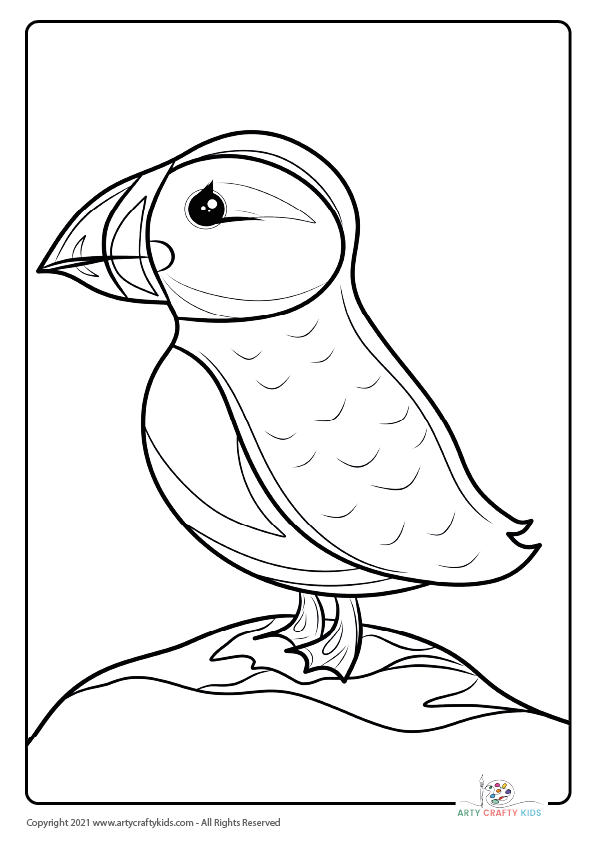 Love Birds Coloring Page
We're completing our sample sneak peak of our bird coloring pages with a pair of love birds or maybe they're budgies? Either way, they look blissfully happy together on their branch.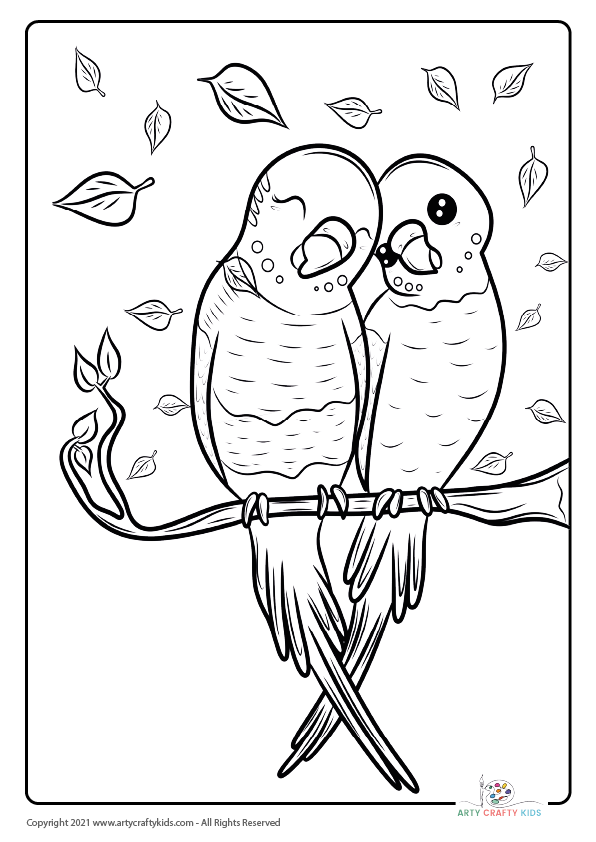 Get Your Bird Coloring Pages Here:
I hope you've enjoyed scrolling through our sample of bird coloring pages! The full collection (including penguins, pigeons, geese and more) can be downloaded instantly from the Arty Crafty Kids members area: https://www.artycraftykids.com/product/30-page-bird-coloring-book-2/
Become a Member!
Members of Arty Crafty Kids can access our full library of creative resources, making crafting with kids super easy and fun!