10 Remembrance Day Coloring Pages for Kids: Remembrance, Veteran's, or Memorial Day – however you choose to mark the day, you'll know how important it is for children to begin learning about history and remembering everyone who was involved.
These bold coloring pages give children an opportunity to be creative, and have fun, whilst encouraging them to think about how people used to live, and what they had to sacrifice during war times.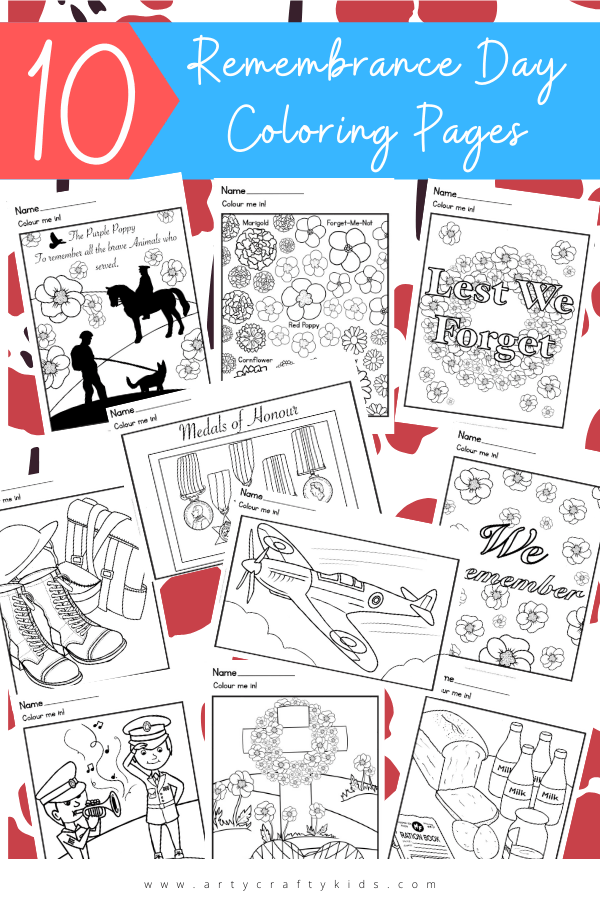 The pages feature different flowers from different countries that played a significant part in the war:


Red poppies – the universal symbol for remembrance.
Purple poppies – to comemmorate the animals who fought beside us.

Cornflower (Les Bluets) – Les Bluets symbolysis the young French recruits, and the flower usually grew next to the poppy on the battlefields.

Daisies – To show respect to the Belgian army who supported on the frontlines.

Marigolds – More recently recognised as the flower of remembrance in India, used for their support on the Western Front.

Forget-Me-Not – This flower is used as a symbol in Germany not to forget the hardships of war and what the world overcame.
Once colored in, these pages could be used as lovely decorations to pay tribute to the Veteran's, here and gone, or even given as a thoughtful gift.
How to Download the Remembrance Day Coloring Pages!
The 10 Remembrance Day Coloring Pages are available to members of the Arty Crafty Kids Club. Join the members area to access our complete online library of art and craft templates.
Members can access the coloring pages here: https://www.artycraftykids.com/product/10-courageous-remembrance-day-coloring-pages/
Members will need to log in to access the templates!
Not A Member?
More Learning Resources for Kids:
Hand-picked from the members area. When you join the Art Crafty Kids Club, you will gain immediate access to all of these resources and hundreds more!