"Oh Christmas Tree, Oh Christmas Tree" – T'is the season of joy and merriment, and of course Christmas crafting! Today I have the best 3D Paper Plate Christmas Tree Craft to show you. Not only is it 3D, with actual spikes and glitter, it's also really easy and a great fine motor craft for preschoolers and beyond.
So let's gather our supplies and get started!
Paper Plate Christmas Tree Craft: Materials and Tutorial
This post may contain affiliate links to recommended products.
Arty Crafty Kids is compensated a few pennies with each purchase at NO extra cost to you!
Thank you for your support!
Paper Plate
Green Paint
Green Construction Paper
Glitter (plate or glitter tray recommended)
Yarn or String
PVA Glue
Scissors
Stapler
To see more of our crafts in action, SUBSCRIBE to our new Youtube Channel.
TUTORIAL:
Step 1: Create a slit from the edge of the paper plate to the centre.
Step 2: Curl the paper plate around to create a cone shape and secure with staples.
Step 3: Paint the cone green and leave to dry.
Step 4: While the paper plate is drying, cut a few pieces of construction paper into strips (as shown above).
The most observant of you will notice that the strips have been cut with different widths – this is deliberate and not a trick of the eye!
As you cut the strips into triangles, try to keep them in size order (this will help with the next step!).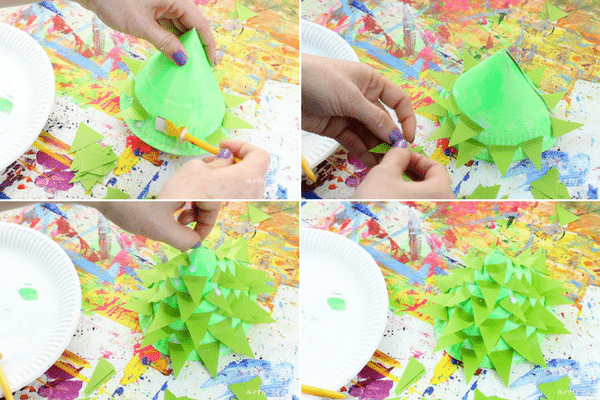 Step 5: Start with the largest set of triangles and create a small fold along the straight edge of the triangle. Attach the triangle via the fold with PVA Glue. The curve of the paper plate will force the paper to point away from the paper plate, creating a 'spiky pine' effect.
Start the process from the bottom of the paper plate and gradually work your way around, using the largest triangles at the bottom and smallest on top!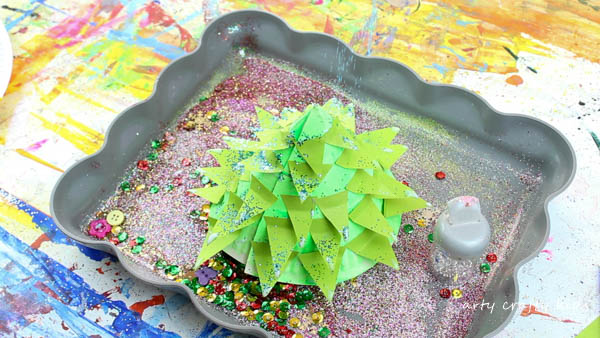 Step 6: (Optional) Add a small amount of glue to the tips of the green paper and sprinkle with glitter.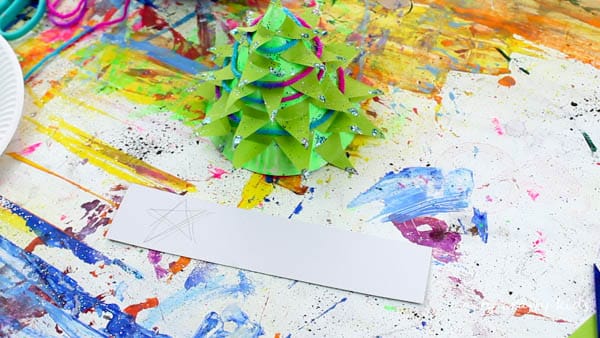 Step 7: Wrap a piece of yarn or string between the paper for some additional decor and finish off with a paper star.
Simply draw a star shape on the back of some coloured or glitter paper. Cut it out and glue to the top of the tree!
The 3D Paper Plate Christmas Tree Craft is now Complete!
Unlike last years 3D Paper Plate Christmas Tree, this tree will take a little more time and patience, which makes it an amazingly rewarding craft for older children. As always, it's all about the process and having fun, and I would love to see your children's creations over in the Arty Crafty Kids Club facebook group!
For more Christmas Craft inspiration, you may also enjoy the following jolly crafts….