Christmas is a little different this year, and that means we might not be able to see all of the people we usually see, and do all the things we usually do. So making a homemade Christmas card is the perfect way to show our loved ones that we're thinking of them.
This cute Christmas stocking card is perfect for pre-schoolers and school early years to make at home or in the classroom for friends and family. The pre-drawn template means there's only some basic cutting required, before the kids can really enjoy themselves getting stuck in with the decorating.
Our Christmas stocking card is super easy to make but will capture children's attention and imagination with the endless possibilities for decoration. They're also a great way to use up any leftover Christmas wrapping!
And they don't just make great holiday cards. Why not print off a few more of the templates, decorate them and string them up to use as festive bunting?
How to Make a Christmas Stocking Card
Supplies:
x2 White Card Stock
Colored Construction Paper
Cotton Wool Balls
Ribbon
Pencil
Glue Stick
Scissors
How to Download the Stocking Template:
The stocking template is available to members of the Arty Crafty Kids Club. Members can access the template here (remember to login!): https://www.artycraftykids.com/product/easy-christmas-stocking-card/
Members will need to log in to access the templates!
Not A Member?
Let's Make a Christmas Stocking Card: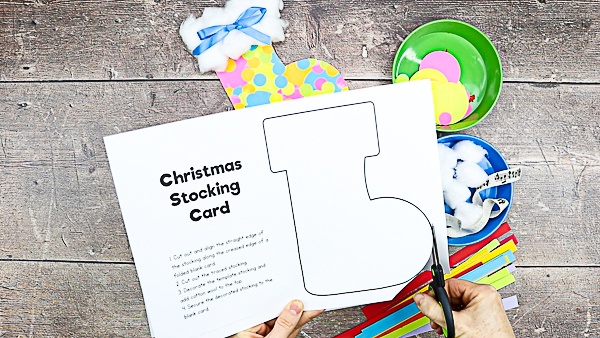 Cut out the Template
First, carefully cut out the stocking shape from the template.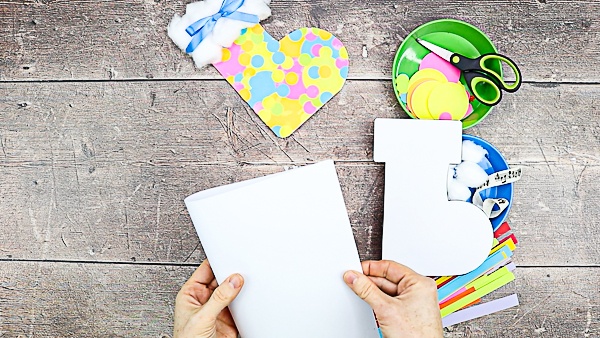 Fold the A4 Sheets of Card in Half
Then fold your A4 sheet of cardtstock in half (you can use a ruler if needed to help you get a nice straight, firm crease).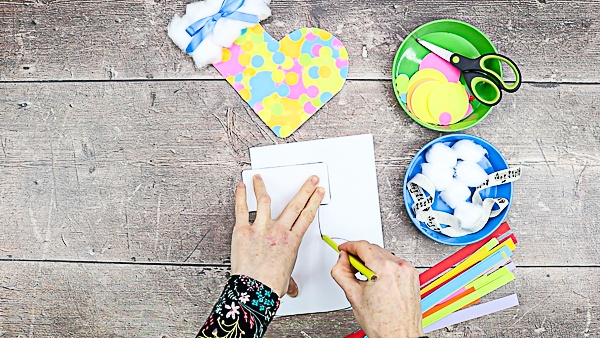 Align the Straight Edge and Trace
Lay your stocking shape onto the front of the folded card, lining the straight side of the stocking to the folded edge of the card, and the bottom of the stocking to the bottom of the card.
Then lightly trace around the shape with a pencil.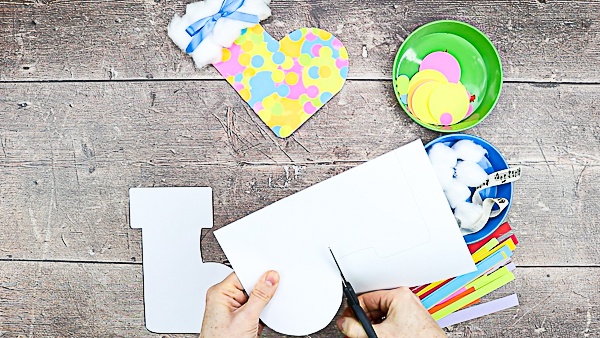 Cut Out the Traced Stocking
Then carefully cut out the traced shape, so you have a folding stocking card.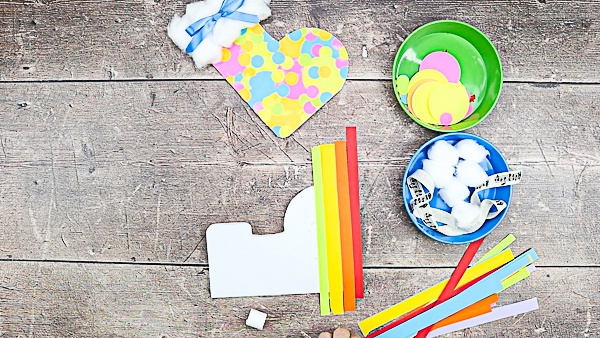 Decorate the Christmas Stocking
Then it's time for the fun bit – let's decorate!!
This is when you can really let your creativity and imagination work their magic. You can choose traditonal Christmas colors, like red, green, white and gold, or go for it and use every color of the rainbow! You can create stripes or dotty patterns like we have, or you could draw snowflakes, stars or a whole festive scene, if you like to draw! You can make designs with paper, add color with paints or crayons, you could add depth with yarn or sparkle with glitter…
It's totally up to you how you decorate your stocking, and what you choose to do it with!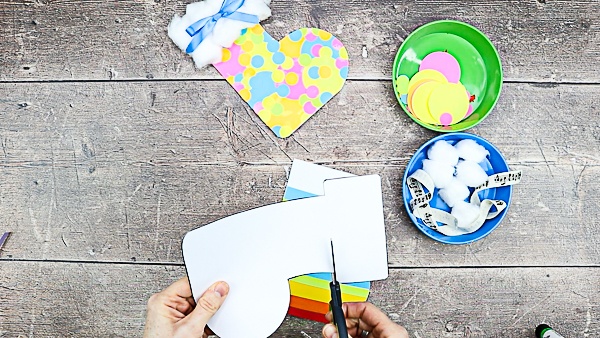 Remove the Upper Stocking Rectangle
Now cut the top of the stocking off the original template, that you used to draw around, and cover it with fuzzy cotton wool. A stocking isn't complete without a furry trim!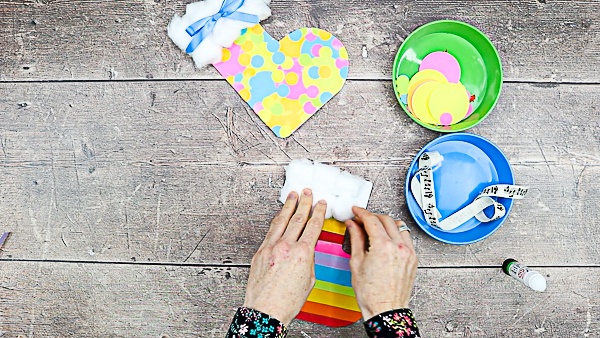 Secure to the Christmas Card
Then stick it firmly to the top of your decorated Christmas card stocking.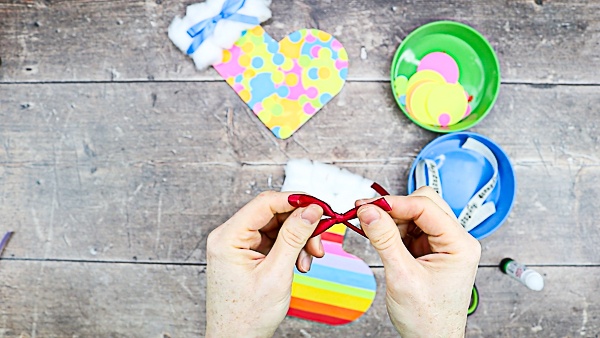 Add a Decorative Ribbon
Finally, add a pretty bow, or any other decoration you prefer, to the top of your stocking.
The Christmas Stocking Card is Complete
Write a special message inside, and your stocking is complete! Your friends and family are sure to appreciate such a unique, homemade Christmas card.
More Christmas Card Ideas for Kids:
Handprint Christmas Cards for Kids:
These Handprint Christmas Cards are adorable and a perfect keepsake for kids to make and give at Christmas.

https://www.artycraftykids.com/christmas/handprint-christmas-cards/
Santa Handprint Beard Christmas Card:
Simply open Santa's handprint beard to reveal your Arty Crafty Kids festive greeting and photo. A gorgeous keepsake craft that will be treasured for years to come.

https://www.artycraftykids.com/craft/santa-handprint-craft/
Poinsettia Christmas Cards for Kids:
Simple, but really fun and engaging, kids will love building up the flowers and seeing them pop from the page – we guarantee they won't want to make just one!

https://www.artycraftykids.com/christmas/easy-poinsettia-christmas-card/
Happy Crafting!