I'm sure you're already familiar with the picture book 'Rainbow Fish?'
If not, it's a really sweet book that's established itself as a preschool classic.
The illustrations are stunning, inspiring this simple Tissue Paper Rainbow Fish.
Used as a book extension or stand alone craft idea for kids, it will not disappoint.
Young children will enjoy the process of cutting and sticking as they design their fish, making it a great craft for developing scissor and fine motor skills.
It's simplicity and easy set up, will appeal to anyone crafting with a group of children.
Sound good?
Here's what you need to get started!
MATERIALS: Tissue Paper Rainbow Fish
This post contains affiliate links. See our disclosure statement for more information
Tissue Paper
Card – A sheet of card or you could try recycling a box
Googley Eye
Glue Stick
Scissors
Let's Make It!
Start by folding a piece of card in half, draw a fish shape (it doesn't have to be perfect) and cut, ensuring the fold is included.
Next, begin adding the tissue paper and layer until the card is covered.
Add a googley eye ad a smile for some personality.
Stand the fish up and ta-da, you have a Tissue Paper Rainbow Fish!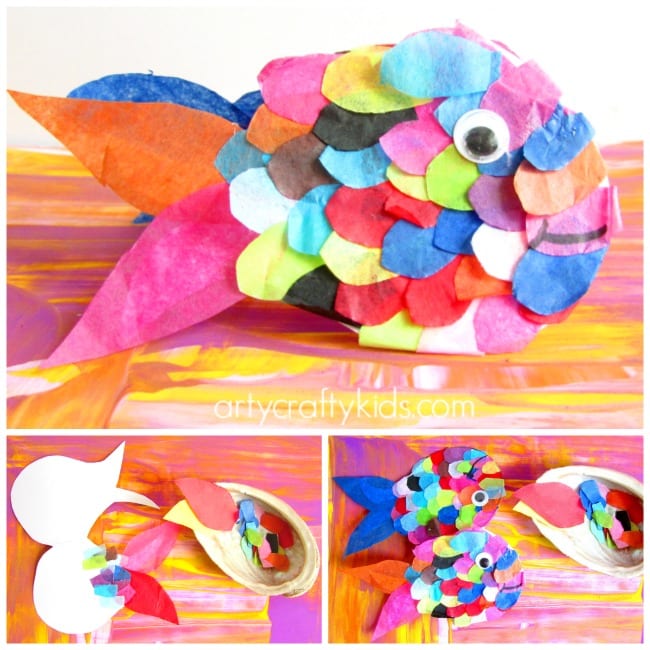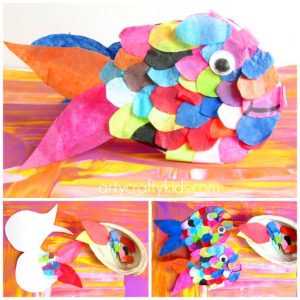 Simple crafts for kids are always the best and my girls adored this craft.
It was amazing to see them immersed in their designs and my 6 year old cut the paper with such care and attention, leaving her really proud of her creation.
My 2 year old enjoyed the process of sticking and the 'scales' did end up everywhere.
Remember it's all about the process not perfection!
I hope your kids have fun creating their own Tissue Paper Rainbow Fish
Follow Arty Crafty Kids on Facebook, Pinterest and Instergram