Wowee, where do I start! My girls loved their Sensory Play Monster Pizza session. Cakes enjoyed exploring the different textures and colours, whilst Angel whipped up wriggly worm pizza's with eyeball sauce and spider crunchies! Her bat special was monst-abulous! A grotesque sensory delight.
They both had a blast with this easy to prepare activity and to use the words of the little lovely, our Sensory Play Monster Pizza session was "awesome!"
This post contains affiliate links for your convenience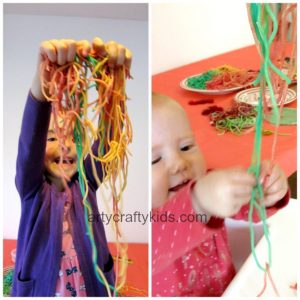 Our Sensory Play Monster Pizza was inspired by Claire Freedman's Spider Sandwiches.
 A book we've read again and again and again. Its gruesome culinary combinations really tickles Angel's sense of humour and captures her imagination. She loves to imagine her own bug-filled and gross meals that are always described in great detail with a cheeky snigger and a little chuckle.
The idea of mummy eating slug and earwax soup is a particular favourite! As such, we came up with the idea to have our very own Monster Pizza's and if you're looking for a book to make your little monsters imaginations sparkle, then Claire Freedman's Spider Sandwiches
 will do exactly that!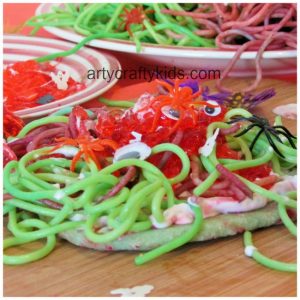 Sensory Play Monster Pizza – What's in it?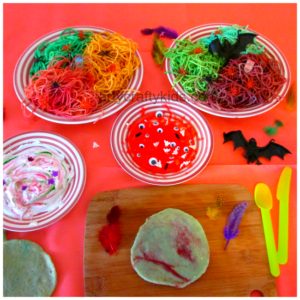 To maximise the 'sensory' element of our Sensory Play Monster Pizza session, I incorporated smooth, rough, squidgy, fluffy, wibbly and wobbly textures and used a range of bright and engaging colours, with some added sparkle to stimulate the all senses.
Most of the ingredients used are the basic staples found in most kitchen or bathroom cupboards (nothing too fancy or difficult to find), for instance: flour, spaghetti, salt, shaving cream etc
In terms of prep, much of the 'monster mixture' will need to be prepared the day before, however each element will not take long and it really is totally worth it!
Salt Dough Pizza Base
1 Cup of Plain Flour
½ Cup of Water
½ Cup of Salt
Food Colouring
Mix the flour and salt into a bowl and mix, gradually adding water. Keep mixing until you get a doughy consistency. If it's too sticky, add more flour. If it's too dry, add more water.
To create the marble effect, I added small droplets of food colouring directly onto the dough and kneaded it in.
To finish off, place the 'pizza base' into the oven on a low heat until nice and firm. Allow to cool before using.
Using a salt dough pizza base was fab, as they could be reused a few times and added a little bit of realism to the play.
Eyeball Monster Sauce
Really simple: Mushed up jelly and googly eyes.
Spider Cream
Can you guess how made our Spider Cream?
We used shaving cream and food colouring. Only a couple of droplets of food colouring is needed with a little stir to create this really cool marbling effect.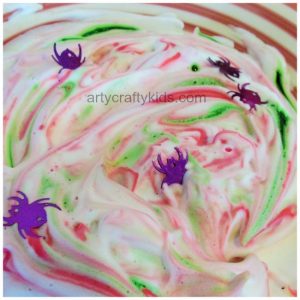 Wriggly Worms
I cannot believe how easy it is to dye spaghetti and I have to say, I love the results!
All you have to do is boil spaghetti until very soft and then rinse it with cold water until cool.
Separate the spaghetti into small bags and add a few drops of food colouring ( I used food colouring gel). Give the bags a good shake until all the spaghetti is covered and leave for 24 hours.
Before using our wriggly worms, I added a few droplets of vegetable oil to each bag to add moisture.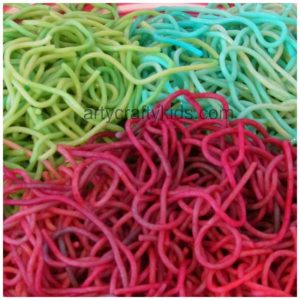 To complete our  Sensory Play Monster Pizza session, I added a few inexpensive creepy crawly extras to bring it all together and to not only invite play, but to make it irresistible.
The boring bits! 
Children must be supervised at all times during this activity and none of the ingredients used with our Sensory Play Monster Pizza session is intended for consumption.