Max and Marla is a gorgeous story about Max and his pet owl Marla. A simple story with a strong message: to become a 'true Olympian' it takes teamwork, perseverance and most importantly, friendship.
Max and Marla with its beautiful illustrations and fun story line naturally lends itself to an open discussion with your child about the way the characters work together to overcome obstacles and their motivations for doing so; essentially, my five year old concluded that it's about enjoying the process, playing and not giving up!
I was thrilled to see my child engage and connect with the story. I enjoyed our discussions and she was able to relate the central theme and message of the story to her own approach to tasks and activities.
The watercolour illustrations are thoughtful, fun and simply beautiful. They bring the story to life and were enjoyed by my elder child and toddler, who both fell in love with the adorable snowy owl Marla.
Charmed by Marla, it seemed only fitting to put together a simple snowy owl craft that can be enjoyed by both preschoolers and older children.
Snowy Owl Collage
: Materials
A sheet of stock card
A sheet of white paper
Cuttings from an old book
Black & Orange tissue paper
Googly Eyes
PVA Glue
A copy of the Max and Marla

Book!
Snowy Owl Collage
As an extension activity to Max and Marla

, the purpose of this craft is for kids of varying ages to create their own snowy owl independtly.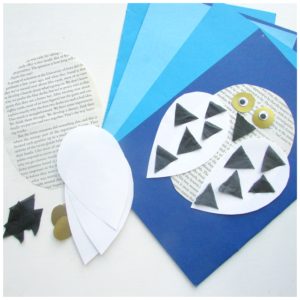 To get started, prepare the body of the snowy owl by cutting a large oval shape from the book page. We used a page from the a book for the black print against the white, to represent the black flicks you would usually find on a snowy owl.
Next, cut out multiple black triangles from the tissue paper and circles for eyes. Also present the googly eyes to finish of the eyes.
And finally, cut two large wing shapes from the white paper and present all the materials, along with glue and a sheet of card for the base, to your child.
Glue the oval onto a piece of card.
Glue the wings onto the owls body and fill them in with black tissue paper.
Add a triangle for the beak, along with the circles and googly eyes.
Although a simple activity, its one that will appeal to a broad age group and a craft that could be replicated in conjunction within a group reading of Max and Marla
. Going back to the book, I hope your fall in love with its charm as much as mine. Max and Marla
has become a firm bed time favourite and is most definitely one for every preschoolers book shelf!
This post contains affiliate links. Thank you for your support!
This post is a sponsored post and we received the book free of charge. All views and opinions are wholly my own, for more information please read the Arty Crafty Kids disclosure statement.