The beauty of wax resist art lies within its simplicity and versatility. It could be a really fun way to explore letters or numbers, patterns or used to create home-made cards, gifts or simply a stand alone piece of art.
Angel loves to write, loves composing letters and loves art, so it's not surprising that the idea of 'secret messages' within our wax resist art process really captured her imagination.
She found this art process really exciting and was eager to read the secret messages – an activity perfectly suited to her stage of development!
To do this at home, all you needs 5 minutes to prepare, a white wax crayon, some Watercolour Paints
and Watercolour paper
– that's it!
Using the white crayon, draw an image or message onto the white paper. It can be a little tricky to see what you're doing, however if you press firmly enough, you should be able to see a faint outline.
Next, hand over to the your arty kids, building up the excitement that a secret message is contained within the paper and the only way to reveal it, is to paint!
The palette of Watercolour Paints
we used are great for introducing kids to watercolours, enabling them to experiment with the ratios of water to paint to create bold or light colours.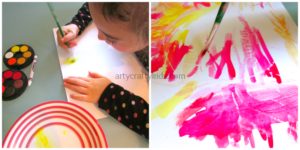 I encouraged Angel to play with the paints, adding more water to help spread and merge the . Watercolour Paints
. Once the messages were beginning to reveal themselves, she was absolutely delighted and sooo excited!
Here's what our wax resist secret messages revealed:
You are my Sunshine
Love you to the Moon and Back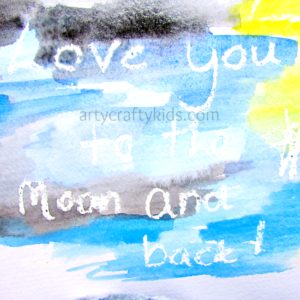 Happy Mummy Day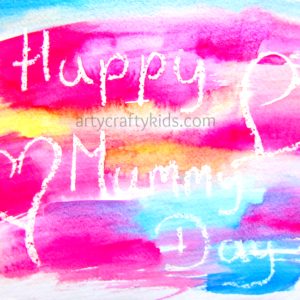 What will your wax resist art 'secret messages' reveal?
I really like the idea of creating secret message birthday cards or using this technique as a fun way to practice phonics!
I hope you enjoy exploring the potential of Wax Resist Art.
To keep up to date with Arty Crafty Kids, follow us on facebook or pinterest!