Since learning to write, Angel has been making cards for everyone, everyday and for no reason other than for fun. Our Watercolour Flower Card is a heart-warming card perfect for any occasion. With its simple design, it's a card for kids to make of all ages.
Watercolour is one Angel's favourite mediums. She loves blending the colours, playing with the water and just seeing what happens. I'll hold my hands up and admit, I don't actually know how to use watercolours and I don't think that's such a bad thing. I enjoy experimenting alongside Angel and going with the flow, and from a kids perspective, watercolours are really great fun!
Watercolour Flower Card: Materials
This post contains affiliate links for your convenience
Watercolour Paints

Watercolour Paper

Thick White Craft Card

PVA Glue
Buttons

Green and Black Marker Pens
Watercolour Flower Card
Using Watercolour Paper
, we cut out a few basic flower shapes and set to work applying the Watercolour Paints
.
I encouraged Angel to use the full range of colours, layering, mixing and using various amounts of paint and water. She loved how the the colours merged, noting that some colours were bolder than others. This is such a great process for children to work through; it not only enhances creative thinking, but is great for observational development and problem solving.
The results are also very pretty!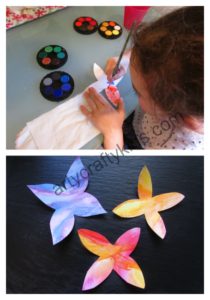 Watercolour Paints are easy to use and quick to dry – essential for eager arty kids!
Next, we folded our Thick White Craft Card
in half and drew three green stems, gluing our flowers to the ends.
And to finish off, we added a white sticker (acquired at the local scrap store) and a cute button!
Oh, and not forgetting our little play on words! this gorgeous Watercolour Flower Card can be used any time of year, for mum, dad, grandma or dog.