Having kept rolls and rolls of wallpaper for that inevitable rainy day, we challenged ourselves to create something special for the girls new playroom and I think we did just that, with our very simple Wallpaper Handprint keepsake craft.
I am a huge fan of handprint crafts and keepsakes and this particular craft has been a real head turner, catching the attention of EVERYONE!
An ideal craft for a special Birthday, Mother's Day of Father's Day gift.
To make your own Wallpaper Handprint keepsake, very few materials are needed:
Foam (or card)
Wallpaper of various patterns and colours. If you don't have any at home, why not collect some samples from the local DIY store!
PVA Glue
Sticky Tape
A Picture Frame
To get started, simply cut the wallpaper into strips.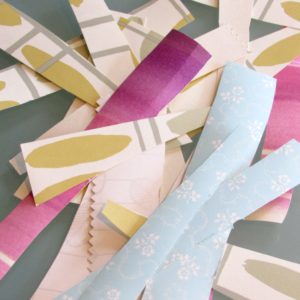 Next, draw around your crafty kids hand and cut the print out.
If you're wondering why I've chosen foam as a base over card, I have a few reasons:
Foam comes in a range of gorgeous vibrant colours
It's easier to cut and creates nice smooth lines
Doesn't wrinkle when lots of glue is applied!
It's also really cheap to buy!
Using lots of glue, apply the first wallpaper strip.
Add further strips of wallpaper, alternating the patterns and layer the paper to avoid gaps.
Once the handprint is completely covered with wallpaper, secure the ends with two strips of sticky tape.
Now for the really fun bit, turn over and check out the results!
I hope you love our Wallpaper Handprints as much as we do!
If handprints are not for you or would like to try something a little different, why not not try cutting out shapes of animals, cars or flowers?
This post is our final instalment of #junkplay challenge
and we've had a great time playing with various junk materials!