Paper Roll Printed Fall Handprint Tree: Recreate the essence of Fall with this simple handprint craft that captures imaginations and encourages children to explore shape and color.
If you are looking for a simple Autumn Craft that can be recreated independently, encourages color-mixing and enhances fine motor skills with simple printing, painting and tracing, then this is an ideal project for you; designed and created by my very own Arty Crafty six-year old, this Autumn projects ticks all the boxes and is a great choice for homeschool, preschool or any other early years setting.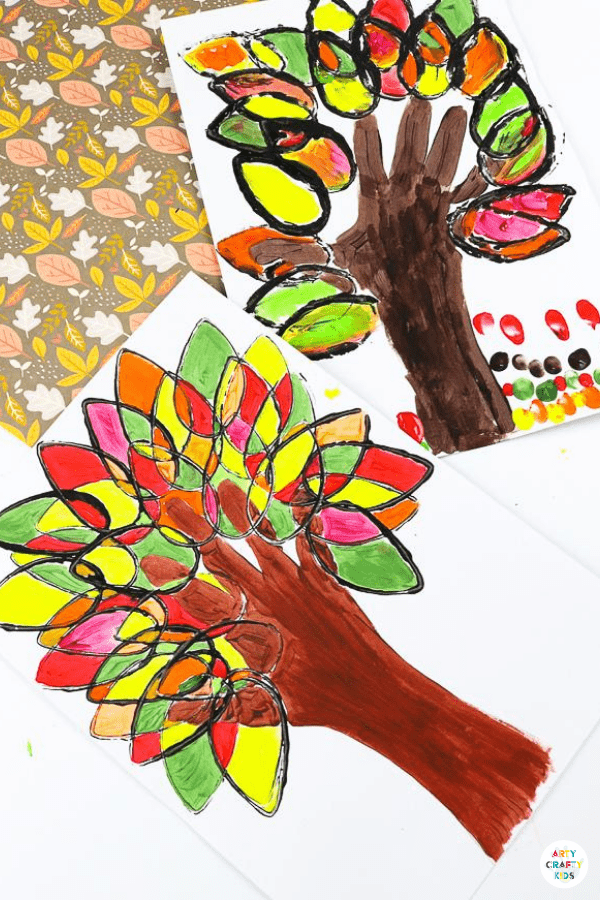 How to Make a Paper Roll Printed Fall Handprint Tree
What you need:
White Cardstock
Paper Roll
Paint
Pencil
Old Bowl or Plate
Let's Make the Fall Handprint Tree!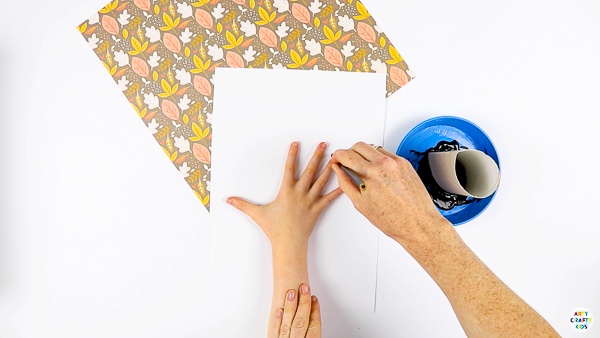 Trace the Hand and Arm
Start by placing your child's hand into the center of the white cardstock.

Use a pencil to gently trace around the hand and arm.

This is a great fine motor exercise for little hands, so without any pressure and where possible, encourage your Arty Crafty Kids to trace around their own hand and arm .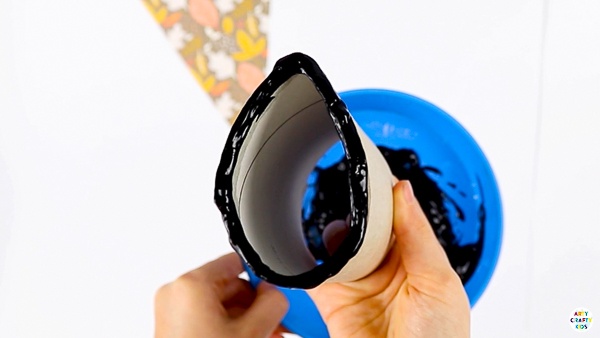 Paper Roll Prints
Using an old bowl or plate, spread a generous dollop of black paint within the bowl.

Squeeze the paper roll in to a leaf type shape and place the roll into the black paint.

Give the roll a wiggle and jiggle to ensure all the edges of the paper roll are covered with black paint.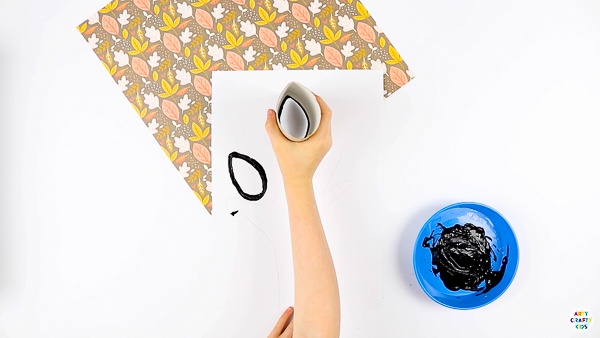 Transfer the paper roll from the paint to the white cardstock and begin printing leaves around the handprint area.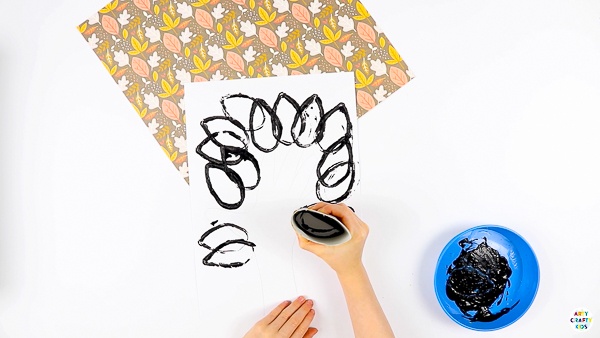 Create Leafy Foliage
Continue printing until a nice thick leafy foliage surrounds the handprints.
Encourage Arty Crafty Kids to layer the prints and fill the white space. As they begin to explore layering, they will notice they're creating new and interesting shapes.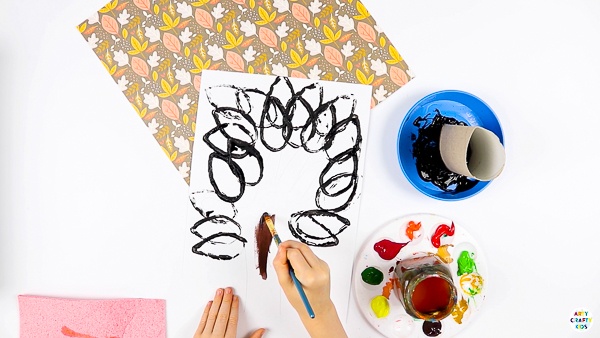 Paint the Traced Handprint
While the black paint dries, paint the traced handprint and arm brown.

This is a fantastic opportunity for children to play with color mixing!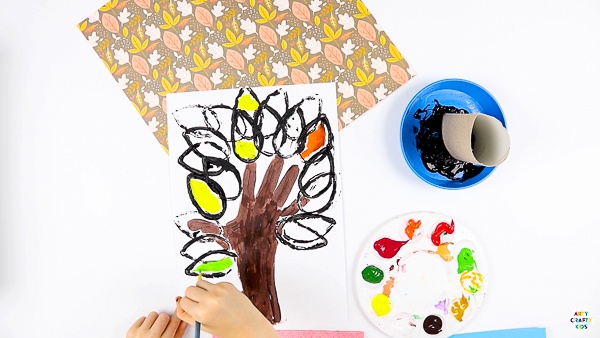 Add Autumn Colors
Once the black paint has dried, paint the leaves in a variety of Autumn shades.
Throughout the process, encourage your Arty Crafty Kids to mix their own colors and describe what happens when the colours mix.
Ask questions:
How much Red and Yellow do you need to make Orange?
How do you make different tones of Orange (Yellow, Red, Green)?
How do you make Brown?
This simple process of trial and error is a fabulous learning exercise, with an emphasis on problem-solving skills and mathematical thinking (mixing and mentally measuring colors to achieve the desired tone).
And of course, it's wonderful for creativity!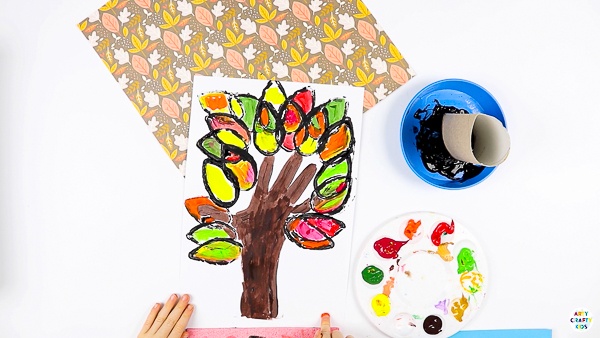 The Paper Roll Printed Fall Tree is Complete
Continue filling the Autumn leaves with bright and bold Autumn shades until the tree is complete and bursting with color!
The completed tree with all its different segments will create a beautiful stained glass effect.
More Fall Handprint Art Projects for Kids:
The ORIGINAL Autumn Handprint Tree:
Autumn is a gorgeous, colourful season that never fails to get the creative juices flowing and if you're looking for an opportunity to explore simple colour-mixing techniques within a seasonal theme, then this Autumn Handprint Tree art project is the one for you.

https://www.artycraftykids.com/art/autumn-handprint-tree/
Fingerprint Heart Autumn Handprint Tree:
We love Autumn, we really do and have expressed it beautifully with our latest Autumn Tree Craft – The Fingerprint Heart Autumn Tree!

https://www.artycraftykids.com/craft/fingerprint-heart-autumn-tree/
Accordion Fold Autumn Tree:
It's that time of year again where we're playing around with paper and glue to find new and unique ways to create gorgeous Autumn Tree art. I believe (and I hope you will agree), we have achieved exactly that with our new Accordion Leaf Autumn Tree!

https://www.artycraftykids.com/craft/accordion-leaf-autumn-tree/
Happy Crafting!