Kandinsky's Squares with Concentric Circles is perhaps his most recognisable work and is commonly used by teachers as an introduction into the topic 'famous artists'. You might be surprised to learn that this piece was never a fully-fledged painting and was used by Kandinsky as a type of colour chart for his work. As we all know, children certainly know how to mix colours (especially when it comes to brown tones) and this simple Kandinsky Inspired Rock Art project is a fun way for children to explore colour combinations, with an opportunity to use natural materials as their canvas.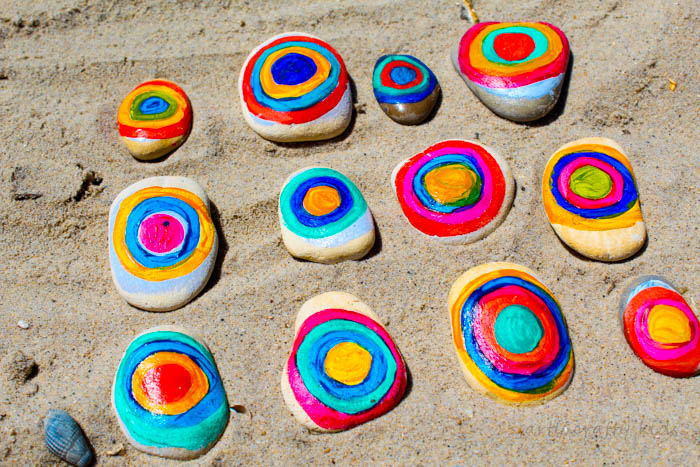 As well as creating a piece of abstract art inspired by a famous artist, these rocks present endless creative play possibilities. Kids can use them as colour charts; to create patterns and mandala art; they could be offered as gifts to friends and family or simply left on the beach as a gift to a stranger.
Kandinsky Inspired Rock Art: supplies and tutorial
This post contains affiliate links, read the disclosure statement for more info.
Smooth round rocks
Acrylic Paint
Varnish or Modpodge Sealer
To begin, arm the kids with their buckets and take a trip to a nearby beach (or anywhere else that may have rocks) and collect as many smooth round rocks as your kids can carry.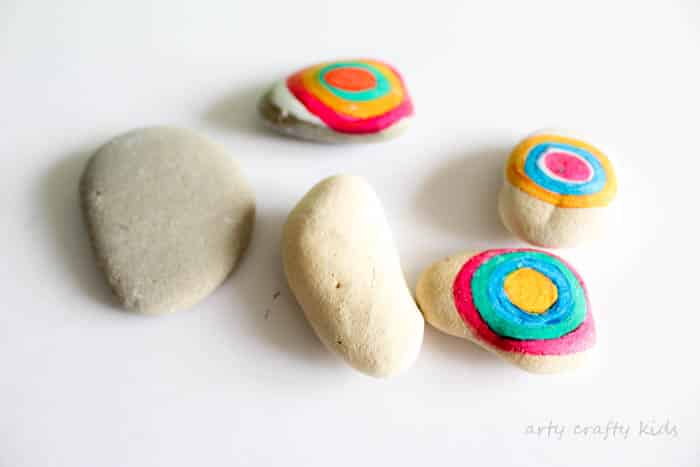 Next, thoroughly wash the rocks and leave them to dry.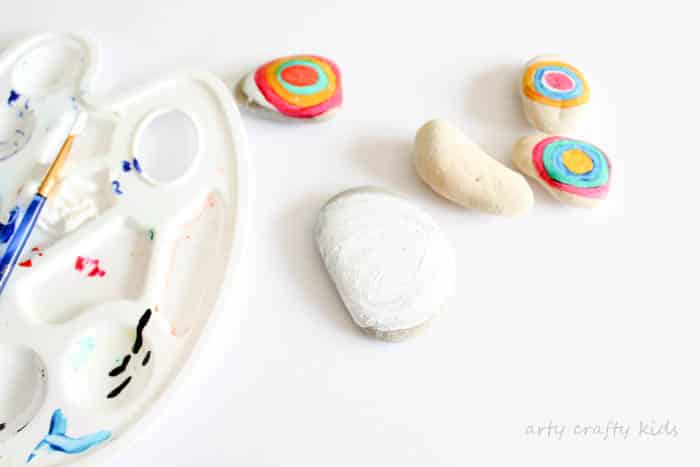 Cover the surface with a base layer of white acrylic paint and leave it dry.
Once the base layer has dried, add the circles.
"Everything starts with a dot" – Wassily Kandinsky
Start with a large dot in the middle and then add multiple surrounding circles, encouraging the kids to use the full colour palette.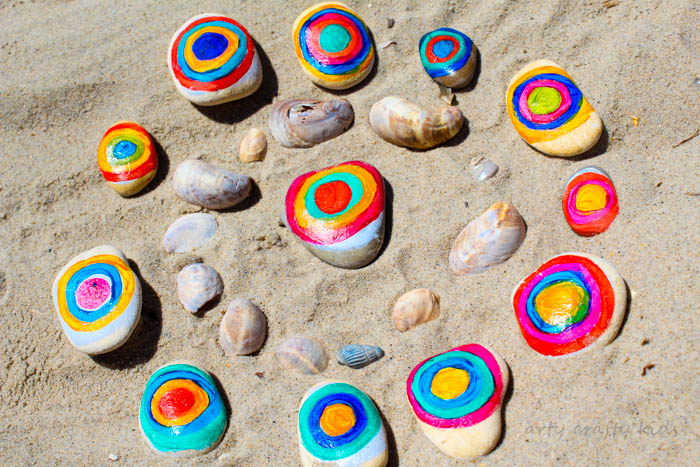 Once the rocks have dried, add a light layer of varnish over each. This will preserve the paint and add a gorgeous glean.
Next it's play time!
Your Kandinsky Inspired Rock Art is now Finished
For more easy art ideas to try with the kids, take a look at our super fun bubble wrap printing technique and unique watercolour yarn art process!