This Fork Painted Monster Hair – Halloween Craft for Kids is a super fun activity with lots of open-ended creative possibilities.
In this example, we've completed our monsters using fork prints. Children can switch the forks for handprints, pasta, yarn, play dough, leaves or splats – making this Halloween craft suitable for children of all ages either at home or in the classroom.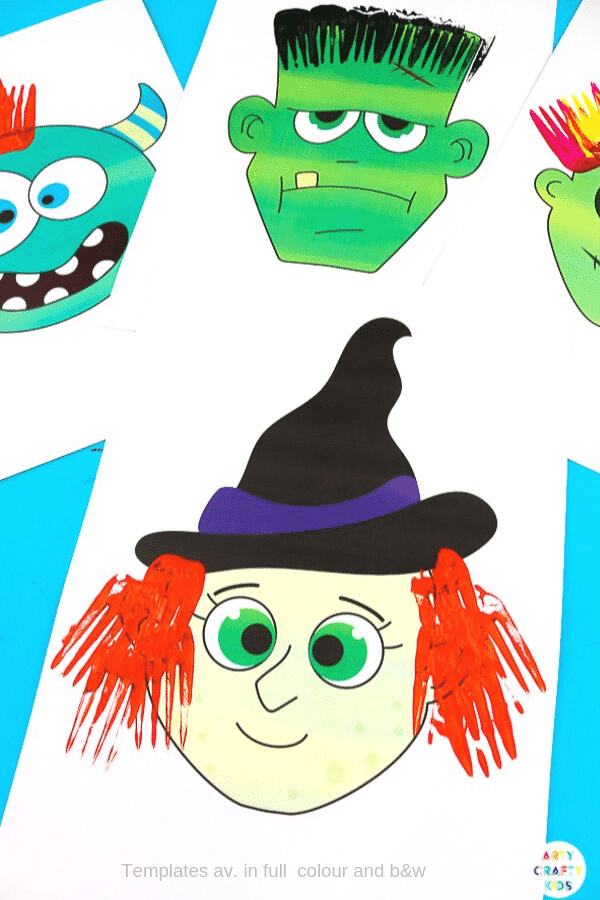 What you Need:
White Card Stock
Paint
Fork
Optional: Colouring Pens/ Pencils or Crayons
Optional: Fun extras i.e. pasta, yarn, items for printing (TP Rolls)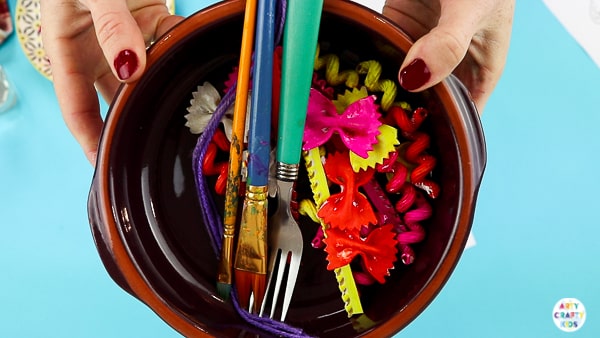 The Monster Printable Templates: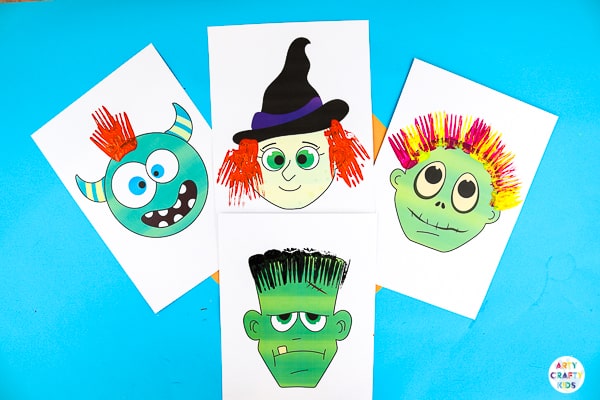 The monster templates can be downloaded in full colour and black & white for children to colour themselves.
The full colour templates are ideal for laminating so they can be used and reused with lots of different materials i.e. playdough (here's a good playdough recipe ) – A great way to keep kids busy!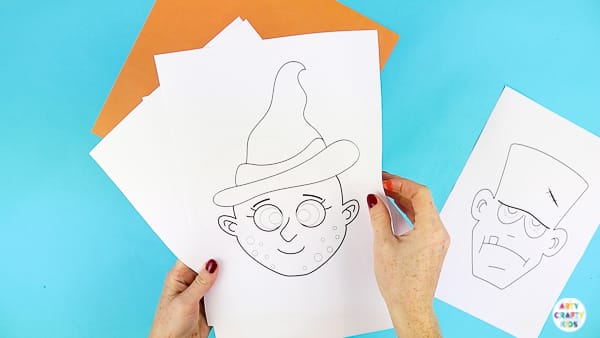 The monster templates are available to members of the Arty Crafty Kids club. The templates can be accessed via the links below:
Not A Member?
Printing Instructions:
Download and print the templates from the Arty Crafty Kids members area.
The templates can be downloaded onto good quality paper or card stock.
If you opt for card stock, remember to check your printer settings for a recommended weight. Most printers prefer card stock less than 220gsm.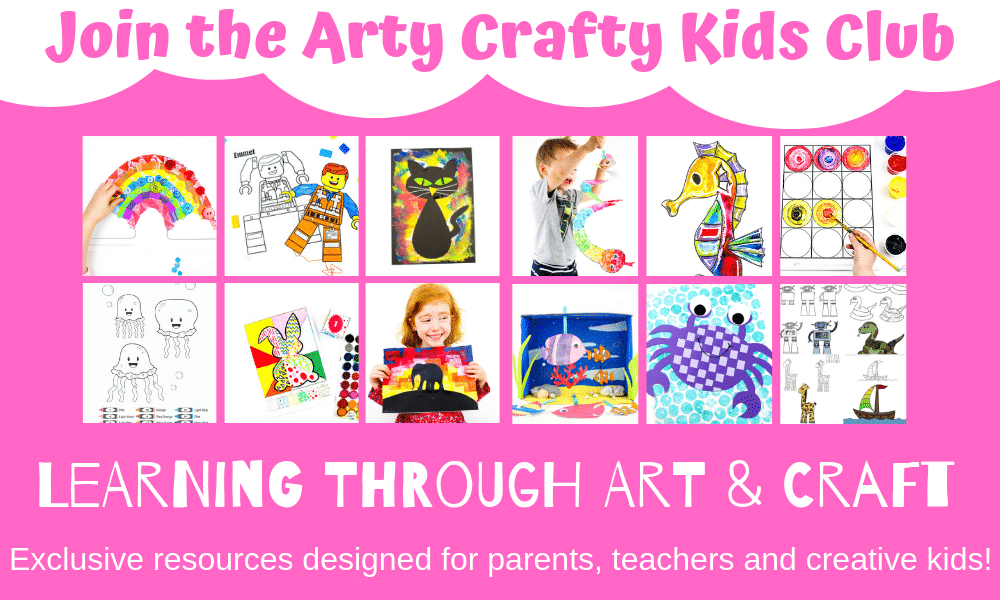 How to Complete the Halloween Craft for Kids project: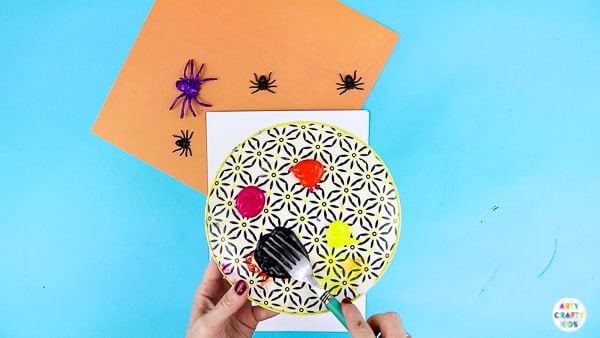 How to Paint with a Fork
Step 1: Place the back of a fork directly into the paint. Rock it back and forth for good coverage.
Remove the fork from the paint and pop/remove any bubbles or excess of paint from between the gaps.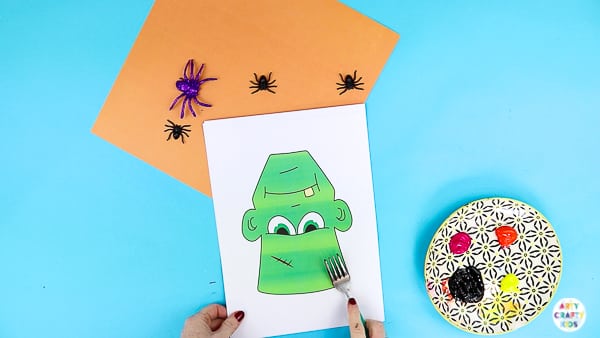 Painting the Frankenstein Template
Step 2: Create the first print.
Rock the fork back and forth to create a complete and solid print.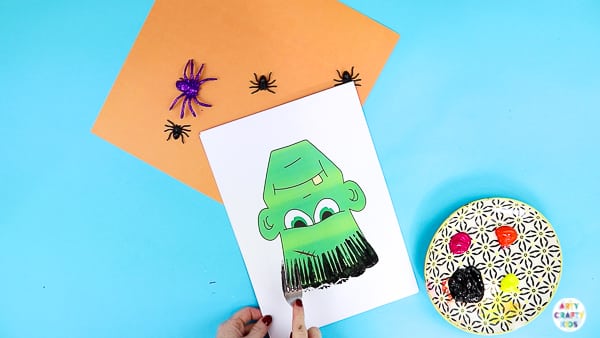 Step 3: Follow the hair line to complete the first monster!
Complete the Remaining Monsters!
Arty Crafty Kids can continue printing with their forks or experiment with alternative painting techniques.
More ways to Paint and Create Monster Hair:
Arty Crafty Kids can create hair using their hands, fingertips and even their feet!
Alternatively, they can explore any of these fun painting techniques for kids:
Bubble Wrap Printing
Bubble Wrap Printing is a fun and easy art process for kids, with endless possibilities. Kids can play with colours and patterns to create frame worthy works of art or transform them into snakes, lizards, fish, collages or mosaics. They could be recycled as wrapping paper or used to decorate a plain notebook.

https://www.artycraftykids.com/art/bubble-wrap-printing/
Splat Painting
Splat painting is an amazingly fun art process for kids! there's something about flying paint splattering in various directions that leaves kids gripped with anticipation and excitement.

https://www.artycraftykids.com/art/splat-painting/
Happy Crafting