Crafting with a very young toddler can be time critical, which makes our 5 minute Footprint Ladybird Keepsake absolutely perfect for short attention spans. My 15 month old really enjoyed the sensation of paint on her foot and found her own footprint fascinating, which was super cute.
I love how our footprint ladybird turned out and will be popping it into a frame to display proudly on our wall. It could work as a stand alone piece of keepsake art, an entry for the baby book or a gorgeous framed gift from the kids.
Footprint Ladybird Keepsake: Materials
This post contains affiliate links
Red washable kid safe paint
A sponge
White Cardboard
Self Adhesive Googly Eyes

Sharpie Fine Marker Pen Black
Footprint Ladybird Keepsake
Using the sponge, apply a nice layer of red paint to your little ones foot.
Gently press your little ones foot onto the white card to create a nice even print and then repeat with the other side, creating an upside down V shape.
Once the prints are dry, using the Sharpie Fine Marker Pen , draw the outline of the ladybird's body and colour in.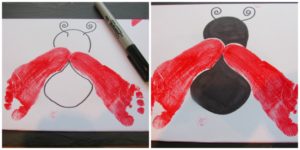 And then to finish off, draw black hearts or spots onto the footprint and add Self Adhesive Googly Eyes
.
I hope you love your little Footprint Ladybird Keepsake as much as we love ours!