This easy butterfly kids art project is one of those that happened off the cuff, on a dark rainy afternoon. We had the paints out and my preschooler poured herself some paint and began spreading it with her hands.
This took me straight back to my own childhood to one my earliest arty memories.
I recall being transfixed by the way  the colours mixed and the unique patterns the process left behind.
And here, with this simple butterfly twist on a classic art concept, my own preschooler couldn't get enough.
She made butterfly after butterfly; equally amazed by the colours.
Art for kids doesn't need to be complicated and sometimes all it takes is some paper, paint and a pair of hands.
Easy Butterfly Kids Art
This post contains affiliate links
Paint
Paper
Scissors
Using a single sheet of A4 paper, fold, cut to shape and reopen.
Place splodges ofPaint along the crease of the paper.
Use a good mixture of bright and contrasting colours, using enough Paint to enable it to be spread.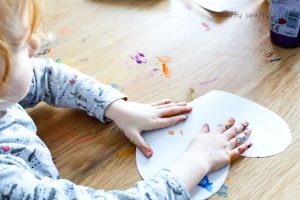 Fold and spread the paint with a pair of hands.
Encourage your arty kids to spread the paint away from the centre, all the way to the tips of the butterfly wings.
Spread the Paint using a mixture of fingers and palms.
My arty preschooler loved the sensory element of smoothing out the lumps and bumps, and struggled to resist the urge of opening the butterfly prematurely.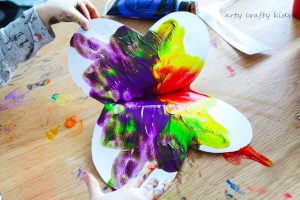 Open the butterfly, leave to dry and start the next one…
Can you imagine an entire wall display made up of these cheerful butterflies?
I hope your arty kids enjoy our Easy Butterfly Kids Art project and while you have the paint, you may also like to try Rainbow Scrape Painting,  Rainbow Straw Blowing Art and  Yarn and Watercolour Art. 
Pin for Later!