We love to doodle, we love simple art ideas and LOVE colour! making this Christmas doodle art idea an instant success with the kids.
Using just a few materials and with a preparation time of less than 5 minutes, the kids were enjoying the Christmas vibe for hours as they carefully painted their Christmas trees, snowmen and festive stars in an array of different colours.
Christmas Doodle Art: Materials
Watercolour Paper
Watercolour Palette
Christmas Themed Cookie Cutters
Sharpie Pen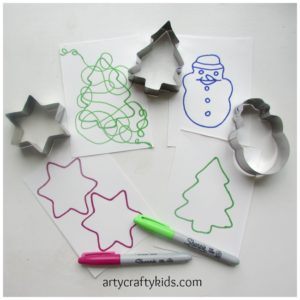 To get started, simply draw around the Christmas themed cookie cutter and doodle twirls and swirls on top using a sharpie pen.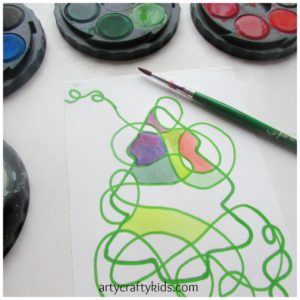 Explore the full palette of watercolours and fill in the doodle twirls with different colours.
This is a great opportunity for your kids to get experimental with the watercolour medium; mixing colours, applying different ratios to water and paint to create different shades and to quite simply, having a good ol' play!
While we have chosen to create Christmas doodle art, this art process can be applied to lots of different shapes. Your children could try drawing their own picture or use cookie cutters of a different shape. They could also try creating a simple doodle art as we have done in previous post – Calming Watercolour Art