At six months, my baby boy may not be able to crawl or walk or talk yet, but he can create art using bubble wrap!
I call it Art. It's actually more about the process and I have to say, this baby bubble wrap art idea was more successful than I could have ever imagined.
At first touch, he withdrew with a scrunched up face of pure disgust.
I wish I had captured his reaction to show you – it was pretty amazing.
And then he tentatively went back for more.
First with one hand. Brushing lightly over the bubbles.
Then he noticed the bubbles could be squished and if he banged his little fist, he discovered that a new popping sound occurred. Which took him by surprise.
With each new discovery, he went back for more.
And If that wasn't enough, he tried so hard to grab the colours lurking underneath the bubble wrap.
The concentration on Baby D's face was incredible.
He was absorbing everything and you could almost see the cogs ticking over as he explored the bubble wrap.
He hardly noticed we were there!
Sound good?
Here's what you need to try baby bubble wrap art at home.
While I am largely focussed on babies here, my preschooler loved this process too! And with a small adaptation, they can produce real works of art from this process.
MATERIALS: Baby Bubble Wrap Art
This post contains affiliates
A Large Sheet of Bubble Wrap
Paint
Thick Strong Tape (Brown Packaging Tape)
Let's Make It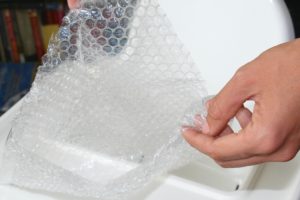 First we need to create a bubble wrap packet.
Simply take a sheet of bubble wrap, fold it over with the bubbles on the outside and the seal sides with some strong tape.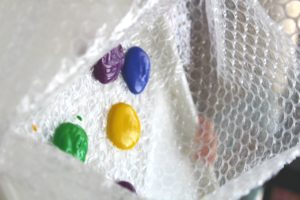 Place some paint inside the packet and seal the remaining edge.
Tape the entire bubble wrap packet to the tray. This will prevent baby picking it up and putting it in his/her mouth.
As you can see, my preschooler couldn't resist a touch!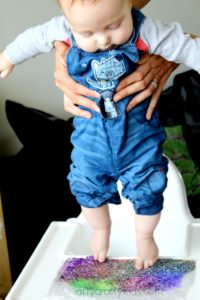 To extend the sensory play, pick your baby up and bounce them on the bubble wrap!
Baby D couldn't stop giggling and definitely loved this part the most!
To adapt this idea to create actual art, simply attach one layer of bubble wrap to a sheet of thick paper with paint inbetween.
This now becomes a sensory activity with some cool abstract art at end!
A perfect adaption for older children. Both my preschooler and six year old loved this process, and I have a feeling it will be one we return to time and time again.
If you love this idea then you must check out cling flim art idea and sensory art for babies and toddlers!
Don't forget to pin this idea for later and SIGN-UP to our regular newsletter!
More bubble wrap process art inspiration:
No-Mess Baby Bubble Wrap Painting from Arty Crafty Kids
Bubble Wrap Fish Thank You Cards from Play & Learn Every Day
Bubble wrap autumn tree craft by Messy Little Monster
Bubble Wrap Lichtenstein Art from Teach Beside Me
Fused Bubble Wrap Snowflakes by Mum in the Mad House
Sensory Stomp Painting with Bubble Wrap by Views From a Step Stool
Bubble Wrap Trees for Every Season by To Be a Kid Again