I have to say, we LOVE how our upcycled magazine bangle turned out. It's the perfect craft for giving some old costume jewellery a new lease of life; for kids to get creative and make something unique and very pretty. It's incredibly easy for young children to master and great for developing fine motor skills.
Angel found herself completely absorbed in this craft and couldn't wait to show her creations off. The method we applied to our bangles could easily be adapted to creating a trinket box, photo frame or perhaps some paper beads!
Versatile and super fun, I think we'll be creating many more upcycled magazine bangles.
Upcycled Magazine Bangle: Materials
Plastic Bangle
Old Magazines
PVA Glue
Scissors
Added extras for decoration – Buttons, felt or any other materials you have available.
Upcycled Magazine Bangle
Begin by cutting out triangular strips from a page of an old magazine, cutting up a range of images and written text.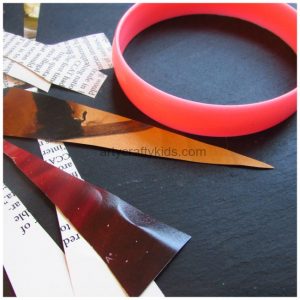 Apply some glue to the entire strip of magazine and then begin wrapping it around the bangle, starting from the thickest part of the strip. Make sure your crafty kids keep the strip fairly tight as they wrap it around.
Apply a little extra glue to the tip of the strip (if needed) and secure onto the wrapped area of the bangle.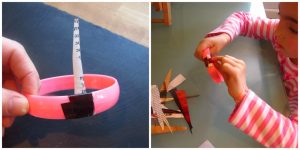 Continue wrapping different coloured strips onto the bangle, ensuring that no spaces are left. For the best effect, encourage your crafty kids to slightly layer the strips of magazine.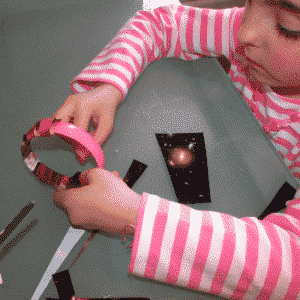 Once your crafty kids have covered the bangle, extra 'bling' may be added. We used some old white stickers, combined with some scrap felt and buttons.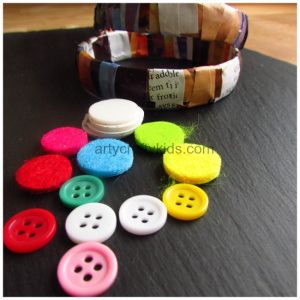 I hope your kiddies have enjoyed making our upcycled magazine bangle. We really had a blast with this activity and my girlie has been asking make them for her friends, Nanny and anyone else who might like wearing bangles.