Make a printable spiral snake mobile craft with this step by step tutorial.
This super cute snake craft is a fantastic scissors skills project for kids in preschool, kindergarten and primary school.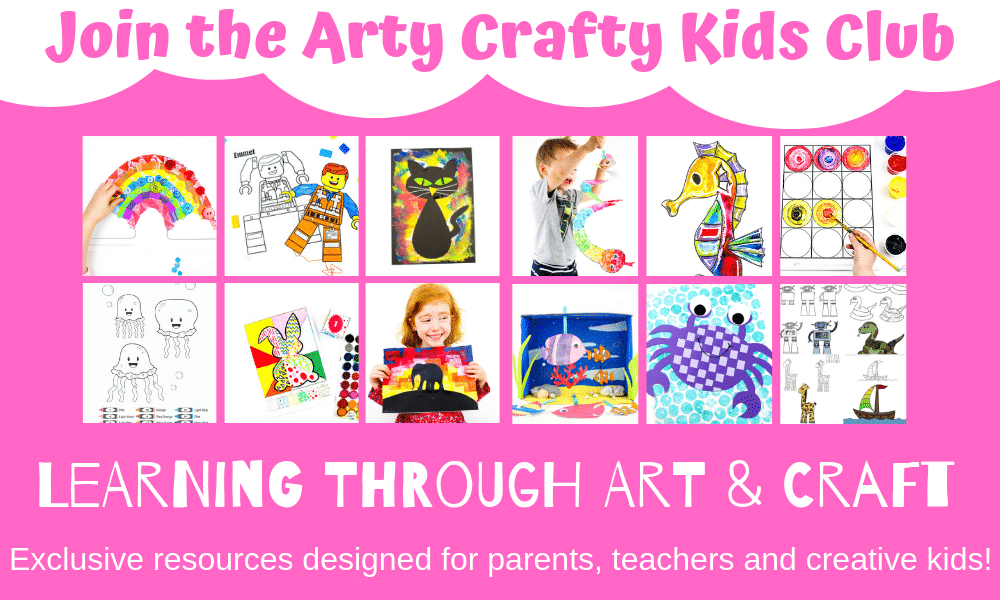 Simply download and print the spiral snake mobile template (teachers can photocopy for multiple children) and decorate!
Simply download and print the spiral snake mobile template (teachers can photocopy for multiple children) and decorate!
This post suggests filling the snake with finger prints, however there a many ways to decorate this snake…
Kids can try all sorts of painting techniques from bubble wrap printing to splat painting, or collage with coloured tissue paper.
Printable Spiral Snake Mobile Craft: Materials
White Card Stock
Washable Paint for Finger Painting
Paint Brush
Paint Palette or Plate
Elastic
Pony Beads
x2 Googly Eyes
Tissue Paper
Scissors
Glue Stick
Cloth for Wiping Fingers
Download the Spiral Snake Mobile Template:
Download the Spiral Snake template from the 'Craft' section of the Arty Crafty Kids club.
Already a member? Login HERE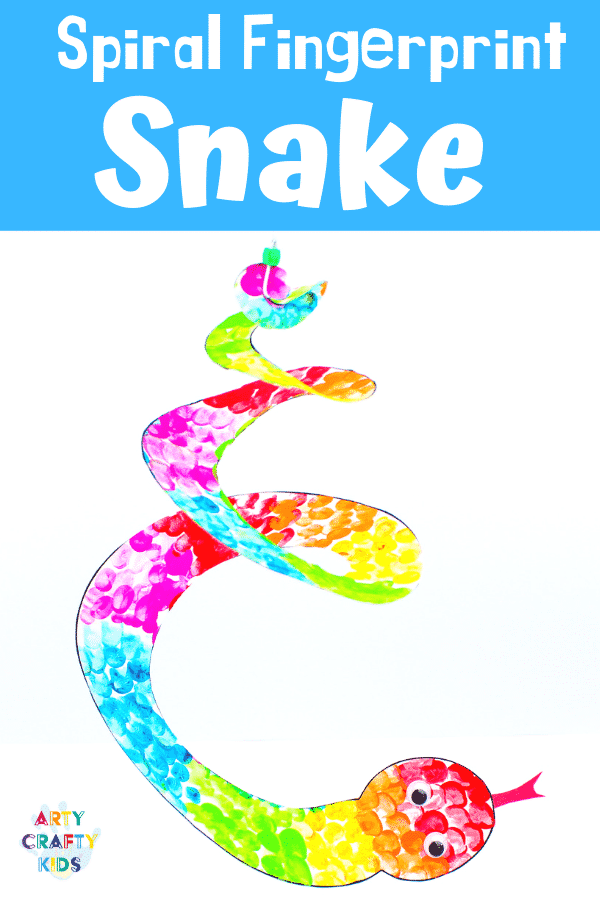 How to make a Spiral Snake Mobile Craft – Step by Step Guide
Printing the Template
Set 'Fit to Page' before printing.
Print the template directly onto white card stock or mixed media paper.
Remember to refer to your printer settings for a suggested weight. Most printers will print on to card weighing less than 220gsm.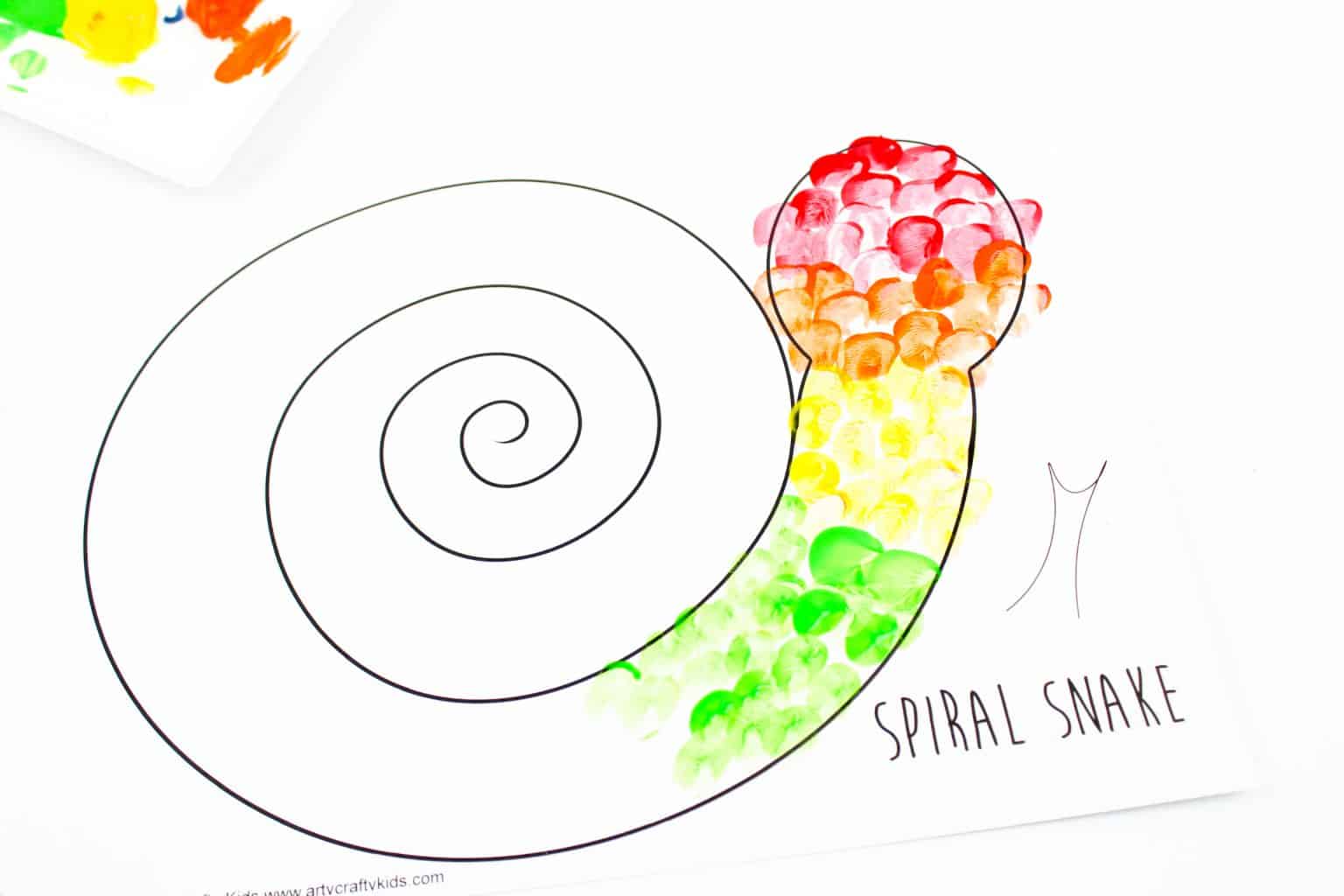 Finger Painting Tips
Step 1: Starting from the head of the snake, begin filling the template with finger prints!
When it comes to finger printing, children can either dip their fingers directly into the paint and print until the paint runs out.
OR a thin layer of paint can be applied to the fingertip before printing.
With this method, prints are more likely to be defined and clearly recognisable as fingerprints rather than starting out as big splodges of paint, and of course, prints created with less paint will result in a quicker drying time.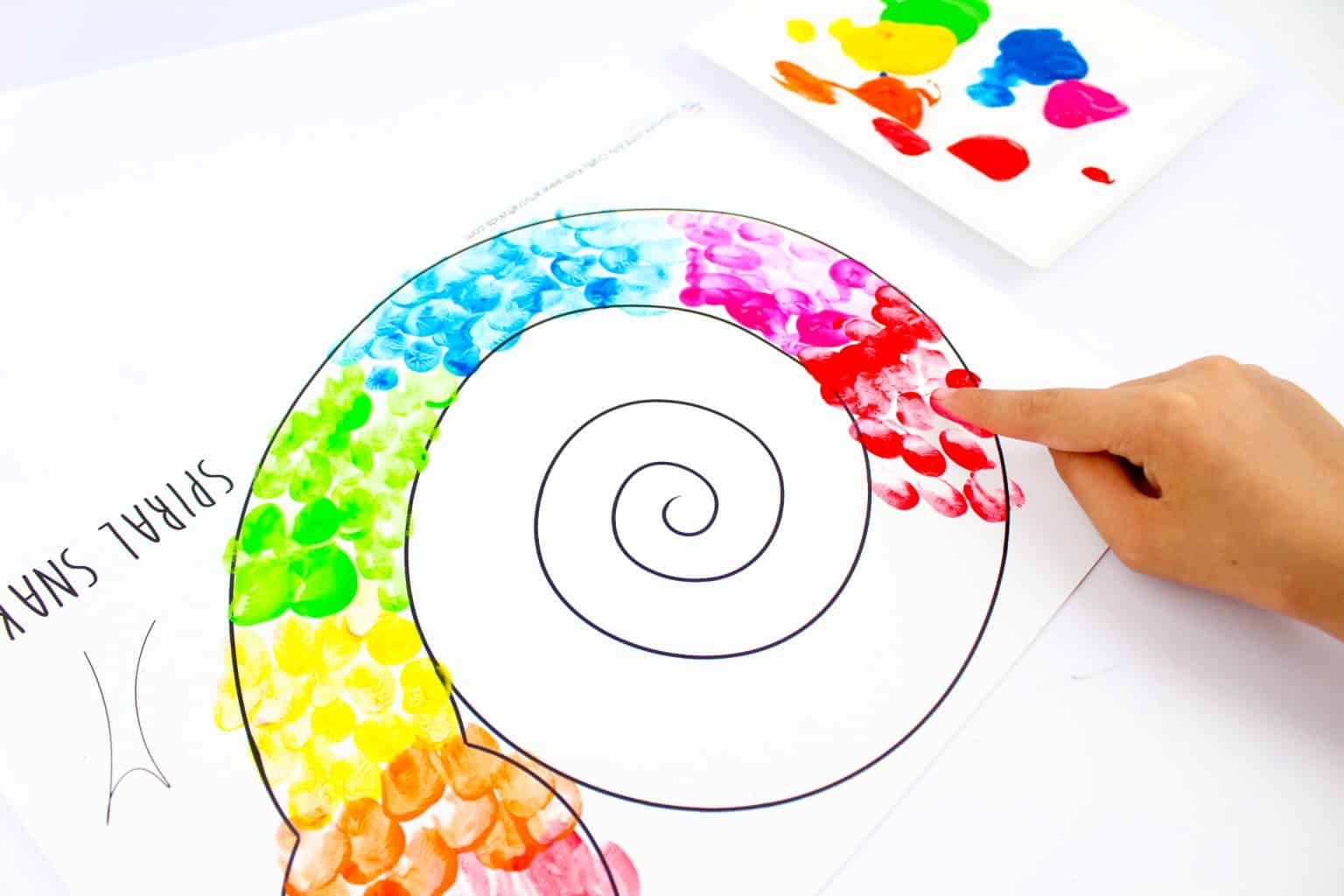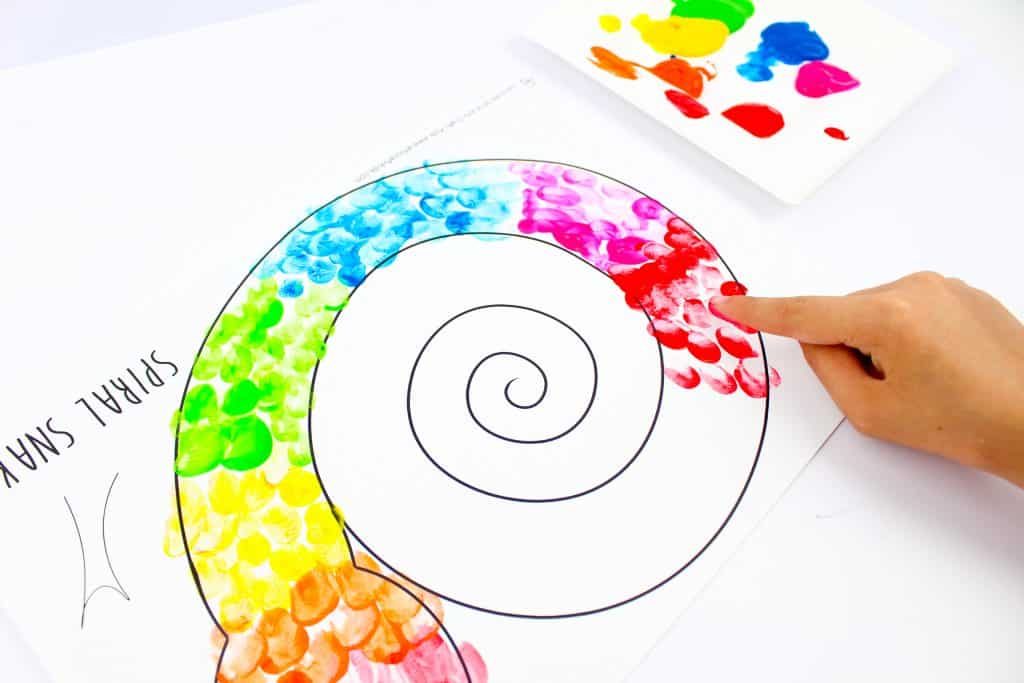 Continue to fill in the template with finger prints.
Finger prints can be over lapped, spread out and/or turned into a patterns.
If your Arty Crafty Kids get tired of finger printing, perhaps they could simply paint the template with a paintbrush or switch to bubble wrap printing.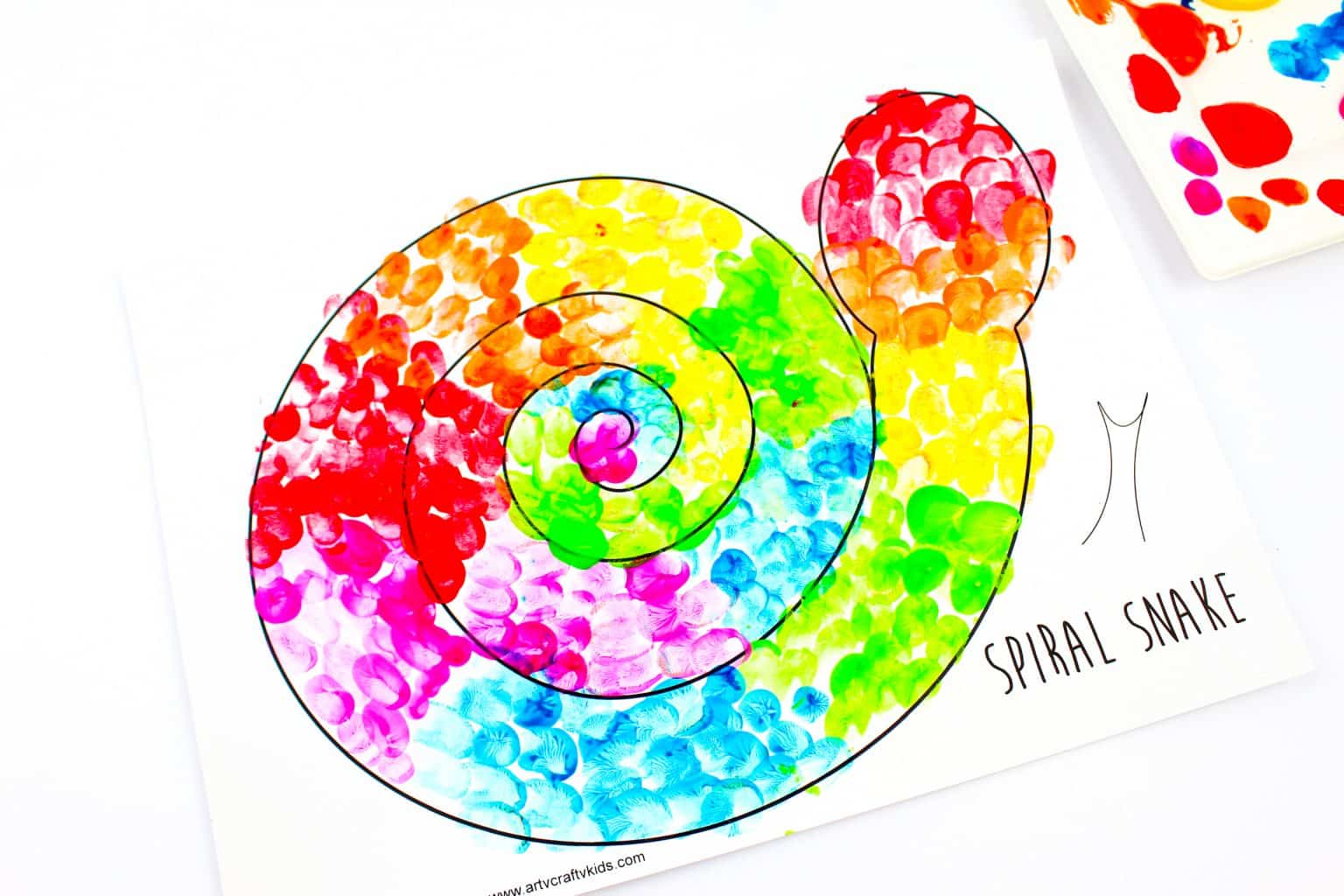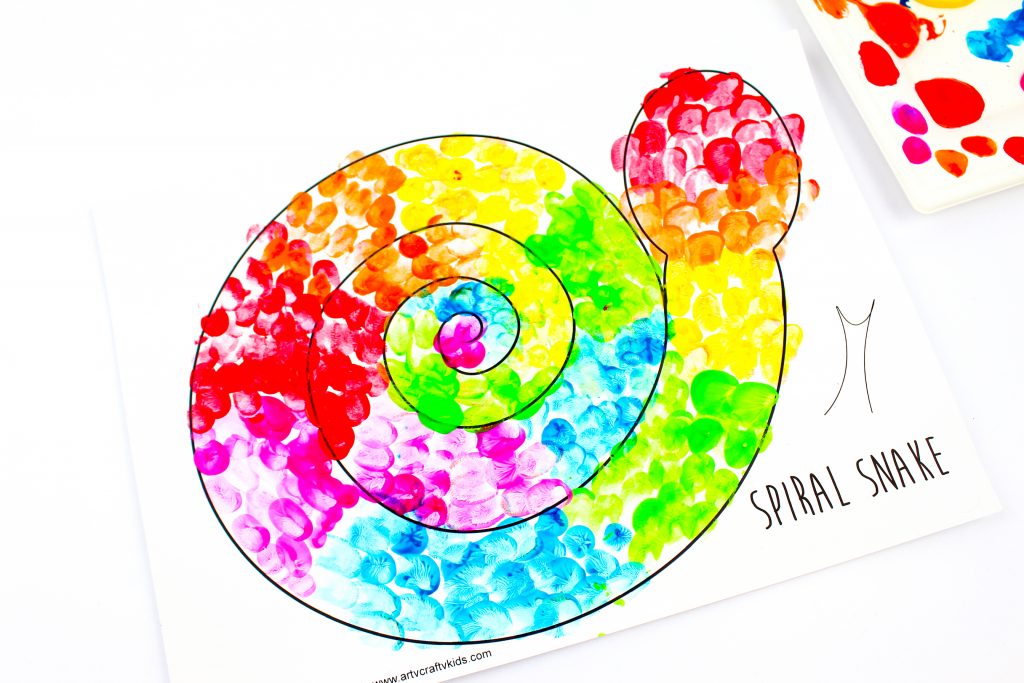 Step 2: Once the template is full to the tip, leave the snake template to dry before moving onto the next step.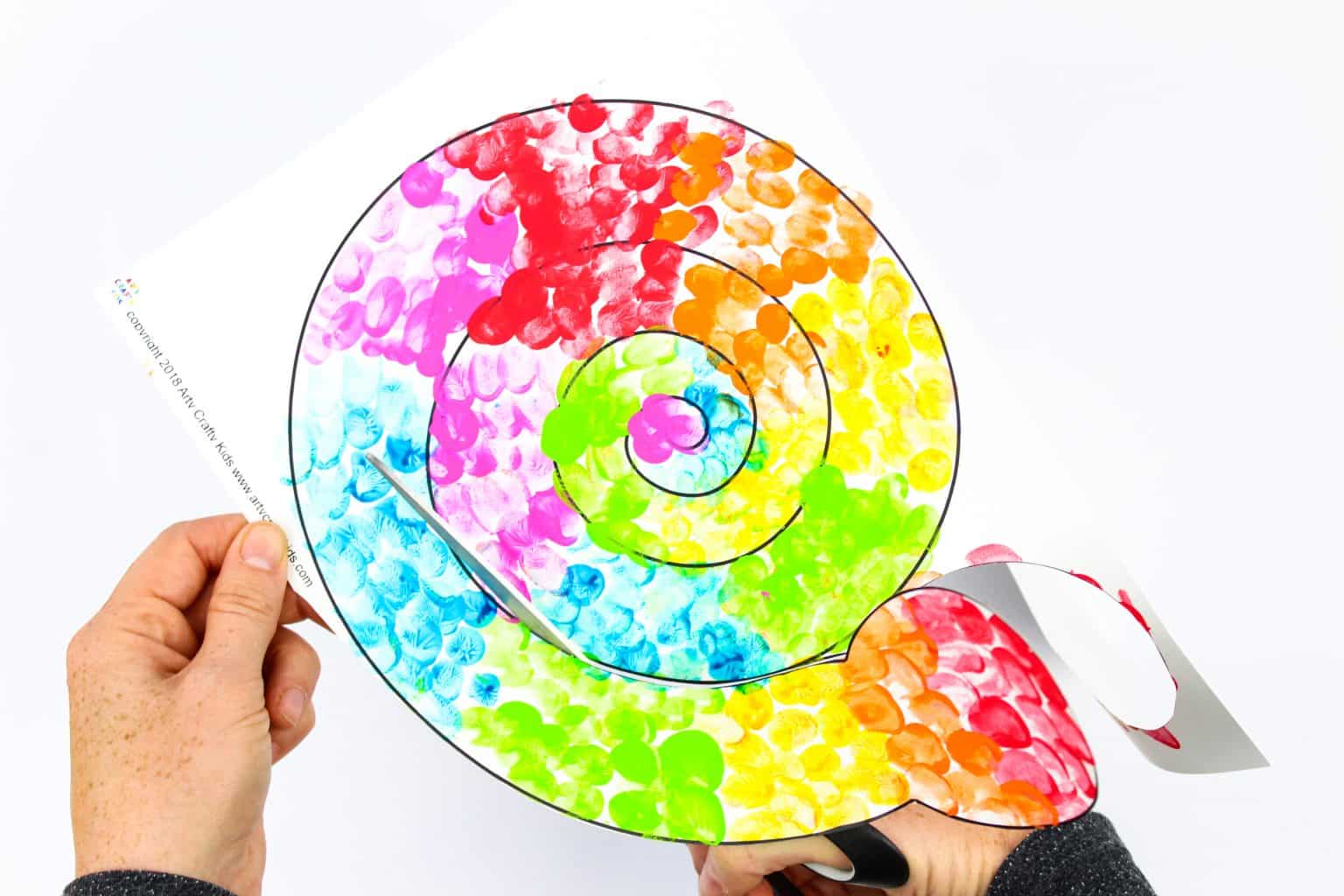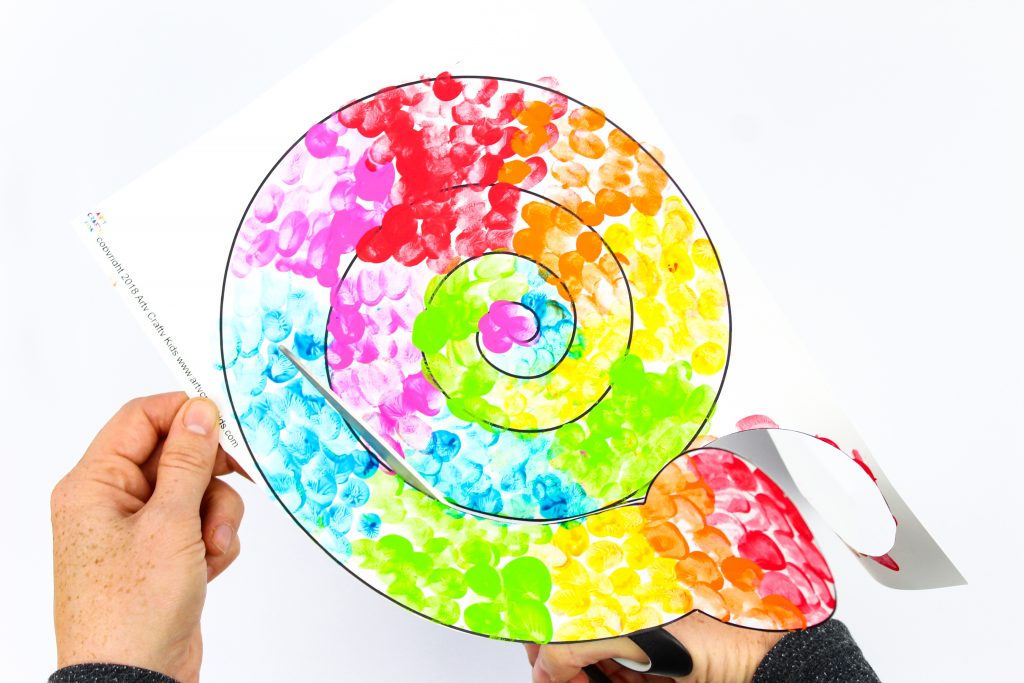 Cutting the Spiral Snake Template
Step 3: Starting from the inside of the spiral, cut along the black line.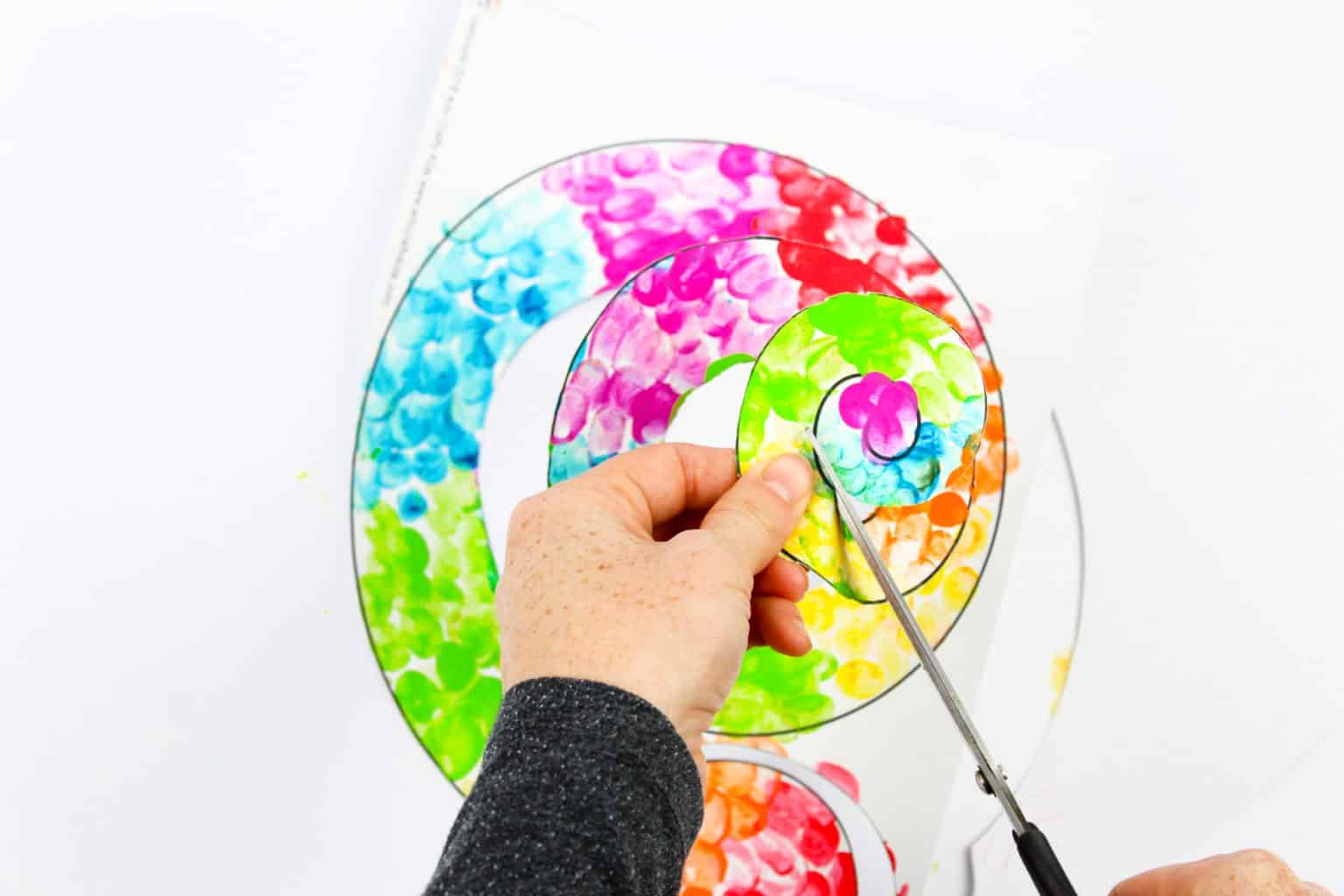 Step 4: Continue cutting until the tip has been reached.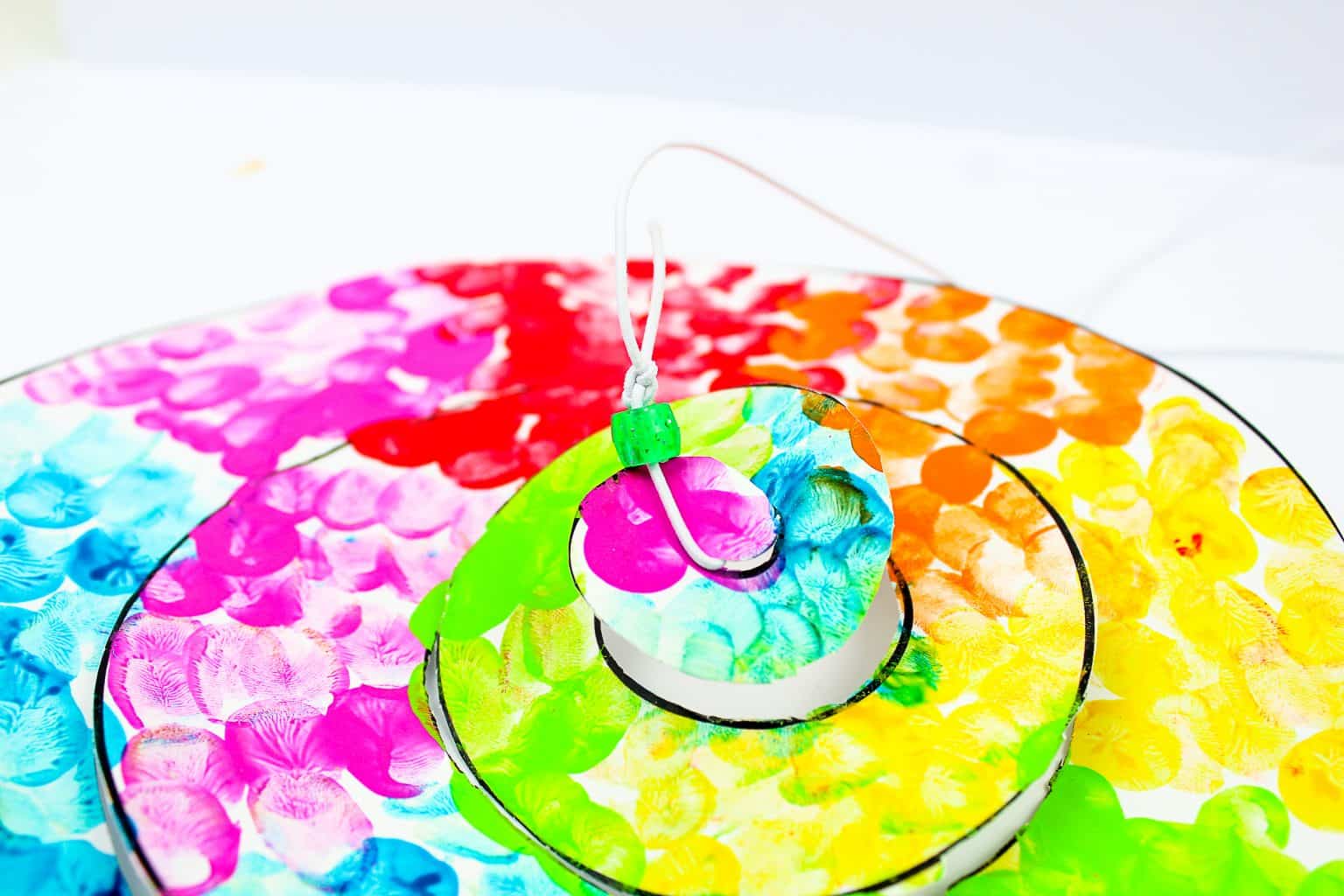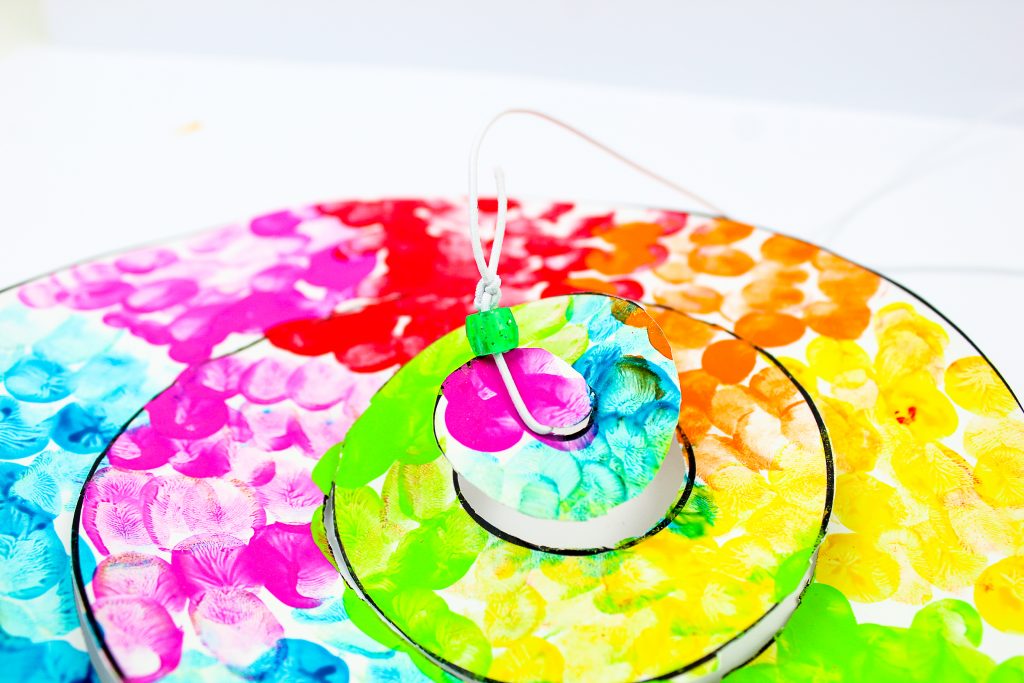 Adding the Elastic
Step 5: Create a hoop at the end of a long piece of elastic.
Thread the hoop through a pony bead and secure with a knot.
Slip the hoop onto the small hook at the tip of the tail.
Completing the Printable Spiral Snake Craft
Step 6: Add a pair of googly eyes to the head and complete with a tissue paper tongue!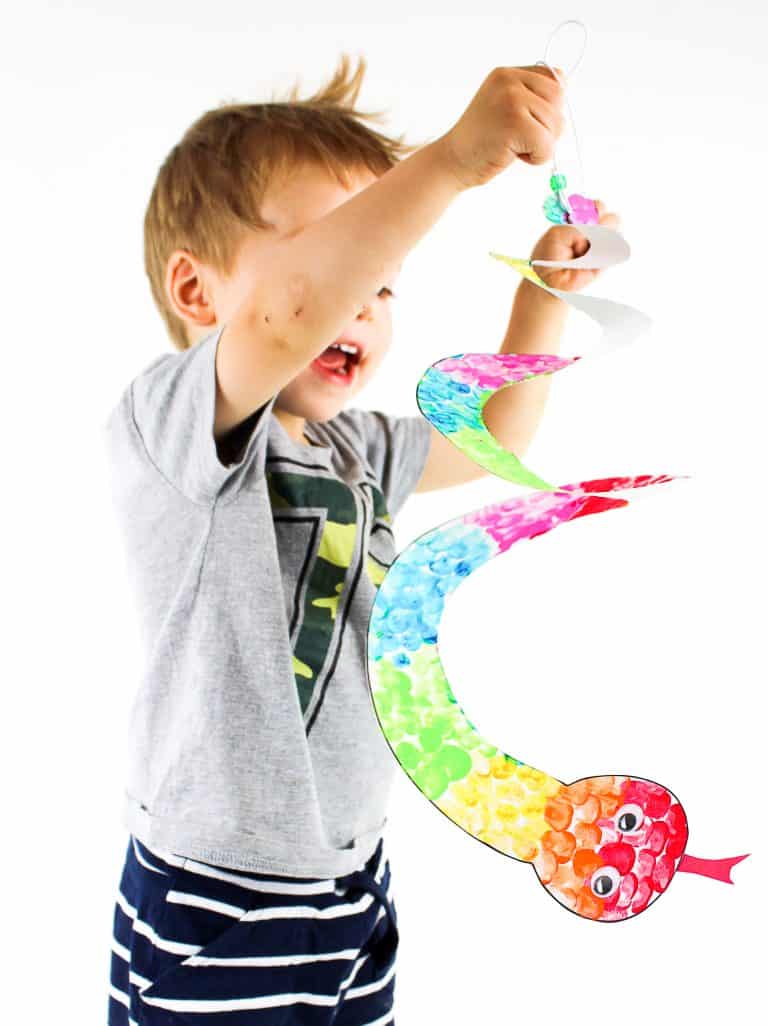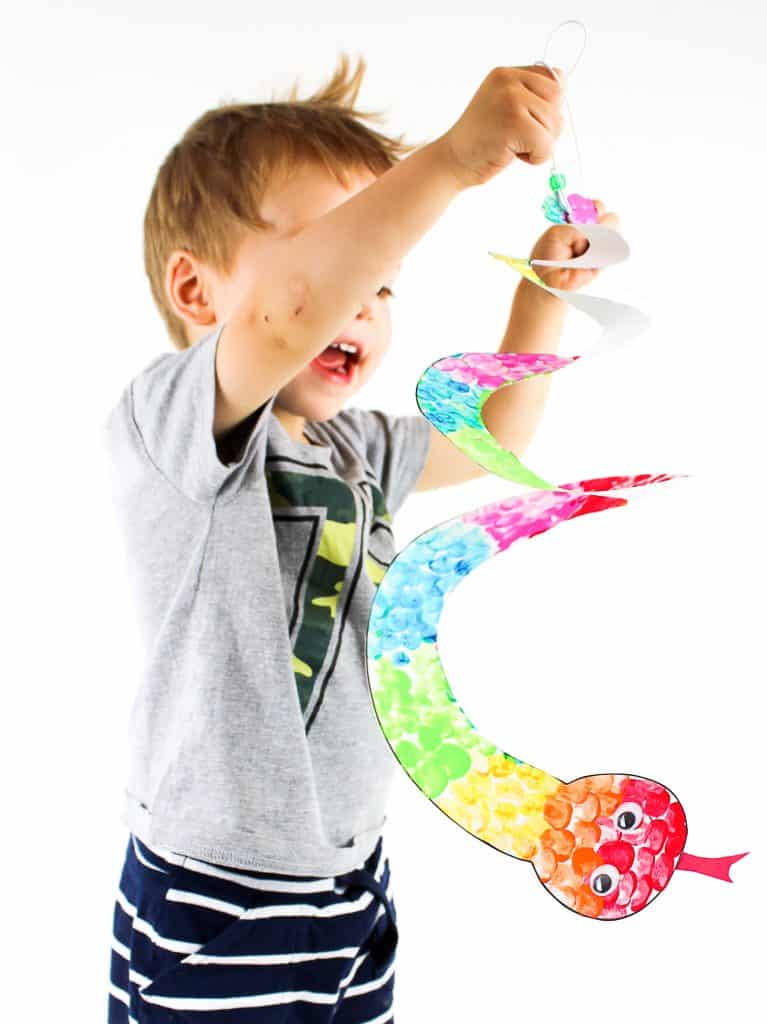 Now it's time to bounce and spin!
Can you imagine walking into a room or class room filled with multi-coloured spiral snakes suspended from the ceiling?
More Animal Art and Craft Ideas for Kids:
Bobble Head Turtle Craft
"Kids will love how the turtle heads POP from the page; stretching, bouncing and wobbling with movement" – Bobble Head Turtle Craft
Abstract Giraffe Art for Kids
"Bring the colour and fun with this easy abstract giraffe painting idea for kids" – Abstract Giraffe Art
Paper Plate Lion Craft
"Kids will relish the process of cutting, curling and sticking to form their lion's bouncy mane" – Curly Paper Plate Lion Craft
Happy Crafting!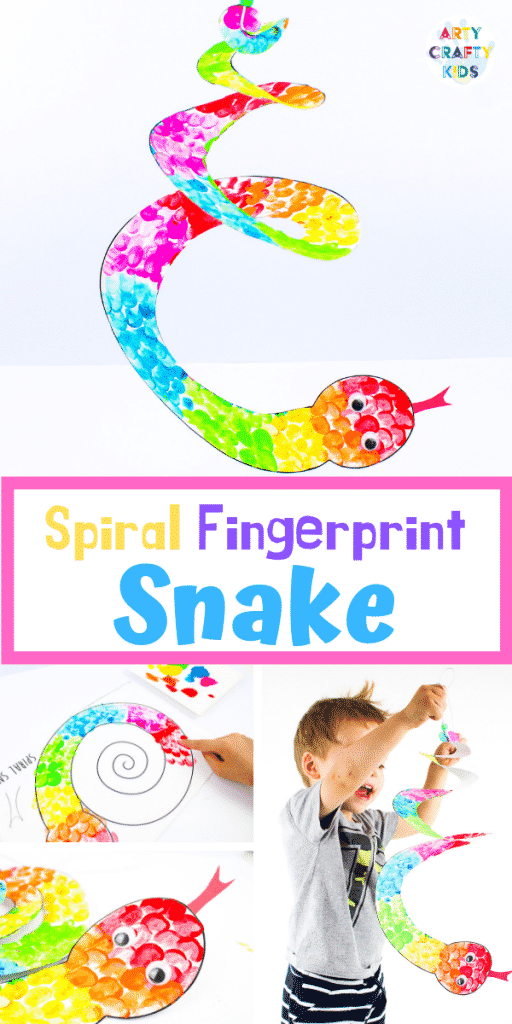 Arty Crafty Kids Club
Creative and playful Art & Craft Templates
How to Draw Guides, drawing prompts and pre-writing line work
Colouring pages & Seasonal activity booklets
Perfect for Educators and Parents, with new content added weekly!
Join the Arty Crafty Kids Club and gain access to our exclusive collection of art and craft templates and learning resources. Designed with parents, teachers and creative kids in mind, you will never run out of activities for the kids!