Here at Arty Crafty Kids, we love the summer sun. It's inspired us to create a really expressive sunshine lion, and a gorgeous easy tissue paper sunflower craft for kids too.
Whilst we're sure that children of all ages would enjoy this easy craft for kids, it's particularly great for preschoolers and young children. The tracing and cutting helps to develop fine motor skills and the different textures make it a really tactile activity. Children can also use the layering of the petals to explore depth and color, as the shades change when they overlap.
Our easy sunflower craft for kids is the perfect activity to keep little ones entertained on those lazy sunny days.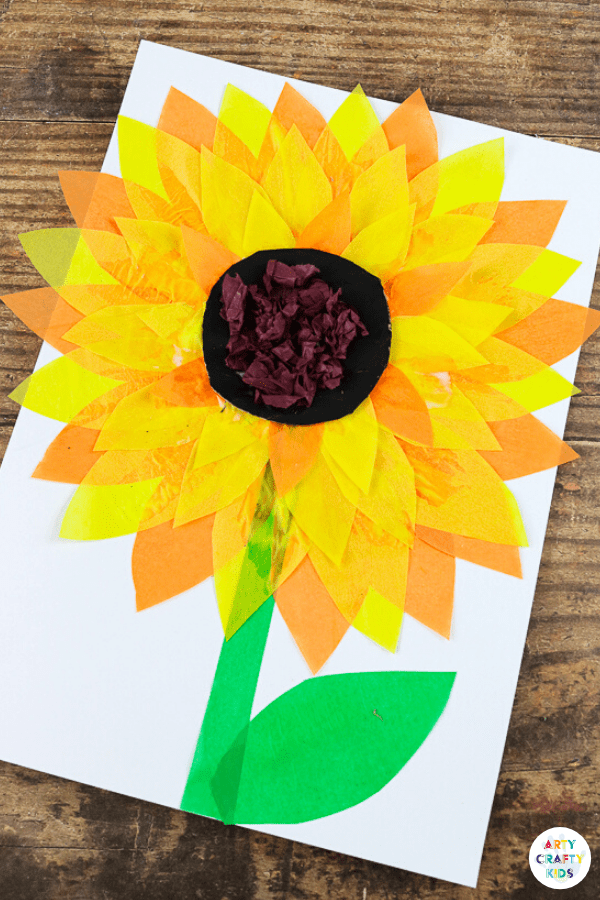 Easy Tissue Paper Sunflower Craft: What you need
White Cardstock
Tissue Paper ( Green, Orange, Brown, Yellow)
Cardboard
Black Paint
PVA Glue
Scissors
Download the Sunflower Template:
The Sunflower Elements Template is available to members of the Arty Crafty Kids Club. Join the members area to access our complete online library of art and craft templates.
Members can access the template here (remember to login!): https://www.artycraftykids.com/product/tissue-paper-sunflower-craft/
Members will need to log in to access the templates!
Not A Member?

Easy Tissue Paper Sunflower Craft: Let's Make it!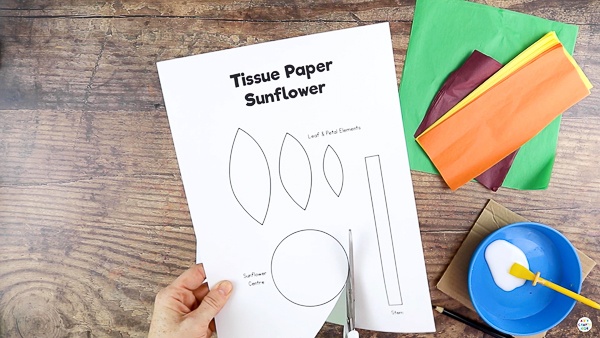 Cut out the Sunflower Elements
Start by carefully cutting out the different sunflower elements from the template.
Trace, Cut and Paint
Trace the shape of the large circle onto cardboard and cut that out too. Then paint it black – this will make the center of your sunflower.
Use the petal templates to cut lots of bright orange and yellow tissue paper petals. Then use your other templates to cut a stem and leaf from the green tissue paper.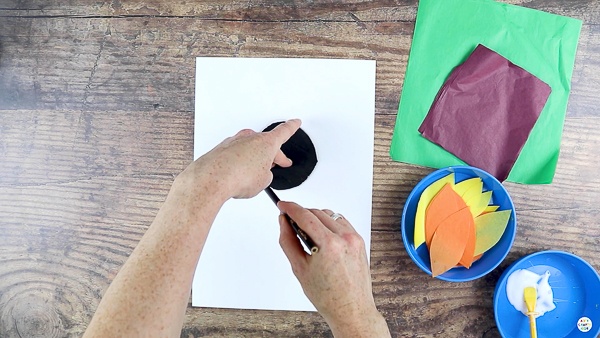 The Starting Point
Place the sunflower center just above the middle of your white cardstock and trace around it in pencil. This is going to help you know where to stick everything once you start assembling the sunflower.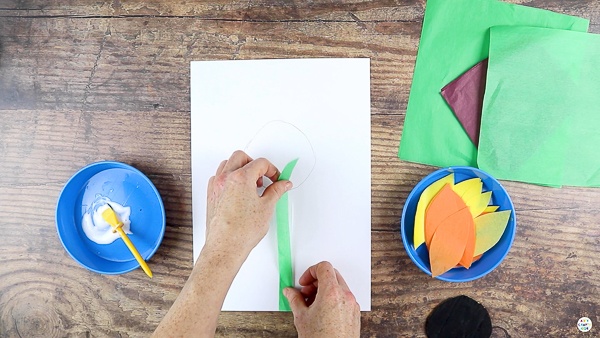 Add a Stem
First, stick down your stem – it should grow from the bottom of the page up to roughly the middle of your sunflower center.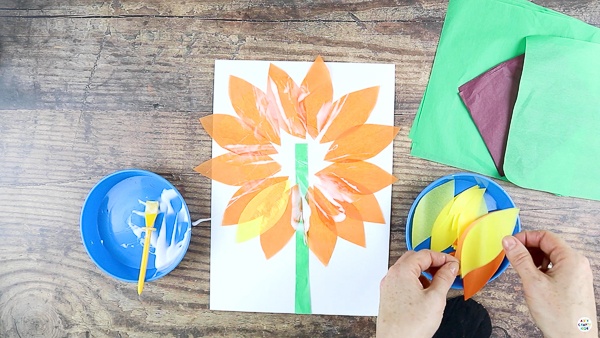 The Large Petals
Now it's time to start creating the flower! Using the pencil circle you drew as a guide, stick on a layer of large orange petals all around the outside. Then stick a layer of smaller yellow petals in the gaps between the first.
Layer the Petals
That already makes a gorgeous flower, but we're going to keep layering those petals of orange and yellow until we have a huge flower in full bloom.
Add the Middle
Once all of your petal layers are in place, stick the black cardboard middle firmly into the center.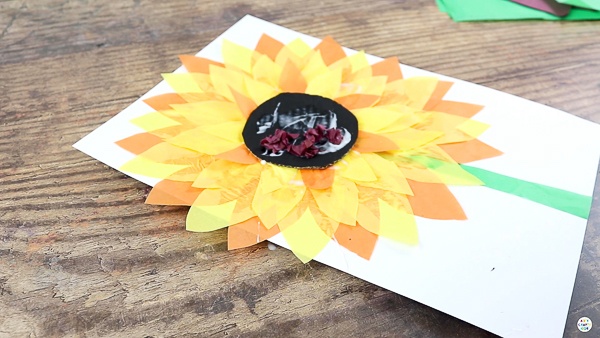 Tissue Paper Seeds
Now we're going to create that familiar sunflower center texture, by screwing up lots of little pieces of brown tissue paper and sticking them onto the black middle. Don't they look just like little seeds?
The Easy Tissue Paper Sunflower Craft is Complete!
Your sunny 3D sunflower is now complete, beautiful!
More Flower Crafts for Kids:
Handprint Sunflower Craft
Sunflowers in full bloom is a glorious sight. There's a certain amount of excitement that surrounds the moment a sunflower first begins to sprout; marking the beginnings of a very tall journey till the moment the flower proudly shines. Every year my kids enjoy the wonder of a new sunflower and todays Easy Handprint Sunflower Craft is a fitting tribute to what's become a seasonal tradition.

https://www.artycraftykids.com/art/easy-handprint-sunflower-craft/
Flower Photo Cards
Our photo flower is a really easy card to make with kids and helps develop some key skills at the same time. As well as practicing cutting, making the individual petals encourages patience and attention to detail.

https://www.artycraftykids.com/craft/photo-flower-card-for-kids-to-make/
Spring Meadow Art
Here, we've created a beautiful wildflower Spring Meadow Painting for Kids, as the flowers begin to bloom outside with this art project we can bring the beauty of Spring inside.

https://www.artycraftykids.com/art/spring-meadow-painting-for-kids/
Happy Crafting!