Pets Color By Number Pages: Here at Arty Crafty Kids we love to combine art with learning, and our color by number pages do just that! This set focuses on all our furry (and not so furry!) friends – pets! Including a cat, dog, hamster, guinea pig, lizard, turtle, pony, budgie, rabbit and rat, there's something for everyone in our Pets Color by Number pages.
Color by Numbers pages are particularly good for preschoolers and school early years, as they're perfect for reinforcing color recognition and number identification in a fun and engaging way. If you're in the UK and have children in Year 1 learning about pets, these would be a brilliant addition to their curriculum.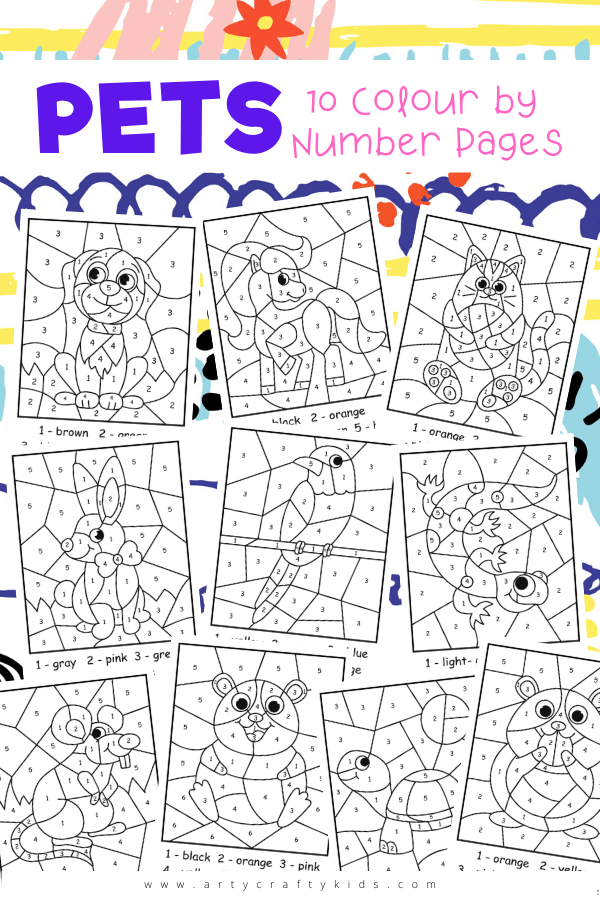 Our Pets Color By Number pages encourage attention to detail (have they spotted all the number one segments before they move on to number two?), and provide an opportunity to explore basic math (How many number three segments are there? How many number four? Can they add them together?)
The structured approach to coloring the pages also helps children to learn outcomes – they can visually see how the image emerges as they use different colors in different places.
And as our hand drawn color by numbers sheets include all of our favourite pets, they're a great conversation starter for talking about the different places they live, what they eat and how we can best look after them. Children can choose to color the pet they have at home, or perhaps the pet they wish they had… Just don't blame us if your little one ends up asking for a pony!
How to Download the Pets Color By Number Pages
The Pets Color by Number Pages are available to members of the Arty Crafty Kids Club. Join the members area to access our complete online library of art and craft templates.
Members can access the coloring pages here: https://www.artycraftykids.com/product/pets-color-by-number-pack/
Members will need to log in to access the templates!
Not A Member?