Ahead of every Summer we spend more time than usual browsing the shelves of our local book store, looking for inspiration for the all important Summer reading list. We all have one and there's nothing better than branching out from your usual comfort zone and discovering new material. If you have a young reader between the age of 5-9 years old, Zoey & Sassafras is a must for that Summer reading list; a creative and engaging book, that blends science and fantasy into 98 pages of fun. And while I mention fun, we've created a Summer themed paper plate Watermelon Book Bag as the perfect accessory for storing current reads.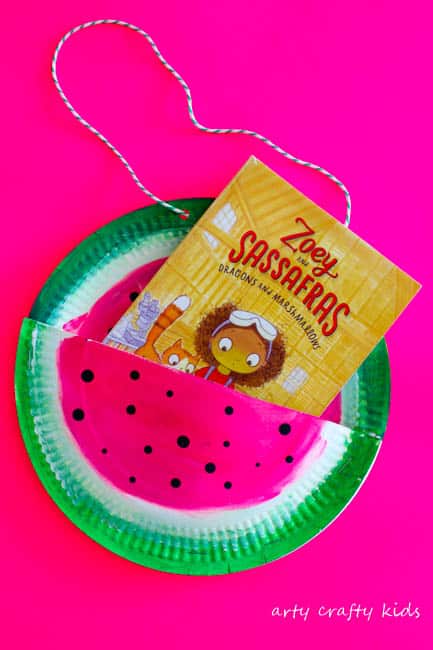 *This post contains affiliates*
Zoey & Sassafras: Dragons and Marshmallows
My eldest (aged 7) has found reading a little tricky and is what I would call a reluctant reader. The constant stream of uninspiring Fairy Rainbow and My Little Pony books aimed at girls hasn't helped! We've needed more punch and substance.
Zoey and Sassafras has been a breath of fresh air. For one, the protagonist is a normal little girl with an inquisitive mind – much like my daughter!
And the short engaging chapters are easy to digest and achievable for emerging readers starting out with chapter books.
With a title like 'Dragons and Marshmallows', how can one not be intrigued?
The book tells the story of young Zoey, her cool cat Sassafras and her mum who possess secret magical powers. When poorly animals (including a baby dragon) appear on their front doorstep, Zoey uses scientific research and problem solving skills to get to the bottom of each ailment. There are plenty of giggles to be had along the way and book will leave your child wanting more.
Luckily, Zoey and Sassafras is for the first of a three-part series!
Paper Plate Watermelon Book Bag
Our paper plate Watermelon Book Bag is a fun way to store books, note pads and cuddly toys. It can be carried or simply hung to create extra storage.
With just a few basic materials, this is an easy peasy craft for kids.
Here's what you need:
Supplies:
2 Paper Plates
Gree, White, Pink and Black Paint
Twine
Stapler
Hole Puncher
Scissors
To see how we made our Paper Plate Watermelon Book Bag, check our video below and subscribe to our new YouTube Channel to see all our crafts in action!
[mv_video key="cprgxo7vj2t5iofb3sr7″]
Paper Plate Watermelon Book Bag Tutorial:

Cut one paper plate in half and paint the outer rim a light shade of green, followed by white and pink to create the appearance of a watermelon.
Paint half of the full paper plate in the same way.
Add black dots using the end of a pencil, q-tip or finger to create seeds.
Leave the paper plates to dry.
5. Staple the paper plates together, joining the watermelon halves to create a whole.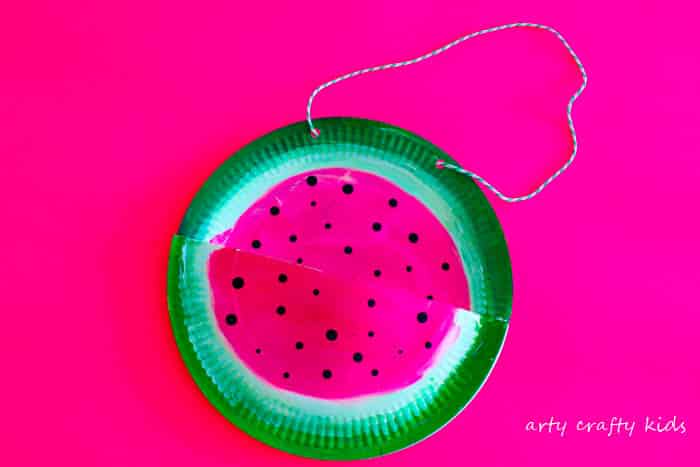 6. Add two holes using a hole punch at the top of the paper plate.
7. Add twine for hanging.
With the Paper Plate Watermelon Book Bag assembled, the kids can now add their favourite book or accessory!
For more paper plate bag inspiration, take a look at our Rainbow version!
Pin for Later!


We received an advanced copy of Zoe and Sassafras to review. All opinions expressed are our own and reflect our genuine experience of the book. Click here to see our full disclosure.