We've applied Watercolour and Ink to recycled book pages many times to create gifts for loved ones and they always go down a storm! everyone loves them and we love creating them.
I affectionately regard our Watercolour and Ink flower paintings as an "unintentional craft". One quiet afternoon, I took advantage of a rare opportunity to partake in my creative experiment. In the middle of my creative splurge, Angel  pops out of nowhere with "I LOVE flowers, can I have a go?" and a mummy daughter special is created!
Water Colour & Ink: Recycling Books – Materials
Pages of an old book
A picture frame
Watercolour paint
A fine tipped black pen
Water Colour & Ink: Using recycled books
Onto an old printed book page simply pencil in the basic outline (in this instance) of a flower. Then fill it in, ideally using water colour paint. If you do not have access to water colours, try using heavily watered down acrylic or even food colouring.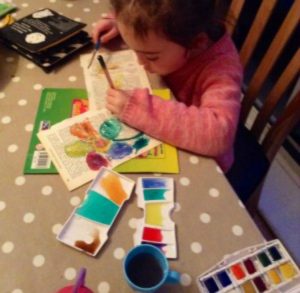 To avoid soggy paper, encourage your arty kid to apply thin layers of paint. Water based paint can be fascinating for its marbling effect – Angel enjoyed using the palette to mix the colours as well as blending them onto the page to create different shades.
Once the painting is dry, use a fine tipped black pen (I used a Uni Pen 1.0mm) to enhance the outline of the flower. Pop into a frame and you have a beautiful memento or personal handmade gift.
Angel is particularly proud of her work and loves the "mummy daughter flowers".