Rainbow Colour Mixing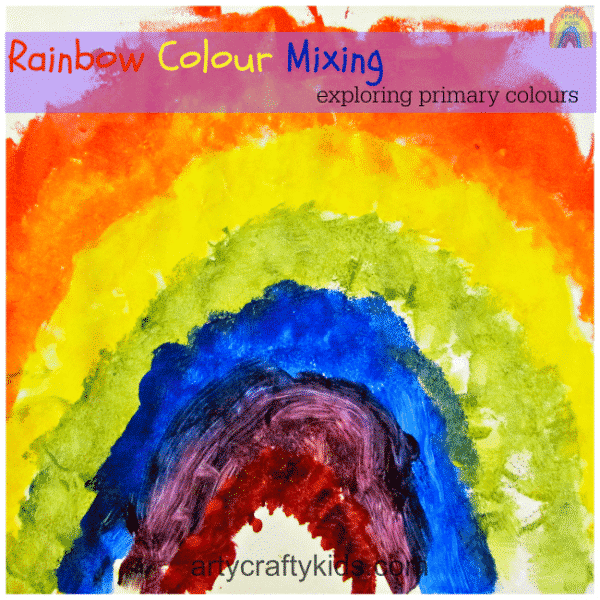 Supporting World Prematurity Day – 17th November 2014.
Angel was born seven weeks premature with a condition called Tracheo Oesophageal Fistula. Within a few short hours of birth, she received life saving surgery; the scariest most uncertain moment of my life!
Four years on, Angel is a happy vibrant little girl and to this day, I remain in awe of her resilience and strength.
Being a colourful girl, she LOVES rainbows and I am proud to be dedicating our Rainbow Colour Mixing craft to World Prematurity Day and to the wonderful work carried out by Bliss UK.
"Bliss is the UK charity working to provide the best possible care and support for all premature and sick babies and their families." – Click on the image for more information about Bliss UK
Rainbow Colour Mixing – Materials
Paint – Primary Colours (Red,Yellow,Blue)
Paper
Sponge (cut up)
4 Plates (1 for mixing)
Rainbow Colour Mixing
The idea behind this craft is to get crafty kids thinking about the difference between primary and secondary colours and how they can mixed to create new colours and shades.
Using our rainbow stacker prop, I asked Angel to count the colours. I then asked her to count the number of colours on the plate, followed by the question "how can we make a rainbow with just 3 colours?"
With a moments pause, Angel excitedly suggested we "get mixing!"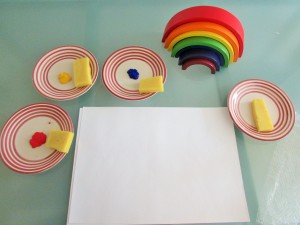 To start, I faintly drew 7 rainbow arches for Angel  to follow and with a sponge, she applied the first colour.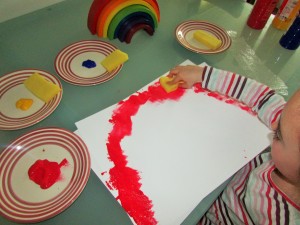 I asked Little Lovely to consider how we make Orange. With a some experimentation and consideration, she figured it out and set to work to achieve the perfect orange.
The beauty of this Rainbow Colour Mixing craft rests with its simplicity.
A simple painting exercise that requires a little thought, a little experimentation and leaves your crafty kids feeling proud of their beautiful work. In fact my Crafty Kid was so proud, she took hers to school for her teacher!