Hedgehog Fall Leaf Craft – A simple and fun fall craft for preschoolers and children in early years education.
Kids will love creating art with Autumn leaves; exploring the different shapes and textures to create super cute hedgehogs.
This easy fall craft can be completed with a printable hedgehog template (accessed via the Arty Crafty Kids Club), making it the perfect craft for at home or school.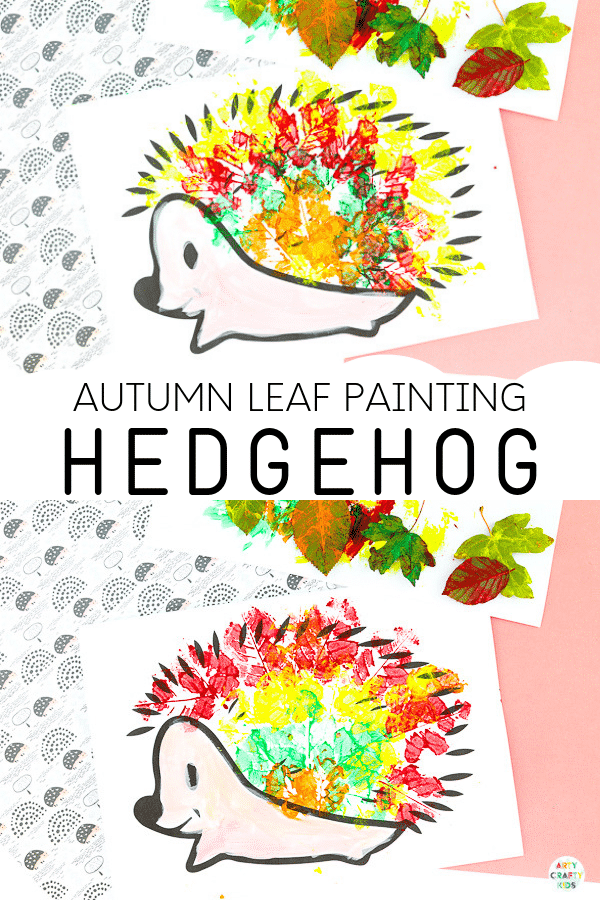 Autumn is wonderful time for exploring nature. Using nature has a source of inspiration, this simple art project, framed within a cute hedgehog, has been designed to encourage children to explore colour-mixing.
Expanding the Fall Art Project:
Before delving into the Hedgehog Fall Leaf Craft, encourage your Arty Crafty Kids to think about the process of mixing colours by asking a few questions…
How much Red and Yellow do you need to make Orange?
How do you make different tones of Orange (Yellow, Red, Green)?
How do you make Brown?
Can you make the same colour twice?
Kids will naturally adopt a process of trial and error to create their desired colours, and this simple process has many positive learning outcomes.
The Benefits of Colour Mixing:
Mathematical Thinking

:
Arty Crafty Kids will be mentally measuring and testing paint ratios to create new colours.
Problem Solving

:
The process of working out 'HOW' to create a new colour and replicate the shades of the leaves they've collected is problem-solving in action.
Language

:
Simply talking about their processes and finding appropriate words to describe their new colours helps develop vocabulary.
And all of these outcomes combined stimulate and enhance children's imaginations and creativity!
Hedgehog Fall Leaf Craft: Materials
White Card Stock
Leaves
Paint
Paintbrush
Scrap Paper
Mixing Plate
Downloading the Hedgehog Template
Arty Crafty Kids members can access the Hedgehog Template here: https://www.artycraftykids.com/product/fall-hedgehog-art/
Not a member? JOIN HERE for instant access to the templates and our full library of art and craft resources, how to draw guides, colouring and activity pages.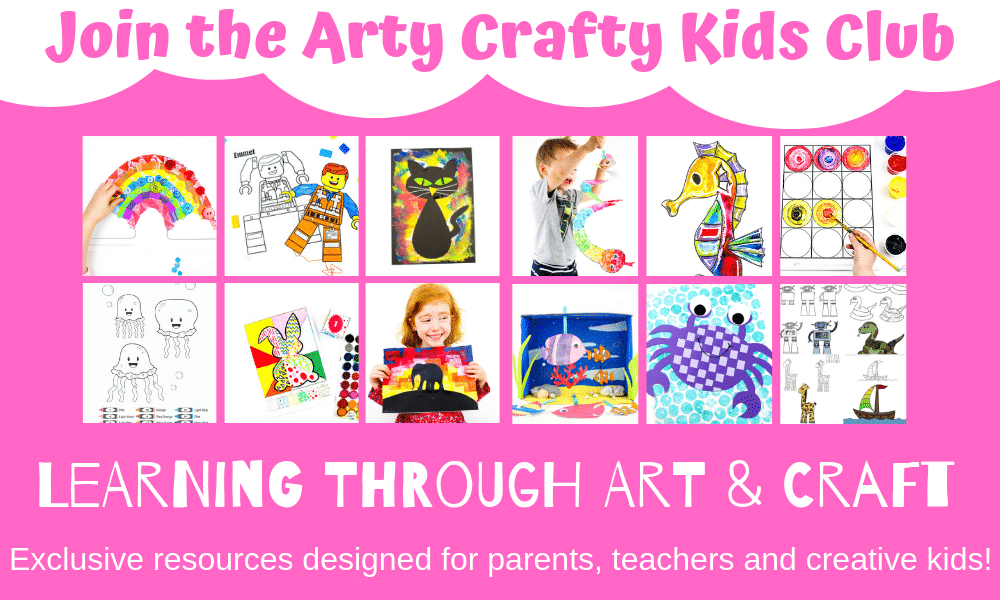 Hedgehog Fall Leaf Craft: Tutorial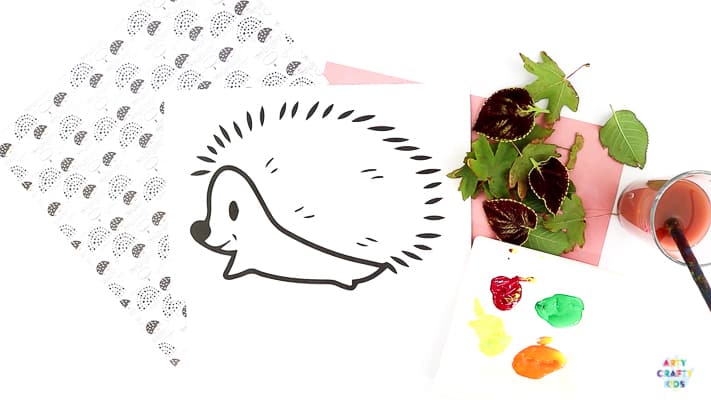 Printing the Hedgehog Template
Download and print the Hedgehog Template from the Arty Crafty Kids members area.
The template can be downloaded onto good quality paper or card stock.
If you opt for cardstock, remember to check your printer settings for a recommended weight. Most printers prefer card stock less than 220gsm.
Gather Autumn Leaves
Step 1: Collect a variety of fallen leaves. They can be different types, colours and sizes!
Have a go at identifying some of the leaves and perhaps group the leaves by type, colour or size. This is an easy way to expand the activity.
How to Paint Leaves and Create
Awesome leaf Prints
Step 2: When it comes to leaf printing, less is more!
Using a paintbrush, spread a thin layer of paint across the back of the leaf. This is where the stem and veins are most prominent.
Printing with Leaves
Step 3: Once the back of the leaf is covered in paint, turn it over and press it firmly down onto the template.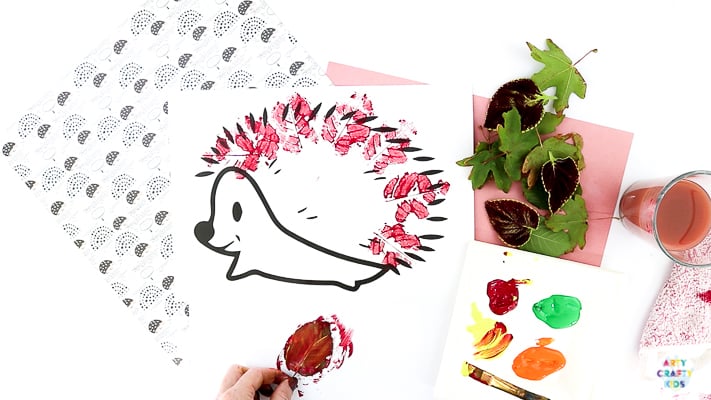 Step 4: Carefully peel the leaf away to reveal the print.
Options: In this example, we're filling our hedgehog with Autumn colours, however your Arty Crafty Kids may prefer to create a traditional brown hedgehog or go the other way with rainbow colours.
Experiment with Leaves
Step 5: Continue filling the hedgehog with leafy prints.
Use different leaves and perhaps try printing with both sides of the leaf.
Questions for the Kids:
Do some leaves print better than others?
Why do you think some leaves print better than others?
Completing the Hedgehog
Fall Leaf Craft
Step 6: Fill the hedgehog with as many prints as possible. Arty Crafty Kids can create patterns with the prints, layer the prints or keep each separate and defined.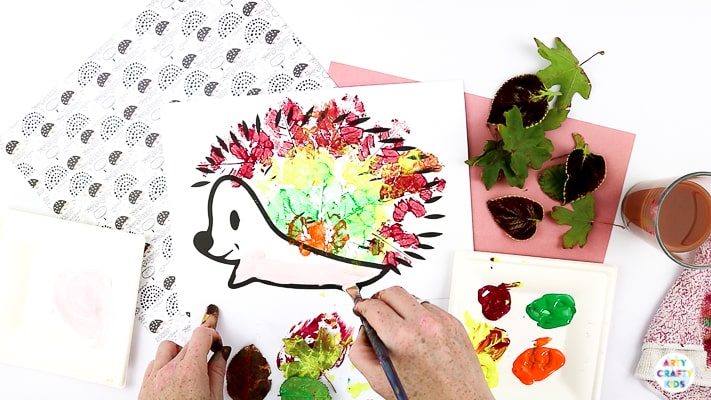 Step 7: Paint the hedgehogs head and remaining body a shade of pink.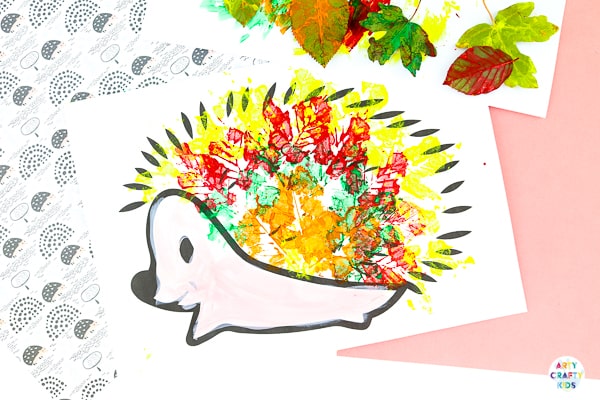 The Hedgehog Fall Leaf Craft is now complete!
Forest Animal Crafts for Kids:
Autumn is a time when forest animals are on trend within the crafting world. Luckily, we have the topic well covered. Here are some of our most popular Forest Animal Crafts for Kids.
We also have a wide collection of Autumn themed worksheets and templates available within the Arty Crafty Kids members area!
Paper Plate Hedgehog
Little hands will be kept busy with all the sticking, gluing, cutting and painting involved, working on their fine motor skills while having fun

https://www.artycraftykids.com/craft/paper-plate-hedgehog-craft/
Toilet Paper Roll Fox
Make this adorable Toilet Paper Roll Fox Craft with the kids today with materials you're likely to already have in the recycling bin and craft box.

https://www.artycraftykids.com/craft/toilet-paper-roll-fox-craft/
Bobble Handprint Owl
A super cute and interactive paper Autumn craft that kids will love! With its wobbly handprint wings, the craft doubles up as a gorgeous seasonal keepsake.

https://www.artycraftykids.com/craft/bobble-handprint-owl-craft/
Happy Crafting!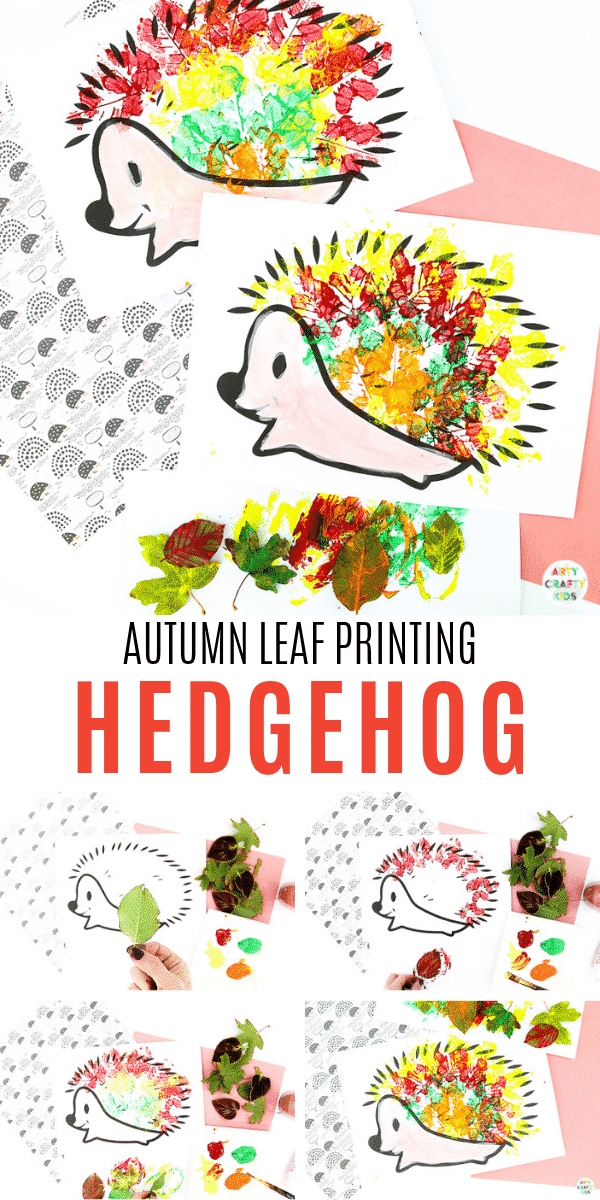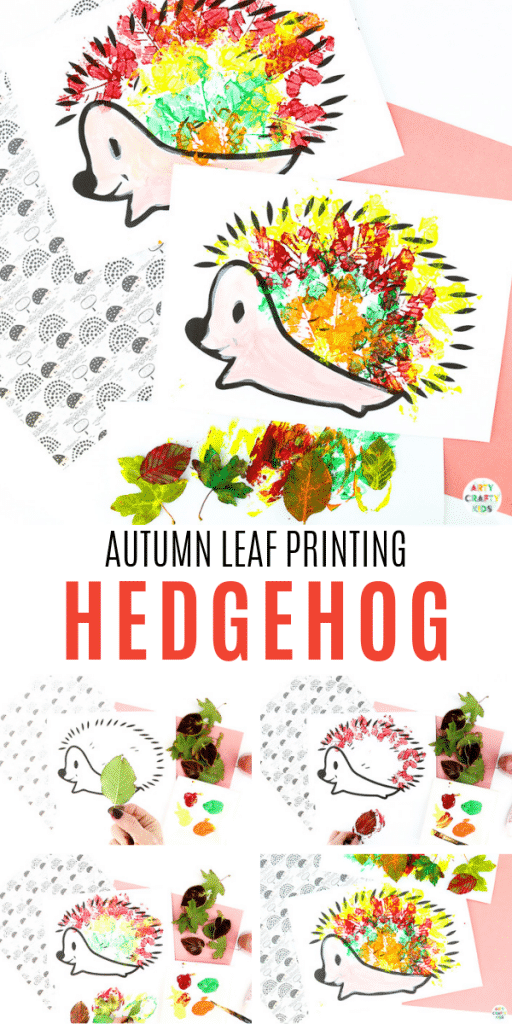 Arty Crafty Kids Club
Join the Arty Crafty Kids Club and gain access to our exclusive collection of art and craft templates and learning resources. Designed with parents, teachers and creative kids in mind, you will never run out of activities for the kids!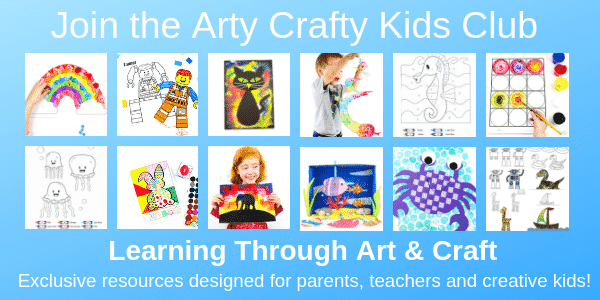 Latest Posts: